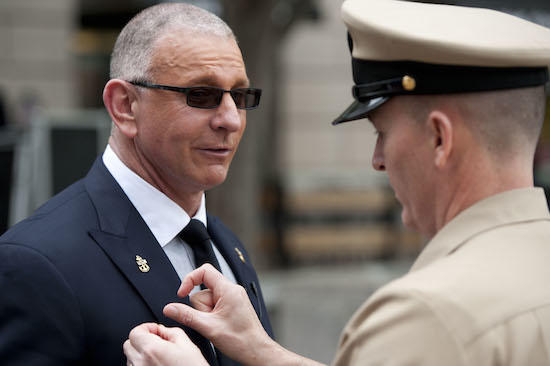 150501-N-OT964-136 WASHINGTON (May 1, 2015) Master Chief Petty Officer of the Navy (MCPON) Mike Stevens places rank insignia on Chef Robert Irvine during a ceremony recognizing him as an Honorary Chief Petty Officer. Irvine has dedicated much of his time to service members world wide supporting their morale and welfare through cooking. (U.S. Navy photo by Mass Communication Specialist 1st Class Martin L. Carey/Released)
Master Chief Petty Officer of the Navy Mike Stevens honored celebrity chef Robert Irvine as an Honorary Chief Petty Officer in a ceremony at the United States Navy Memorial on May 1st.
%embed1%
After the ceremony, Irvine had some emotional words. "You know I come from the British Royal Navy and after spending ten years there and then coming here, I see what the men and women [of the U.S. military] do every day of their lives and it is humbling," he said. "I'm an American citizen now and I do what I do with the troops because I love them and what they do - for the sacrifices they make every day. It's hard to express my feelings right now - ecstatic, humble, and excited to be in one of the best clubs in the world. You can't just buy into this club."
Irvine is best-known for Food Network shows like Restaurant: Impossible and Dinner: Impossible but he served in the British Royal Navy, joining at age 15 and serving for a decade, cooking his way through Europe, the Far East, the Caribbean and the Americas. Since gaining fame as a tv host, he's earned a reputation as a strong military supporter. Irvine has traveled the world with the USO and the Gary Sinise Foundation, visiting with service members and their families while dishing up fine cuisine and providing cooking classes