Military working dogs have been thrust into the media spotlight over the last few years, bringing awareness to the critical roles they play in the U.S. armed forces. While once considered "unsung heroes," multiple books, television shows, and even a military working dog monument have brought attention to their service.
However, as with all stories that gain attention, sometimes facts being reported and perpetuated are either slightly inaccurate or even blatantly untrue. To handlers and advocates in the MWD community, it can be frustrating to read and hear about stories that not only are untrue, but are actually harmful. It's important to understand what is myth vs reality.
Here are the 9 biggest myths about military working dogs.
Myth: Military Working Dogs Bite to Kill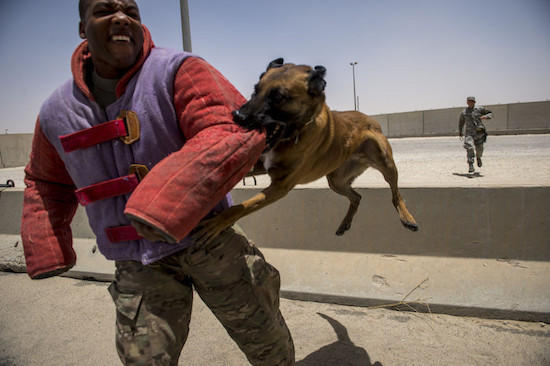 Photo: US Air Force Staff Sgt. Jeremy Bowcock
Reality: MWD's certified in patrol (bite work) are very capable of causing serious bodily harm and possibly even death. However, MWD's are not trained to kill or even trained to bite vital areas of the body such as the head, neck, or groin. Handlers train MWD's to "apprehend" suspects which means biting and holding on to them until the handler arrives to detain them.
To minimize injury to both the dog and suspect, MWD's are taught to apprehend suspects by clenching down on a meaty part of the body such as an arm or leg. That being said, I fear for a suspect's life who comes between a handler and their dog.
Myth: MWDs are left behind in war zones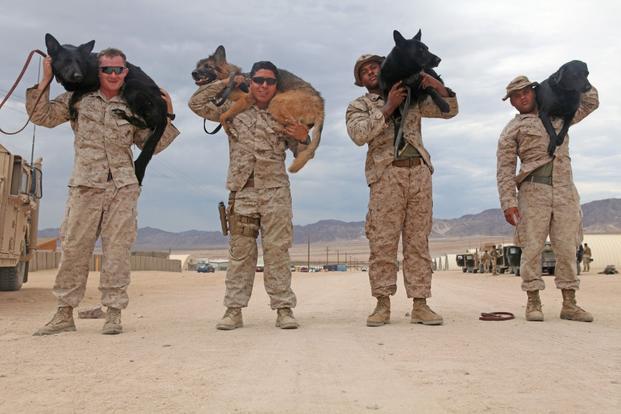 Photo: US Marine Corps Cpl. Joshua Young
Reality: This wasn't always a myth. Tragically, after the Vietnam War, military dogs were left behind and not brought home with their handlers. But there have been false reports that military dogs were sometimes left behind again during recent conflicts. That is simply not true and it has not happened since Vietnam.
Every military working dog is brought back to the U.S. bases from which they deployed with their handlers. In fact, there is a quote handlers are made to repeat: "Where I go, my dog goes. Where my dog goes, I go."
Myth: MWDs go home with their handlers every day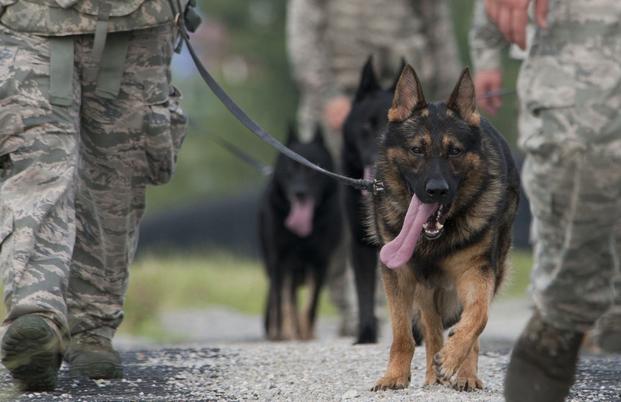 Photo: US Air Force Senior Airman Perry Aston
Reality: When deployed, handlers and their dogs are inseparable and will stay in the same living quarters. However, when back at their U.S. base, handlers are not allowed to bring their dogs home at the end of each day, and for good reason. Every MWD is an incredibly valuable asset to each base and there are simply too many risks in allowing them to stay anywhere but a controlled kennel area.
While it may sound harsh, there probably aren't cleaner kennels in the world than on U.S. military bases as they are cleaned several times every day by motivated handlers and inspected regularly by the base veterinarian to ensure maximum comfort and health for the MWD's.
Myth: MWDs get titanium tooth implants so their bites cause more damage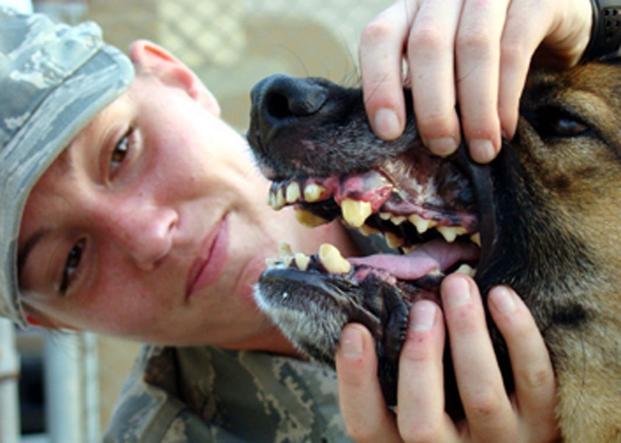 Photo: US Air Force Tech. Sgt. Christopher Campbell
Reality: This was a myth perpetuated after the infamous Navy SEAL dog Cairo was thrust in to the spotlight after being named as being part of the Osama Bin Laden raid. Suddenly, there was an insatiable appetite for information about these heroic dogs, the missions they went on, and the special capabilities they could provide thus creating an environment for false information to spread.
The truth is that military dogs can receive a titanium tooth but only if an existing tooth becomes damaged. It's the same as a human receiving a crown. A dog's actual tooth is already stable, strong, and effective enough on their own that there is no reason to replace them unless for medical reasons.
Myth: Any dog can be an MWD, including shelter dogs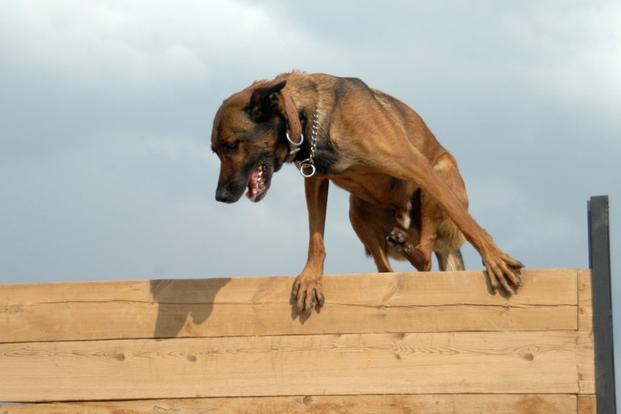 Photo: US Air Force Tech. Sgt. Jeff Walston
Reality: While it would be nice to be able to save shelter dogs and train them to be MWD's or for civilians to donate their pet dogs to help serve our country, the truth of the matter is military working dogs are the front line of defense both on deployment and at home.
With this amount of responsibility — and so many lives on the line — there is no room for error and therefore only the world's top dogs will do. A much better use of shelter dogs, or those who want to donate their pet dogs to the military, is to train them as therapy or service dogs for veterans.
Myth: MWDs are euthanized when their service is complete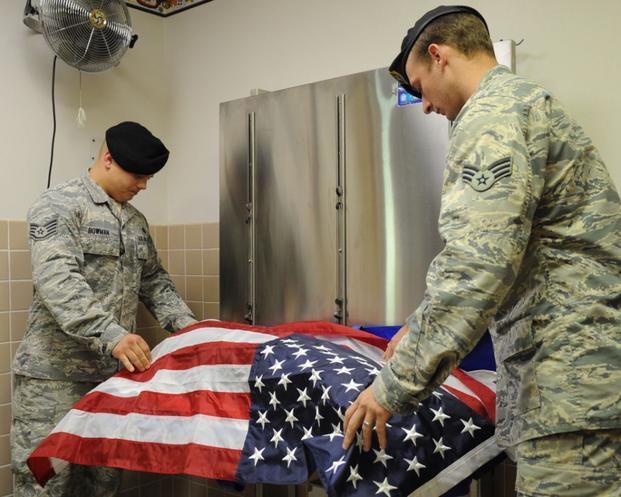 Photo: US Air Force Senior Airman Tristin English
Reality: This is another myth that, tragically, was at one point true. After the Vietnam War, military working dogs that completed their service in the military were considered too dangerous to adopt and were routinely put down. Thanks to the passage of Robby's Law in 2000, all retired military working dogs, if suitable, are now allowed to be adopted. Most retired MWDs (90%) are adopted by their current or former handlers.
Because of this, there is a 12-18 month waiting list for a civilian to adopt a retired MWD. Today, the only reasons an MWD may be euthanized is due to terminal illness or extreme aggression, but every effort is made to have MWD's be successfully adopted.
Myth: Every MWD is trained to detect both narcotics and explosives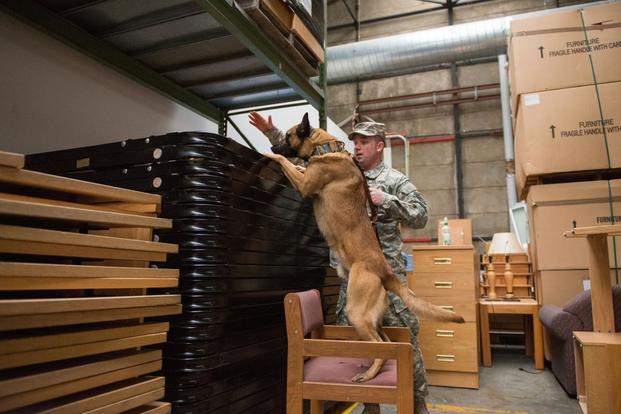 Photo by Pierre Courtejoie
Reality: While all dogs receive the same patrol training, not all receive the same detection training. Each dog trained in detection specializes in either narcotics or explosives detection but not both. There are several different odors for both narcotics and explosives for dogs to learn, too much for a dog team to train and be proficient on so they must specialize in one or the other.
Also, there are different tactics in detecting narcotics vs. explosives, and even if your dog was trained on both and responds, how would you know to call the bomb squad or narcotics unit? That being said, it should be noted that some also believe MWD's will retrieve what they find and bring it to the handler. MWD's are trained to get as close as possible to the odor and then respond without ever touching it.
Myth: All MWDs are male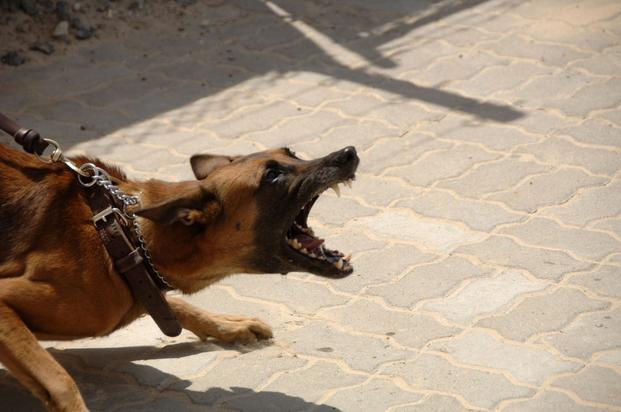 Photo: US Air Force Tech. Sgt. Christopher Campbell
Reality: Females make just as good of an MWD as their male counterparts and are frequently used. They meet the same standards males do in becoming certified military working dogs in both patrol and detection. The only real and obvious difference is females are generally smaller than the males but in a military working dog world it's not the size of the dog that matters, it's the size of the fight in the dog, and well trained female MWD's will fight at all costs to protect their handlers as MWD Amber demonstrates (pictured above).
Myth: MWDs are considered to be equipment in the military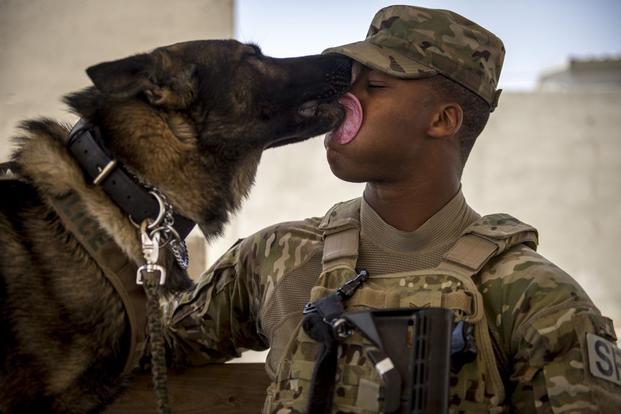 Photo: US Air Force Staff Sgt. Jeremy Bowcock
Reality: Once again, the most tragic moment in the history of the military working dog program was when they were considered to be surplus equipment at the end of the Vietnam war and left behind. However, the mentality that the military still considers them that way ended years ago. For all intents and purposes MWD's are in no way thought of, treated, or tracked as equipment.
All MWD's do receive a National Stock Number, or NSN, which allows the military to track and identify them but it's the same as every service member being designated with a MOS (military occupational specialty) code so the military can track the kind of training they receive. Additionally, any official language found referring to MWD's as equipment is currently being eliminated.
For more detailed MWD myth busting check out this Foreign Policy article by Rebecca Frankel 
---
MORE POSTS FROM WE ARE THE MIGHTY:
11 Things New Soldiers Complain About During Basic Training
4 Badass Conscientious Objectors
15 Modern Photos Of Pin-Up Girls Taken In Support Of US Troops
We Are The Mighty (WATM) is dedicated to serving the military community with authentic entertainment and original content. With a team of military veterans and civilian military supporters, WATM features premium original and curated video programming of all genres as well as photography, stories, quizzes, lists and much more. For more, visit the We Are the Mighty site.