During World War II (and for several years after), Bing Crosby was just about the biggest popular entertainer the USA has ever known: he was the #1 actor at the movie box office, the #1 recording artist in the world and the hosted the top-rated radio show in America. It's like he was peak Tom Cruise, peak Michael Jackson and peak Johnny Carson all at the same time.
A big reason for that success was the song "White Christmas," a throwaway tune from the 1942 movie Holiday Inn that became the biggest record of all time and a poignant reminder of home for millions of troops stationed overseas during World War II. People remember Bing's movie partner Bob Hope for his tours to entertain the troops, but no one did more than Crosby to promote the war effort in the Forties.
There are a flood of new releases that might help revive Crosby's reputation, including American Masters: Bing Crosby Rediscovered, a new documentary airing this week on PBS and available on DVD and White Christmas: Diamond Anniversary Edition, an elaborate Blu-ray/DVD reissue of the 1954 movie inspired by the song's popularity with the troops.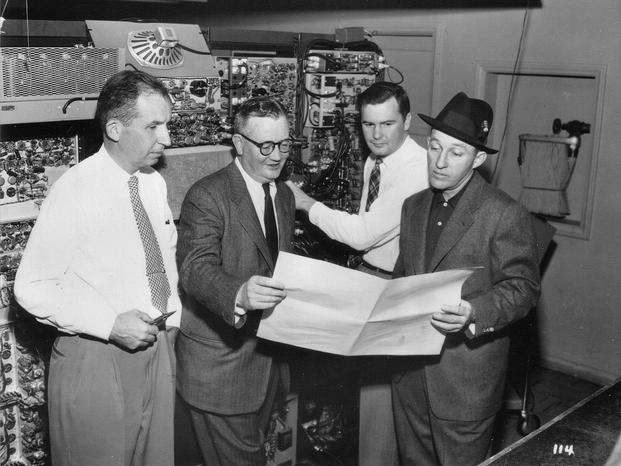 Rediscovered does a good job of compressing an epic career down to 90 minutes without ignoring his legendary partying and troubled relationship with the children from his first marriage to Dixie Lee. Interviews with producers and performers highlight Bing's pioneering recording work in the 1930s: he really is the first singer to understand how to use a microphone in a recording studio to create the kind of intimate, natural-sounding performances that revolutionized the music business.
The show also touches on what have been Crosby's most revolutionary technical contribution. After WWII, Crosby wanted to pre-record his radio programs and use the V-Disc technology that had allowed distribution of entertainment to overseas troops during the war. Unfortunately, those recordings didn't hold up when broadcast over the airwaves and sounded terrible when compared to a live production.
Here's the detail the show leaves out: Army Major Jack Mullin discovered several AEG Magnetophon tape recorders with AC bias added to the record circuit, virtually eliminating the noise problems that had made tape recording impractical up to that point. Mullin brought the technology back to the States, shopped it around Hollywood and Crosby was the guy who first employed the technology and later put up the money to start the Ampex Corporation. Tape revolutionized both music and broadcasting and that investment made Crosby an incredibly wealthy man.
White Christmas is an big-budget musical extravaganza that also stars Danny Kaye as an army private who saves Captain Bing during the war and later becomes his onstage partner in a song-and-dance team. Rosemary Clooney (George's famous aunt) and Vera-Ellen play the sisters singing duo who play their love interests. It's weird to see a balding guy with a gut and a questionable toupee as a leading man, but his comic timing is always impeccable and it's breathtaking whenever he launches into a tune.
It's a widescreen technicolor extravaganza that looks great on Blu-ray. There's an entire army of special features: a sing-along subtitle track, commentary by Rosemary Clooney, a selection of holiday TV performances from Crosby and Kaye, documentaries about the making of the film and Crosby's legacy as a Christmas song performer, a UNICEF documentary narrated by Danny Kaye and a short film about Irving Berlin and the writing of the song "White Christmas." You also get DVD versions of all of the above spread over 2 discs and a 12-song music CD for around $15.
Anyone who's really curious about Crosby after the documentary should check out another new package, the 24-film Bing Crosby: The Silver Screen Collection DVD box set that also includes the Rediscovered PBS documentary. Starting with his 1933 movie debut in College Humor, the collection includes all his massive hits from the 1940s, including Holiday Inn (original home of "White Christmas"), his Oscar-winning Going My Way and four of the classic Road movies he made with Bob Hope.