The girl is fully armed.
Jane Fonda has made a lot of poor choices in her life.
If you're reading this second paragraph, please realize that a big chunk of our readers didn't make it this far. They've already scrolled to the bottom and are furiously hammering away in the comments section about her stupid trip to Hanoi during the Vietnam War and even stupider comments about the POWs.
Most of America forgave her sometime around the mid-80s when Dolly Parton joined her in 9-to-5 and she made a mint off her exercise videos but there's a contingent that won't let it go; those folks are not going to like the new reissue of Barbarella on Blu ray. The rest of us might want to consider whether to add it to Jane's list of bad decisions.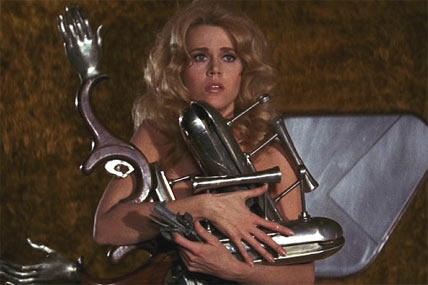 Barbarella was released in 1968 and it was a good part of the reason Jane was so controversial when she got herself tangled up in the antiwar movement. As Henry Fonda's daughter, she was a genuine Hollywood princess raised in privilege and luxury. When she decided she wanted to try the family business, doors flew open and she quickly had the beginnings of a successful acting career.
Hank might not have been the most engaged parent, at least that's the story the family put out when father and daughter finally made On Golden Pond together in 1981. Peter set out to embarrass him by making a series of biker and drug movies that culminated with the biker/druggie combo Easy Rider in 1968. Jane married the much older French director Roger Vadim and decided to make Barbarella when she was 30 years old.
It looks tame now (the movie was later rated PG when the ratings board kicked in), but Jane Fonda getting naked onscreen was a huge deal in 1968 and the movie provoked a huge scandal.
Now it's hard to figure. Even though the screenplay (based on a popular French adult comic series) was written by Dr. Strangelove screenwriter Terry Southern (who later co-wrote Easy Rider), it plays like the dumbest kind of low-budget 50s outer-space movie with some sexy parts bolted on. It's the kind of script that Hollywood starlets do when they're 21 and think they're being provocative but they usually figure out by the time they're 24 or 25 that they're just being exploited in a film like this.
That's a fact that makes this an even more curious choice. A 30-year-old actress has been chased around the casting couch enough times to realize what she was getting herself into here. Even allowing for the fact that her old man husband was directing, she had to know how silly this movie was going to be and all she was really going to accomplish was becoming the most famous person to ever get naked in a movie.
Aside from Hanoi Jane's rack, the most notable thing about the movie is her search for Durand Durand, a character who later inspired the UK band to change the spelling for its own name. There's an attempt at some satire about sexual hangups but that's stuff's just going to seem stilted, weird and confusing to anyone born after 1970.
The Blu-ray transfer looks great and highlights the groovy futuristic set design to great effect. The mono soundtrack doesn't do much for the space age bachelor pad score, though.
People who should check out Barbarella: folks who always wanted to see Jane naked, fans of campy 60s set design, anyone who's looking to work himself into a rabid frenzy about the Hollywood elite.