Military spouses currently face the highest unemployment rate of any American demographic.
To put that figure in perspective, military spouse unemployment is at 24%, roughly on par with unemployment in Mozambique, a country that has seen political instability for longer than 20 years.
But that number pertains only to military spouses in the United States. For spouses living abroad, the situation can be worse -- much, much worse. But no one really tracks milspouse unemployment rates outside the United States.
"There is crucial information missing from the Military Spouse Demographics and Employment Information report," said Jaime Chapman, an OCONUS military spouse and founder of Begin Within, a company that provides career coaching and finds jobs for high-performing individuals.
Related: Loneliness, Unemployment Among Top Concerns for Military Spouses
Chapman is referring to a White House report released in September 2018 that documented demographic and employment information about military families, spouse education levels and more.
"We need a breakdown of different domiciles, including state-to-state and OCONUS unemployment rates. Military families deserve to know the unemployment rate of different locales because it impacts the wellbeing of the entire family," she said.
Rates of unemployment abroad could be alarmingly higher than at home. A health assessment survey at a U.S. Army installation in Germany revealed an unemployment estimate of 47%.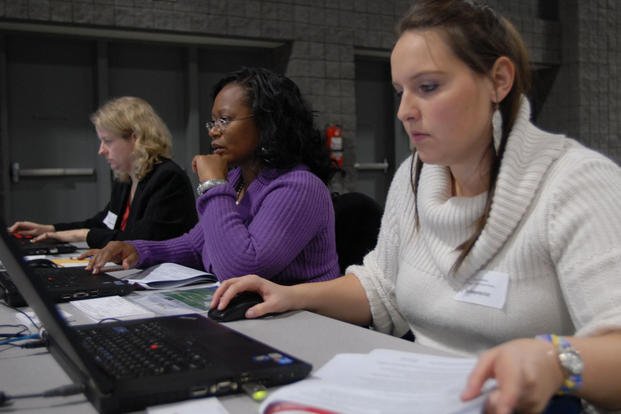 Many factors could cause such a high unemployment rate. Language barriers in their host nations, frequent deployments, field training, lack of child care and status of forces agreements could all be preventing spouses from working.
There are, of course, only so many open civilian jobs on a given military base.
"It all boils down to retention," Chapman said. "At the end of the day, moving a lot, serving as a single spouse in the recurrent absence of the service member and living in an enduring state of hardship will negatively impact an employer's ability to retain military spouses long term, as well as the spouse's ability to withstand long-term stress and remain in the workforce."
On top of retention issues, more than a third of spouses work in career fields that require licensing and certifications, such as health care, teaching and cosmetology. Many certifications will need to be updated or reacquired every time their family moves.
Business owners face trouble spots of their own, even when operating solely on base or working out of their homes. The United States' status of forces agreement with Italy severely restricts military dependents working from their homes. In Germany, business owners operating out of U.S. military installations must register as a German business and pay German taxes, even if their clients are all in the United States. These are just a few examples of the issues military spouses face when trying to supplement family incomes.
The revelation of the high unemployment rate among military spouses has spurred the Defense Department. Federal and state governments introduced legislation to promote the hiring of milspouses.
But American tax credits for businesses won't help spouses in Turkey. More needs to be done, Jaime Chapman says.
"Some overseas military commands have begun hiring initiatives focused on sourcing local military spouses but, generally speaking, the employment assistance available to military spouses overseas is not as robust compared to services available in the U.S." she said. "To make matters worse, local employment programs face budgetary restrictions which limit staffing and overall impact."
-- Blake Stilwell can be reached at blake.stilwell@military.com.
Want to Learn More About Military Life?
Whether you're thinking of joining the military, looking for fitness and basic training tips, or keeping up with military life and benefits, Military.com has you covered. Subscribe to Military.com to have military news, updates and resources delivered directly to your inbox.