If you had Permanent Change of Station (PCS) orders and are now stuck in limbo, you may not be sure what to do next. While your local transportation offices and your assigned transportation service providers (TSP) are working to have your move rescheduled for after the restriction ends, there are several things you can do to help make the transition smooth.
Clean Out
The first step for preparing for any move is to clean out what you don't want to move. While many people are stuck in shelter in place locations or social distancing, use the extra time at home to start your PCS cleaning. Have a box or two that just get moved from house to house and never opened? Now is the time to finally open it and figure out what is worth keeping or tossing.
Get Labels Ready
One of things usually remembered the day before the packers arrive in your home are labels for your boxes. Many families will label their boxes with contact information in the case that a box gets misplaced. They do not have to be anything fancy and can be printed from home with address labels. Consider adding your name, phone number and email addresses to the label. If you have PCS'd previously, use your old inventory as a guide for how many you may need, if you have not moved before having around 500 on hand would be a good idea and any extras can be saved for your next move.
Inventory Now
Start working on your personal inventory with the extra time -- the books on your shelf, any big collections, high-value items or other items that you want on a specific list. Besides having a good record of what you have, can be beneficial in case you need to file a claim and itemize what was damaged or missing. Don't forget to take pictures of your high value items and collections while you are at it.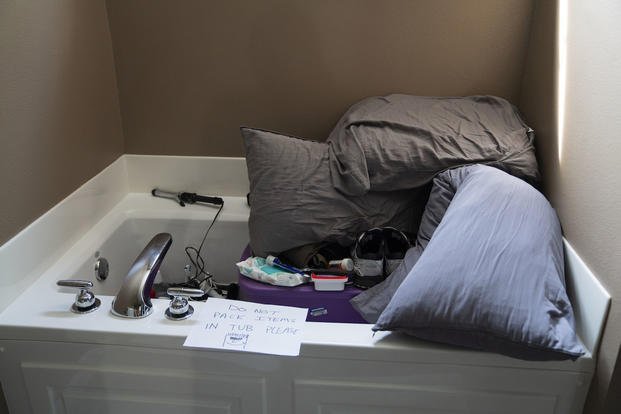 Pre-Pack
This waiting period is a great time to begin your pre-packing. Go ahead and box up that collection, put the china in its original cartons or anything else that you are not currently using and pre-pack it. Also, start your "do not pack" pile. Pull out the air mattresses now, or any other items you take with you, so you are not rushing around the day before to get it together.
Pack What You Are Not Using
Have you already changed out your seasonal clothing? Take the time to go ahead and pack it up, too. Anything that you can pack now can help your assigned packing days go quick and easy to ensure there are not any delays on the front end. The infamous "Pack By Owner" is not allowed on inventories, so you don't have to worry about liability issues. Moving companies just ask that the boxes are left open so they can verify the contents and add paper as necessary.
Prepare for Delays at Delivery
We can all assume that the stop-move order is creating a backup of deliveries in storage, and the already stretched thin peak season will be even thinner. What do you need to get by for an extended period? Add those items to your "do not pack" pile to take them with you. It is always better to be over-prepared and not need it than not have it and need it.
Save for Expenses
With many things being closed and canceled, use the funds you would have spent on entertainment to start on your "PCS Fund." With expected delays for deliveries, you may find you'll need to stay in a hotel longer or needing to buy extra things until your household goods arrive. Having the extra disposable cash at your ready will help prevent relying on credit cards or racking up unnecessary debt.
Most of all, we want you to know that you're not alone. There are so many resources available to help you through any stage of your PCS.
Keep Up with the Ins and Outs of Military Life
For the latest military news and tips on military family benefits and more, subscribe to Military.com and have the information you need delivered directly to your inbox.