Pete Blohme has a long list of food service bona fides. He's a graduate of the Culinary Institute of America, the same school that gave us Roy Choi, Anthony Bourdain and a host of other notable chefs. Blohme has appeared on the Food Network, owns four restaurants and spent countless hours in the kitchen.
He even made midrats a meal worth showing up for.
Blohme was able to put his personal touch on the Navy's midnight meal service, because he and a few of his friends like to go out and cook for sailors. They call themselves the Messlords, they want to get a meal to any sailor deployed anywhere in the world and hope their influence sticks with the galley staff long after they leave.
"They call me Panini Pete," says Blohme, who set up shop in Alabama. "Fifteen years ago, I opened up a little panini shop, a very chef-driven house, with roasted meats, homemade dressing spreads and fresh-cut fries. Then I did a little show called 'Diners, Drive-Ins and Dives,' and that kind of changed the whole trajectory and course of my career."
"Panini Pete" means he met Guy Fieri, the host of one of the Food Network's most popular shows, as he was featured on "Diners, Drive-Ins and Dives." Fieri and Blohme hit it off right away. Eventually the two got to talking about Fieri's tours to entertain Navy sailors. He suggested that Blohme gather a few of his chef friends and go out to cook for the troops.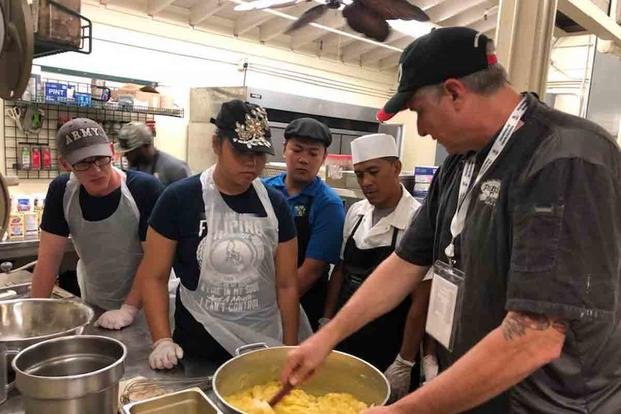 Blohme isn't a veteran, but his father served in the Marine Corps and many members of his extended family served in the Army during the Vietnam War. He always had a soft spot for veterans, but it got a whole lot softer after seeing U.S. troops in action. He was hooked.
"It started off just very small and humble, and we really didn't know what we were doing," Blohme admits. "But quickly we all were kind of like, 'Wow, this is something really special that we're getting to do here.' Once a civilian gets a chance to peek behind the curtain and see how hard everybody works and how committed they are, that's powerful."
Blohme put together an all-star team of "DDD" alumni, consisting of Stretch from Grinders Kansas City, Mike Hardin from Hodad's in San Diego and "Gorilla" Rich Bacchi from Gorilla BBQ in Pacifica, California. This was the first incarnation of the Messlords -- and a trial by fire.
The Messlords decided they wouldn't just go in and show sailors how to cook. They wanted to make a day of it. They put on music and get the galley's everyday crew involved in making some truly unique food for the ship, no matter what ship or shift they happened to be on at the time.
"We go in there like just culinary clowns and take over," says Blohme. "We make stuff these young men and women are going to enjoy at a different level than what they're used to getting. And with a lot more energy and enthusiasm. We like showing the guys in the galley certain tricks, too."
Since those early days, the Messlords have expanded their roster to more than a dozen chefs from around the country who are willing to leave their restaurants to cook for U.S. troops for weeks at a time, from ships at sea to naval installations from Japan to Djibouti.
"We're so glad to be here," Blohme says. "I remember on our second tour, we brought in John Conley from Flagstaff's Salsa Brava and when I introduced him, you could see he was tearing up. All he could do was thank the sailors for everything they do."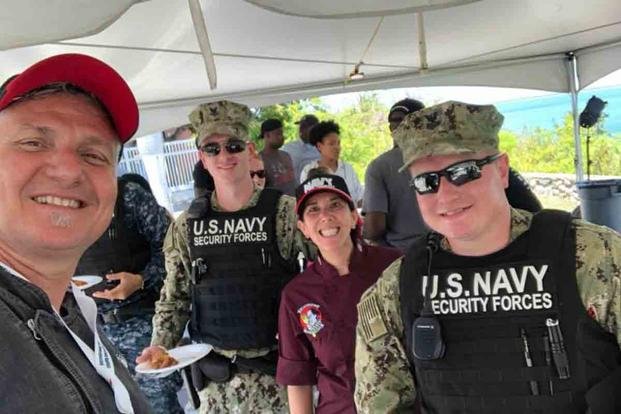 There were days where the Messlords would show up to the galley and cook for 30 hours' straight, but for them, it was all worth the effort.
"We were working a dinner, and then were suddenly getting set for breakfast," Blohme recalls. "Then the local MWR asks us if we're doing something for Midrats. John [Conley] and I look at each other and say, 'Of course, we're doing something for Midrats. They can't miss out on this.' We knew we were going to be at it for 30 hours, but we gotta do it for these guys. We have to. Not doing it wasn't even a question."
Since 2012, the Messlords have fed more than 250,000 military personnel, visited over 20 countries and cooked at 50 military bases. The COVID-19 pandemic may have slowed the pace of visits from the Messlords, but they will be back to cooking for the Navy as soon as the Navy will have them.
-- Blake Stilwell can be reached at blake.stilwell@military.com. He can also be found on Twitter @blakestilwell or on Facebook.
Want to Learn More About Military Life?
Whether you're thinking of joining the military, looking for post-military careers or keeping up with military life and benefits, Military.com has you covered. Subscribe to Military.com to have military news, updates and resources delivered directly to your inbox.