Nineteen-year-old Colin Garrett and 26-year-old Sam Hunt, NASCAR's youngest team, decided to do things a little bit differently by heading into the expensive venture with a nonprofit car.
They did it by crowdfunding every dime, to the tune of more than $200,000.
They didn't use a Kickstarter or GoFundMe page to raise the money. Instead, they started an online effort called "Our American Dream Team," proposing to shun corporate sponsorship and instead feature veteran- and military spouse-owned businesses on their number 26 Toyota Supra.
Amazingly, they didn't just raise enough money to race in the NASCAR Racing Experience 300 on Feb. 15. They also had enough left over to pay for a veteran's stem cell treatment, a two-shot procedure that rebuilds damaged parts of the body.
Racing in the NASCAR Xfinity Series -- or any NASCAR race -- is an expensive venture, according to staff with Hendrick Motorsports. Each tire can cost up to $450. When a team needs 16 tires per race, that adds up fast. And costs don't end there.
The special engine needed can cost upward of $45,000. The body of the car is also a unique item, with no comfort features, no tail lights and missing other features we're used to seeing on a vehicle. These cars can run a team about $70,000. And all this is before anyone gets paid. That's why most teams are loaded with corporate sponsors.
Garrett, the driver, and Hunt, the owner, decided to try something different.
Along with nonprofit partners Racing For Heroes, The Rosie Network and the Veteran Business Project, the team is tackling veterans' issues in its own way. Racing For Heroes' core mission is combating suicide, especially among active-duty troops, by providing resources for physical and mental wellness, motorsports and employment opportunites.
The joint NASCAR effort is dedicated to promoting those services.
Racing For Heroes takes what founder and former special operations warrant officer Mike Evock calls an "unconventional approach" to PTSD and TBI treatment.
"We have stem-cell therapy, hyperbaric chambers, IR light therapy and vitamin programs for traumatic brain injury," he said in a video celebrating the crowdfunding milestone. "We've made a huge effort to do this for the first time ever. It's big." The racing duo paid for the veteran's stem-cell treatment through the group.
The crowdfunding campaign was created by The Rosie Network, a nonprofit founded by military spouse Stephanie Brown. The Rosie Network works to train veteran entrepreneurs and military spouses to build and develop their own businesses for free.
Vet-owned businesses that wanted to help sponsor Garrett and Hunt were able to donate as little as $10 to the effort. Anyone who donated got a special badge to market their business as a "Veteran Business Advocate of Our American Dream Team."
Everyone involved in the effort has a personal stake in supporting military members, veterans and their families. Garrett, the team's driver, has two brothers in the Army. One of them is currently stationed in South Korea.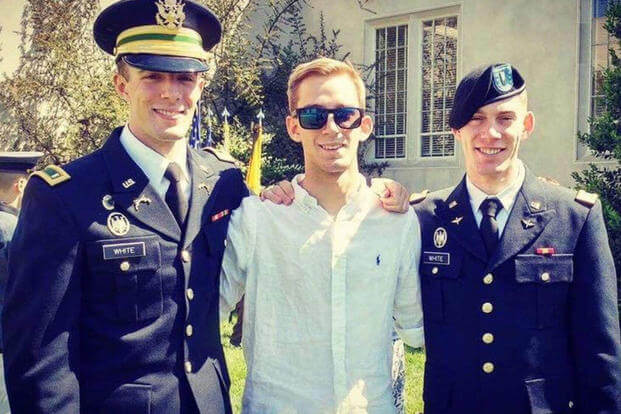 "Since both of my brothers are active duty, the people we're helping are just like them. Being able to help pay for a veteran's stem cell treatment is an honor," he said. "When I first started racing, my Dad said he wanted me to find a way to make it mean more than racing. Just five years later, now I know what he meant and it's really cool... I'm thankful for that opportunity."
-- Blake Stilwell can be reached at blake.stilwell@military.com.
This story was updated on Feb. 4 to reflect the correct team affiliation.
Want to Know More About Post-Military Careers?
Be sure to get the latest news about post-military careers as well as critical info about veteran jobs and all the benefits of service. Subscribe to Military.com and receive customized updates delivered straight to your inbox.