Actor David McCallum, who played Dr. Donald "Ducky" Mallard on CBS' long-running "NCIS" for the past 20 years, passed away at age 90 on Sept. 25, 2023. The legacy he leaves behind isn't limited to the top-rated show in the "NCIS" franchise: McCallum was also a veteran of the British Army, a television legend and, surprisingly, a contributor to one of hip-hop's most enduring classics.
Born in Glasgow, Scotland, on Sept. 19, 1933, David McCallum was raised by parents who were skilled musicians. His mother was a cellist and his father was a violinist with the London Philharmonic Orchestra. Young McCallum was even training to become a musician himself, but found his way into voice acting at a young age.
McCallum's artistic career hit a speed bump in 1951, when he was drafted into the British Army. He spent two years in the army, commissioned in the 3rd Battalion, Gold Coast Regiment, part of the Royal West African Frontier Force stationed in Accra, Ghana. His service was unremarkable by his own admission (but a wonderful experience), and he spent much of his time looking forward to returning to the arts. He left the service in 1953 without work and feeling lost, supporting himself through small parts in film and television.
Eventually, McCallum secured an agent and landed a part in the 1962 film "Freud: The Secret Passion" starring Montgomery Clift. His work on the movie led to a deal with Universal Pictures and bigger roles in movies like "Billy Budd" and "The Great Escape" before landing the role of Soviet-born Illya Kuryakin in the 1964 espionage thriller series "The Man from U.N.C.L.E."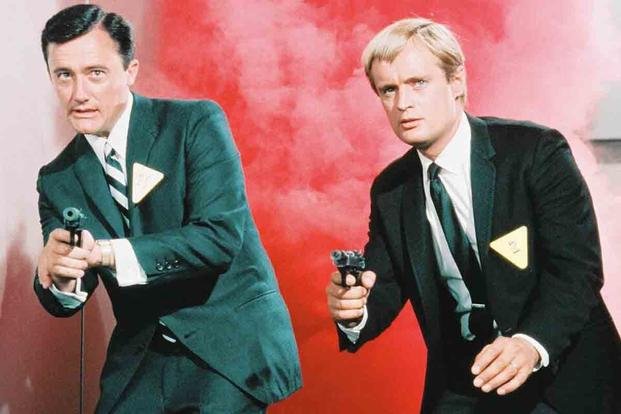 The role of Kuryakin not only made McCallum a household name and a TV sex symbol, but allowed him to return to his musical roots. In the mid-1960s, McCallum released four albums with producer David Axelrod, mostly composed of instrumental cover songs of pop music. McCallum had no idea that a song from the B-side from one of those albums would become one of hip-hop's most iconic sounds.
Both songs start off in a similar way. A dramatic sting swells into a series of dark, twangy guitar plucks. McCallum's song "The Edge" drifts off into a typically 1960s-era swirl of instrumental lounge music.
Meanwhile, rap legend Dr. Dre's 2000 single "The Next Episode" samples McCallum's plucking as punctuation for his classic turn-of-the-century collaboration with Snoop Dogg.
Surprisingly, "The Next Episode" almost didn't make it onto Dre's album "2001." Although it topped the charts at No. 23 on the Billboard Hot 100, it has remained a continuous staple in American pop culture, most recently appearing in the 2022 Super Bowl LVI halftime show. Dre isn't the only artist to sample McCallum's "The Edge," either. Other users include John Legend, M.I.A. and Kendrick Lamar.
"The Next Episode" wasn't even the biggest event for McCallum's career in the 2000s. In 2003, he was cast as Dr. Donald "Ducky" Mallard in the CBS procedural "NCIS," a character he played in two episodes of "JAG."
McCallum threw himself into the role with characteristic zeal. As the show's resident pathologist, he began to learn how to talk and act like a pathologist, even observing real-life autopsies at the Los Angeles County Coroner's Office. He became so knowledgeable about his character's field, he was even able to conduct autopsies himself.
Along with "JAG," his character also appeared in the spinoff series "NCIS: New Orleans" and in the 2011 NCIS video game. He portrayed Dr. Mallard on the small screen until his death of natural causes in 2023.
-- Blake Stilwell can be reached at blake.stilwell@military.com. He can also be found on Facebook, Twitter, or on LinkedIn.
Keep Up With the Best in Military Entertainment
Whether you're looking for news and entertainment, thinking of joining the military or keeping up with military life and benefits, Military.com has you covered. Subscribe to the Military.com newsletter to have military news, updates and resources delivered straight to your inbox.