Everything old is new again in the world of television streaming. When Pluto TV was founded, it opened a whole new world of viewing by falling back on the old model of broadcast television. It resurrected commercials. Pluto has hundreds of channels, streaming curated TV and movies, in pretty much every era and genre, all supported by commercial advertising.
Pluto TV co-founder Ilya Pozin created Telly, an ad-supported streaming service that will provide 55-inch, dual-screen televisions to its users. Telly will provide free streaming content, along with customizable news, stocks and sports information. The only catch is that the second screen also comes with a constant stream of ads.
If the ad-supported nature of your new streaming content hasn't dissuaded you from wanting a free television, Telly is now taking reservations for 500,000 free televisions. All you have to do is make a reservation on the website, download the Telly app in Google Play or the App Store, then create your app-based profile.
One of the major complaints from consumers in the streaming television era is that purchasing all the various subscriptions basically adds up to a cable subscription. And streaming services are only getting more expensive. Some even include ads despite the monthly fee.
"For too long, consumers have not been an equal part of the advertising value exchange," Pozin told The Hollywood Reporter. "Companies are making billions of dollars from ads served on televisions, yet consumers have historically had to pay for both the TV and the content they watch. All of that changes today.
"When I co-founded Pluto TV, we created an entirely new model that offered amazing TV content to viewers for free. Now, with Telly, we are providing the actual television for free as well."
Telly's new TV is a 55-inch 4K HDR screen on top with a second, smaller touch screen below. The touch screen displays user-programmed information sources, with news available from Reuters, CNN, Fox News and others. It allows users to track sports teams and players as well as stock prices and local weather. It's also where the unending stream of advertising is displayed.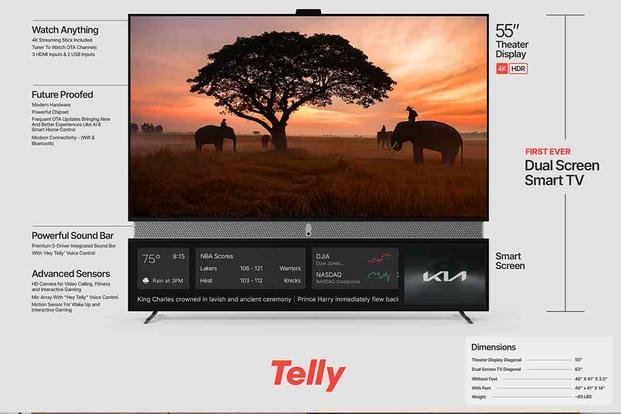 The set ships with an Android TV device, but users can attach whatever devices they want to the television, be it a Roku stick, Amazon Fire stick, a cable box or even a digital antenna. LED lights on the back light up the wall behind the television. It also includes microphones and an HD camera for video calling, workout classes and gaming.
Like many television sets, the Telly set comes with some standard bells and whistles, such as picture-in-picture. Just because the TV was free doesn't mean it's cheaply made.
"Don't be fooled by the price point. It's not a budget TV by any means whatsoever," Pozin said. He went on to say that the retail price of the Telly TV would be more than a thousand dollars. The reason is because the company doesn't want the set to be obsolete in just a few years.
Nothing is free. Even in the age of broadcast television, viewers gave their time to TV commercials. In exchange for the new Telly TV, users will be offering Telly (and advertisers) the most valuable asset of this age: their data. And it's not just viewing data: Telly wants fully targetable information. It wants to target individuals to advertisers.
"You're giving us your demographics, your psychographics at the individual and household level before you even get your device, so we know who you are, we know where you live, we know your income, we know what car you're driving, we know when your lease is up," Pozin said. "We know what your favorite brands are. We know [who] your favorite sports teams are so when you first bring your TV home, you scan a QR code with your phone; all the data is already there."
It's hard to pass up a free, quality television, so if you're OK with trading your information to get one, head on over to FreeTelly.com to learn more and sign up.
-- Blake Stilwell can be reached at blake.stilwell@military.com. He can also be found on Twitter @blakestilwell or on LinkedIn.
Keep Up With the Best in Military Entertainment
Whether you're looking for news and entertainment, thinking of joining the military or keeping up with military life and benefits, Military.com has you covered. Subscribe to the Military.com newsletter to have military news, updates and resources delivered straight to your inbox.