Music legend Dolly Parton is having a hectic moment, but she took time out to visit with the military community as part of the USO's Military Virtual Programming (MVP) series in early December 2022.
The USO's MVP series may not be a full replacement for the in-person tours that have long been the organization's trademark, but they allow an individual to reach a much larger worldwide military audience without the physical wear-and-tear that traditional travel entails.
In addition to Dolly's visit, recent celebrity MVP sessions have featured Mario Lopez, Tim Allen and Stephen Colbert. The USO also uses the program for education events about career transition, home loans, and even a few cooking shows. Many of the previous sessions are available on-demand once military members have registered at the USO MVP site.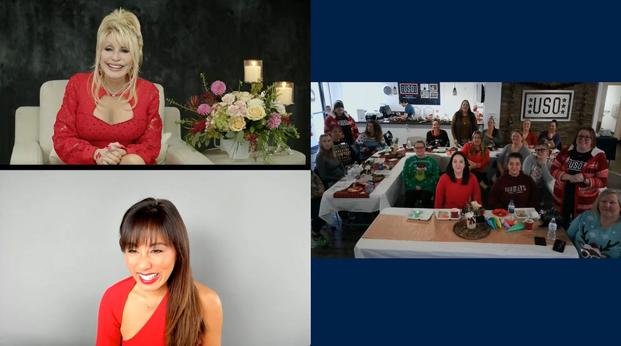 Parton joined host Kelly Miyahara for a Q&A, including some questions about her career from military members and their families. She opened with a favorite line, describing herself as a "Backwoods Barbie, too much makeup, too much hair, but don't be fooled into thinking the goods are not there."
Dolly took a moment to promote her new greatest hits record "Diamonds and Rhinestones," a career-spanning 23-song CD or LP collection that features beloved Parton classics like "9 to 5," "Jolene" and "I Will Always Love You." She's even made a new lyric video to promote the release.
Parton also broke some news during the MVP session, announcing that she plans to make her first rock and roll album and intends to be in the studio recording when her 77th birthday comes around on Jan. 19, 2023. She mentioned Ed Sheeran, Paul McCartney and Elton John as collaborators on the upcoming album.
The rock album was inspired by what Dolly considers to be her surprise induction into the Rock & Roll Hall of Fame this year. After first rejecting the idea as absurd, the country singer came around after she learned about how diverse the definition of "rock" has become over the museum's four-decade life.
Parton wrote a rock song for her performance at her induction ceremony and proved she knows how to play a power chord, so the idea of her making a rock album suddenly seems like a good idea.
In recent years, Parton has also proved to be a great humanitarian. Many military families know her work through Dolly Parton's Imagination Library, a charity that has donated millions of books to children around the United States, Canada, the United Kingdom, Ireland and Australia. Currently, one in 10 children under the age of five in the USA receive free books from Parton.
Dolly says she was inspired to start the Imagination Library by the memory of her father, who wasn't able to attend school while growing up in Appalachia and never had the opportunity to learn to read himself.
EMBED YouTube: Dolly Parton's Imagination Library
Parton also donated $1 million to Vanderbilt University that funded research that led to the Moderna coronavirus vaccine, and raised $700,000 for the victims of the 2021 flood in Tennessee.
All of that work inspired Amazon founder Jeff Bezos to give Parton his "Courage and Civility" award, which came with a $100 million grant that Parton can use to fund the charitable causes of her choice. It's been an amazing life so far.
The USO has supported military members for more than 80 years now, and the MVP series shows how the organization has adapted to changing times and figured out how to reach out to its audience in new and effective ways.
Keep Up With the Best in Military Entertainment
Whether you're looking for news and entertainment, thinking of joining the military or keeping up with military life and benefits, Military.com has you covered. Subscribe to the Military.com newsletter to have military news, updates and resources delivered straight to your inbox.