"The Terminal List," the Prime Video series based on the best-selling novel by former SEAL Jack Carr, stars Chris Pratt as James Reece, a Navy SEAL who must unravel a conspiracy while pursuing justice for his family.
The series debuted on July 1and Prime Video touted its success with viewers, but since then there's been zero news about a renewal that would be based on Carr's novel "True Believer," the outstanding sequel to "The Terminal List."
Carr seems to be the most disciplined man in show business. He has released a new Reece novel every spring since "The Terminal List" debuted in 2018, was a producer and played a role in "The Terminal List" series, and hosts the "Danger Close" podcast.
Pratt was a guest this week on "Danger Close" and hinted at some important intel for fans of the books and television series.
It's a wide-ranging conversation about Pratt's unusual career in Hollywood and also one that digs deep into the actor's friendship and professional relationship with former SEAL Jared Shaw. The entire thing is worth watching on YouTube or listening to via your favorite podcast app.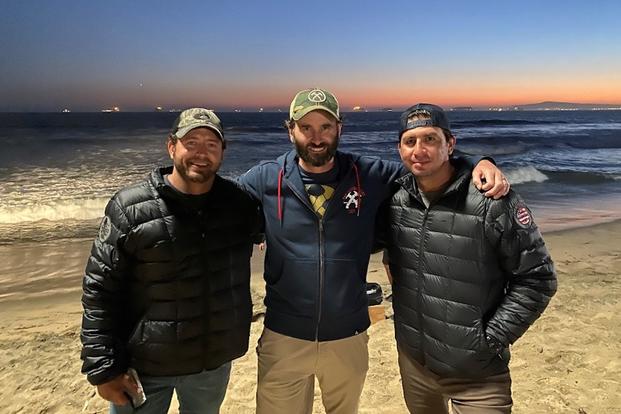 However, we're here for the dirt on season two of "The Terminal List." At around 57:00 into the conversation, as Pratt talks about his relationship with Shaw, he drops a bomb. "As we move forward into this world and expand this Jack Carr Cinevision Universe," Pratt says, "Jared will be a huge part of that. I love the idea of being able to continue our partnership and our friendship and our working relationship."
Wait, what? Did Pratt just confirm that they're making season 2? Carr moves on and lets that statement hang out there with no elaboration.
However, at the end of Pratt's appearance around 1:13:00, Carr mentions season 2 and says, "We'll see. Maybe some cool stuff on the horizon being discussed."
Then Pratt takes it a step further. "I would say to the people, the rabid fans of "The Terminal List" out there, you have nothing to worry about. We love you and we appreciate your support, and it's our life's mission to make sure you can come back to the well. So we're working away."
Short of an official announcement from Prime Video, this seems to be the confirmation that fans of "The Terminal List" have been looking for. Stand by for more information as it comes available.
Keep Up With the Best in Military Entertainment
Whether you're looking for news and entertainment, thinking of joining the military or keeping up with military life and benefits, Military.com has you covered. Subscribe to the Military.com newsletter to have military news, updates and resources delivered straight to your inbox.