"The Terminal List," available for streaming on July 1, is the latest entry in Prime Video's collection of shows that feature military themes or have veterans as their lead characters. "Reacher," "Tom Clancy's Jack Ryan" and "Bosch" have helped create a brand that delivers plenty of action while brave heroes fight against shadowy forces.
Based on former SEAL Jack Carr's best-selling novel, "The Terminal List" features more intense action and even darker enemies than Prime Video's audience has experienced before. Chris Pratt stars as Navy SEAL James Reece, and Taylor Kitsch co-stars as Reece's former teammate, Ben Edwards.
Both Pratt and Kitsch have played SEALs before. Pratt was part of the team that took out Osama bin Laden in "Zero Dark Thirty," while Kitsch played legendary SEAL Michael Murphy in "Lone Survivor." Since those roles, they've both had long-standing friendships with veterans in the operator community, and those connections play a big role in "The Terminal List."
Here's the story: After nearly everyone on Reece's SEAL team is killed on an ill-fated mission and the other survivor dies in mysterious circumstances soon after their return home, Reece has to untangle the truth about what happened to his team and then extract vengeance from those responsible for their demise.
There's a lot to digest in this series, and Amazon has thrown up so many spoiler warnings that it's hard to write about the series if, like me, you've read all five of Carr's James Reece novels and know what's coming. There are mind-blowing plot twists coming for anyone who hasn't read the book, plus subtle changes to the story and characters that will definitely surprise Carr's fans.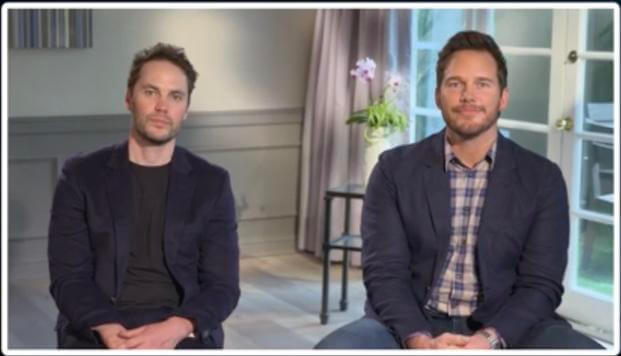 Pratt and Kitsch talked to Military.com about the series and their tight connections to the military veteran community.
Military.com: Those of us who've read all the books know what we're getting into when we watch "The Terminal List." Do you think people who've been watching the Jack Ryan and Harry Bosch shows are ready for how intense this show actually is?
Chris Pratt: "I don't know. It's certainly a departure from what people will expect. It's even a bit genre bending. People who are fans of the book might have certain expectations going into it that will be met, and then hopefully exceeded, because we shift away from the sort of nature of the political thriller and turn it into more of a psychological thriller.
"I think it suits the medium a little bit better. In a novel, you can understand what the characters are thinking, the motivations of the bad guys. In a television show, you can't have the prose; you can have an author explain to the reader what the person is thinking. All you can really do is watch them do what they're doing and hear what they're saying.
"Because of that, you have to be careful about front-loading a piece with any villainy, because it looks like mustache-twirling. We switched the story over to a psychological thriller so we could sort of parse out some things, create a few red herrings, break the novel into something that is more episodic for this series."
"For people who are fans of the book, I think they're going to love it, but they'll also be a little bit surprised because there's enough of a departure from the book to feel a little bit new. My guess is that folks who like Jack Ryan are going to really like this."
Military.com: You have both played SEALs before in films, but movies are two or maybe two-and-a-half hours long and the action scenes can be shorter. When you operate on camera in this series, you really have to operate. How did you prepare for that? Do you think there was more pressure shooting those scenes in this show than there would be on a film set?
Taylor Kitsch: "I don't think it's any different. You're always just going for pure authenticity and rooting it in that. On both occasions, we were surrounded by SEALs. Both on camera, sometimes operating right next to them, and obviously off camera where they're watching every move and how meticulous you have to be, how super important it is to get the cadence right. I love that challenge. We love that challenge. In episode four, you finally get to see Ben and Reece fight together. They have a bond that will never be broken. And I love that it was more character- and story-driven, rather than having violence for the sake of violence."
Pratt: "Yeah, that gratuitous, theme-park ride violence where the purpose of the scene is just to blow shit up. I think there was a bit of pressure, but mostly because we were really, really mindful of the operator community that would watch this. The guys who would watch something else and pick things apart and be like, 'That's not how they were there. ... No, that guy's not punching out around a corner. ... That guy's vest is too low; his plate carrier's on backwards. ... He's got endless ammo. ... He never reloads, no tack reloads.' All of the things that the SpecOps guy would pick out in a movie about Navy SEALs and be like, 'That is just Hollywood bullshit.'
"We had a team of guys sniffing that stuff out for us, because, honestly, a lot of that would go over our heads. A lot of the stuff that I know about the military, I learned watching movies, and it turns out the people making the movies didn't know shit about it. So we surrounded ourselves with as many people as possible to really kind of create this check-and-balance system and gave them full leeway to just call us on any stuff that they saw that wasn't right.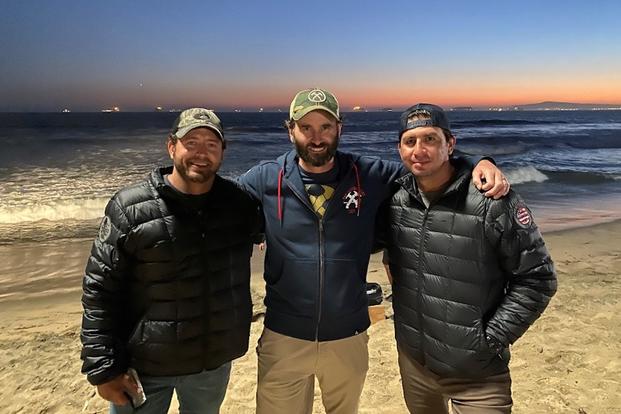 "We worked with Ray Mendoza, who was the same guy who did the tech advising on 'Lone Survivor.' He's a former SEAL. Jared Shaw was a co-producer, former SEAL. We had Max Adams, who's a Ranger, in the writing room. We had Nate Boyer. I'd say 90% of the guys in the tunnels are former SEALs that Ray put together.
"So we never had to teach those guys how to move the gun. They knew what they were doing. That tactical authenticity was something that was really important to us. The pressure was on. I don't know if we nailed it all, but it won't be for lack of effort, I'll tell you that."
Military.com: Especially in the later episodes, the tactical movements seem to be more character-driven, which is something I don't think I've ever really seen before.
Pratt: "That's intentional."
Kitsch: "Going back to [an] episode four moment with Ben and the shotgun, you just want to be original as well. You want to see these guys, you know, they are human, and they do get shot, they do have to reload, they do have to sometimes expose themselves for one another. You try to keep it as authentic and practical as possible. Being practical on those days was huge. There's no green screen on those days, and it grounds the action. It was
tactical or combat loads on the run with a shotgun. That challenges you. We loved it, and most importantly, it puts you in the moment."
Pratt: "And it gives you business, which as an actor, you really want authentic business. You want something that you're doing that's not just standing there, waiting to say the words. When you have a reason to create business, it gives you something to practice other than the words and that's great."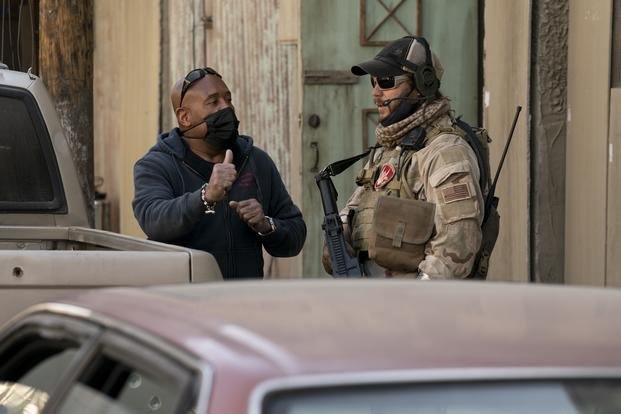 Military.com: "Do you think there's a freedom that comes from telling a story like this that isn't grounded in reality?"
Pratt: "Yes and no. When you're telling the story of Operation Red Wings, or you're doing the Osama bin Laden raid, you have the source material. You know what went down, you have sources telling you what went down, and you're essentially doing recreations of something that was real, and you're wanting to honor what really happened. So in that way, you have restrictions inside of which to operate.
"Whereas if you're creating something, you have that freedom, but that freedom comes without restrictions. Oftentimes, restrictions are the key to creativity. And so, with a story like that, we're really just trying to honor the source material, and make sure that the stuff that we did create never got too Hollywood. We never wanted to be on full auto the whole time with the one-liners like we're used to seeing in films.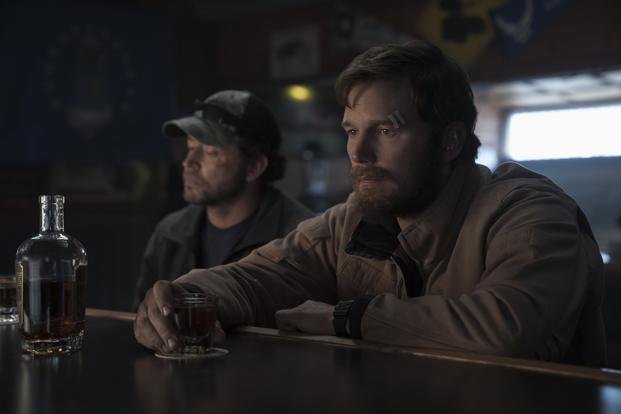 "We went through every script with a fine-tooth comb with Jared, our co-producer, and he didn't pull any punches. He's very obviously very gracious in the way he did it, but he was able to articulate things that were not real and implement the changes we needed to make it more grounded in some regard, even though this story is obviously fantastical and not based in reality with this big conspiracy and all that stuff. But when it came to the elements that we could control, we try to make them very real."
Kitsch: "Obviously we're training off camera with these guys, going to the range, learning these tac reloads at home, working with the shotgun. I did love, when we did the flashback to Iraq or the Sicario stuff, the different vibe when we got to operate with the real operators. We think we can flat ourselves, look at the replay and be like, 'Oh, it looks great.' But then when you're with these guys, and you get to see them move and how there's such a calm cadence in the most heightened moment of life and death, and you see just how smooth these guys are. I love that feeling, and you just do your damnedest to emulate that."
Pratt: "It's hard to imagine actually having that type of composure if the bad guy was shooting real bullets at you."
Keep Up With the Best in Military Entertainment
Whether you're looking for news and entertainment, thinking of joining the military or keeping up with military life and benefits, Military.com has you covered. Subscribe to the Military.com newsletter to have military news, updates and resources delivered straight to your inbox.