The Army & Air Force Exchange Service has partnered with Comcast NBCUniversal to give active-duty military members, veterans and their families a chance to stream the upcoming Beijing Winter Paralympics for free.
The games are scheduled to be held from March 4-13, 2022, in Beijing, and a lot has changed since the Winter Olympics ended on Feb. 20. Ukraine is sending its team in spite of the Russian invasion of the country. Russian and Belarusian athletes have been banned from the competition, even though they were previously told they could compete as neutrals but not as members of the previously banned teams from their home countries.
NBC will offer more than 230 hours of coverage, and for the first time ever, paralympic events will be broadcast on the network in prime time.
"We're honored to partner with the Exchange to bring the Paralympic Games to the military community," Brig. Gen. (Ret.) Carol Eggert, senior vice president of military and veteran affairs at Comcast NBCUniversal, said in a press release. "It's a privilege to serve our Veterans, service members and military families as they enjoy the competitive action and inspirational stories from Team USA."
How can you watch for free?
First, go to the NBC Olympics website.
Find an event you want to watch. When you click on the viewing button, the site will ask you to log in, and you'll go to a login page that's full of TV providers.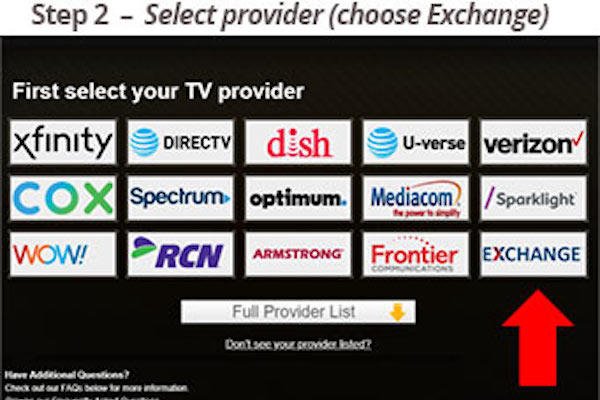 You'll want to click the Exchange button in the bottom right corner. Even though the Exchange isn't a cable or satellite TV provider, that's going to be how this works.
Here's the catch: You'll need to have your own shopmyexchange.com account to log in. If you're eligible, that's a pretty simple process if you're not already signed up.
One more thing. NBCUniversal only has the broadcast rights to stream the Paralympics online in the United States and U.S. territories. If you're stationed elsewhere in the world, you'll have to be on a military base and using a previously approved internet range to access the content.
That's it. NBC has been expanding its online paralympics coverage aggressively over the past few games, and you're now able to watch almost any event live if you're so inclined. Get your logins sorted out and enjoy the games.
Keep Up With the Best in Military Entertainment
Whether you're looking for news and entertainment, thinking of joining the military or keeping up with military life and benefits, Military.com has you covered. Subscribe to the Military.com newsletter to have military news, updates and resources delivered straight to your inbox.