"United States of Al," a situation comedy about a Marine war veteran who helps his Afghan interpreter immigrate to the USA, wants to be the next big mainstream hit on CBS while subtly introducing our vast civilian population to some truths about service and our seemingly endless 21st-century wars.
The series was renewed after its first season and is now in production making new episodes that will start airing in October. The writers, actors and producers are facing a challenge as they're trying to keep up with what's happening on the ground in Kabul as the United States debates its commitment to the Afghan men and women who aided the war effort.
The show follows a Marine Corp veteran who's gone above and beyond to help his translator emigrate to Ohio after that translator saved his life during the Marine's tour of duty in Afghanistan. It's a positive, generous take on an issue that's turned deadly serious over the past few weeks.
"United States of Al" is made by people who believe that the fresh perspective that immigrants have on our way of life is part of what makes America great. They're using a comedy format that has previously been successful as storytellers celebrated both the differences and common ideals established Americans have shared with generations of Irish, Italian, Eastern European and Latin American immigrants. 
That's a generous, idealistic and open-hearted take on immigration. Every wave of new immigrants to the United States has faced resistance in the beginning and "United States of Al" encourages Americans to give Afghan translators and their families a chance to make a new life away from the Taliban.
The show stars Parker Young as Riley, a Marine vet who's moved into his father's garage because his marriage has fallen apart upon his return from combat. Young previously starred on the excellent military sitcom "Enlisted," and his dad, Art (who's also a veteran), is played by Dean Norris of "Breaking Bad" fame.
Riley's sister, Lizzie (Elizabeth Alderfer, "Disjointed"), is a war widow whose husband we meet in flashback. There's also Riley's soon-to-be ex-wife Vanessa (Kelli Goss, "The Ranch") and daughter Hazel (Farrah MacKenzie, "Utopia").
There's enough complicated service drama going on with this family for a show just based on their own issues, but we've also got to deal with Al.
Awalmir ("Al") was Riley's interpreter in Afghanistan and the godfather to his daughter. The family spent years dealing with the immigration bureaucracy to bring him to the states. Now he's living in Art's garage with Riley. Adhir Kalyan ("Rules of Engagement") takes on what's almost a thankless role as he's required to play optimism and wonder as a man who has spent years dreaming of life in America.
"United States of Al" introduces itself as a classic fish-out-of-water comedy. Someone finds themselves in incredibly foreign circumstances, the writers squeeze jokes out of the cultural tension, and eventually everyone learns from each other. See: "ALF," "Green Acres," "The Fresh Prince of Bel-Air," "Perfect Strangers" and "Ted Lasso."
The show airs Thursdays at 8:30 p.m. ET/PT on CBS, a coveted slot between the popular shows "Young Sheldon" and "Mom." You can stream the first season on the CBS or Paramount+ apps.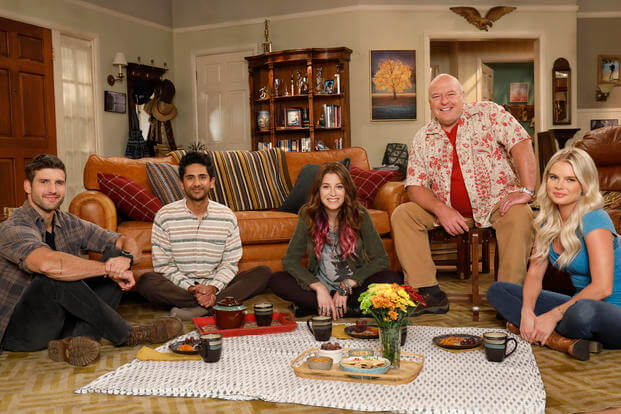 Trigger Warning: This, of course, introduces a dividing line between most of us and those who think military stories are sacrament and must be presented as respectfully as possible. Anyone who's likely to get hurt by silly jokes about service should tune out and protect themselves from an outrage attack.
For the rest of us, "United States of Al" starts to get some traction in the third and fourth episodes as Al moves past the magical and awestruck alien and his real personality starts to emerge. Art isn't just the blustering grandpa, and Hazel proves to be more than just the standard mouthy kid on a sitcom.
There's been some controversy before the show's debut. The trailer inspired an online storm from people offended by what they thought was the ridiculous idea that Afghan interpreters would come to the United States and live with veterans they'd befriended in combat. Nope, that's 100% true. Happens a lot more than you'd think.
Kalyan was born in South Africa, and his ancestors were from India. There's a loud contingent who don't think he should be playing an Afghani character and that the show never should have been made with him in the lead role. That's a thorny issue, one that you'll have to decide for yourself.
Creators Maria Ferrari and David Goetsch mastered their trade working with Chuck Lorre on "The Big Bang Theory," another show that inspired attacks from the same people it was supposed to be about (physicists and nerds) before it became a beloved symbol of the very people who were upset by the show when it first aired. Ferrari also has been a producer and writer on "Young Sheldon" and Goetsch has done the same for "Bob Hearts Abishola."
Maria and David talked with us about "United States of Al" and how they're aiming to make a show that has a positive impact.
Getting the idea right
Once the producers came up with the premise for the show, they reached out to noted religious scholar and former CNN host Reza Aslan for the Muslim perspective and We Are the Mighty's Chase Millsap for some direct military experience with interpreter issues.
David Goetsch: "A couple of years ago, there were a lot of articles that were getting written about interpreters who weren't able to make it over and some who could. then some occurred. When Maria and I were finishing up towards the end of 'The Big Bang Theory,' we talked about this idea and got so excited about it. We then realized that we needed help if we're going to make this story."
"I called my old friend Reza Aslan, who's a scholar of religious studies, to talk about Al. We then called Chase Millsap, who we happen to know because his wife was in production at 'The Big Bang Theory.' Chase is not only a combat veteran, but continues to try to get his interpreter out of Iraq. Both Reza and Chase were incredibly supportive about this show.
"We spoke to a lot of people and heard so many stories of that friendship and bond between interpreters and military members. We hope we're telling stories that are new to people and also relevant."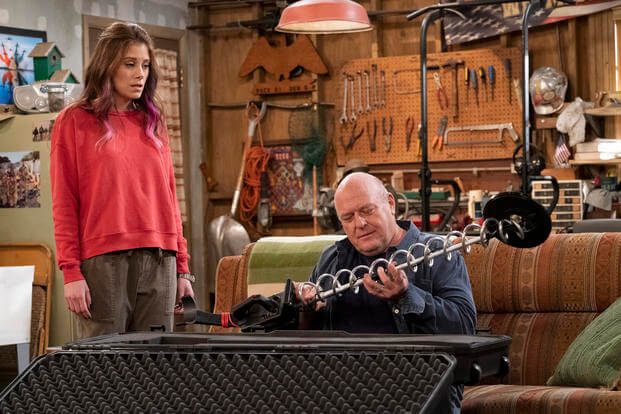 Basing the plots on reality
The show has emphasized a diverse writers room and stories that have some inspiration from real life, including one where Al freaks out and flunks his driving test because the woman at the DMV is wearing shorts.
Goetsch: "Authenticity and representation is really important to us, both behind the camera and in front of the camera. Our stories come from the writers room and from some of the interviews that we've done. The 'shorts' episode is inspired by Habib Zahori who's an Afghan-born translator who has been writing for The New York Times and came to America for the first time as a Fulbright Scholar. As a 26-year-old, Habib saw women's shorts for the first time in his life."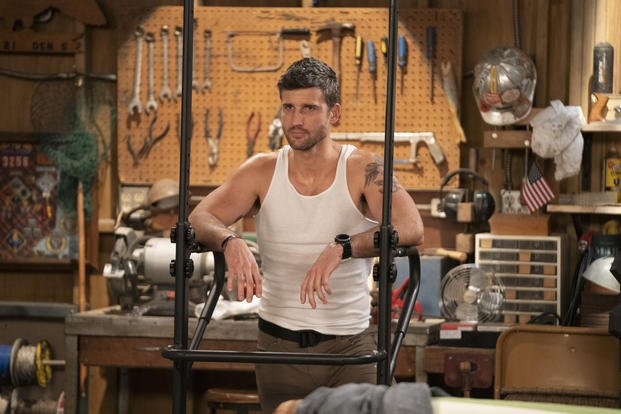 They hadn't watched 'Enlisted' when they auditioned Parker Young
Neither Ferrari nor Goetsch had seen Young play U.S. Army PFC Randy Hill on "Enlisted."
Goetsch: "He was so funny in his audition, and then he said at the end, 'Hey, I am good friends with guys like this.' He spoke so powerfully about his connection to the character and the material."
Maria Ferrari: "When we called Parker to let him know he got the part and congratulate him, he said, 'My buddy is with me right now, and he just got back from serving with the Navy SEALs.' There are a lot of personal connections for Parker as an actor, and he's done a lot of research and outreach in the community. I know he feels a great responsibility to represent this segment of the population correctly and with a lot of integrity."
There's one thing the show does NOT get right about the military
Goetsch: "We understand that there's a lot of cursing in the military, but on network television, you can't curse, so that is one way in which we will not be realistic in any way."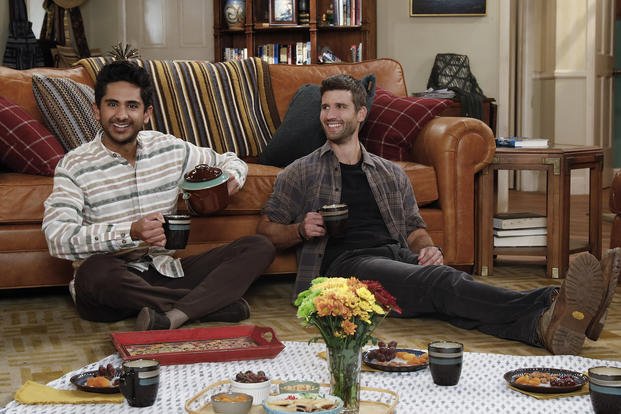 Casting Al was a central challenge for the show
Ferrari: "We saw many, many, many auditions. I believe we saw 300 actors.''
Goetsch: "We had casting directors around the world, and we saw many, many Afghan actors and a bunch of great people, but Adhir's audition was really exceptional, and he also has a lot of multi-camera experience and things that we really needed for the way we make the show."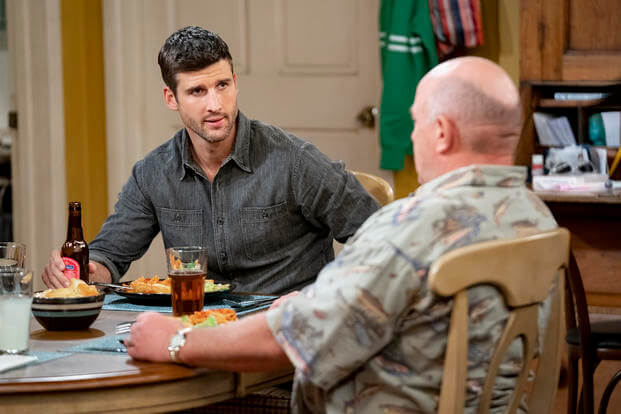 They've hired veterans to work on the series
Goetsch: "In addition to Chase, Bobby's a Navy veteran who's on our staff. Our assistant, Josh, is a veteran and we worked with the Writers Guild veteran program for the last couple years. We've learned so much from them. We want to make a show that people want to tune into and want to feel like it's real. My grandfather served in World War II, and I have a vivid memory of him watching 'M*A*S*H.' He watched it because it captured something for him even though he could never talk about the war.''
One thing that "United States of Al" has going for it is a slot on CBS, and its executive producer, Chuck Lorre, one of the most powerful creators in the history of television. It's likely to get the chance to establish its footing and develop an audience in a way that "Enlisted" never did. Each of the four episodes that CBS has released for review is better than the one that came before, so "Al" shows promise and it'll be interesting to watch what happens over the rest of this first-season run.
Keep Up With the Best in Military Entertainment
Whether you're looking for news and entertainment, thinking of joining the military or keeping up with military life and benefits, Military.com has you covered. Subscribe to the Military.com newsletter to have military news, updates and resources delivered straight to your inbox.