As if hydroelectric power wasn't adorable enough, a new 2023 calendar is looking to highlight the Army's engineering process with a series of photoshopped cats. The Portland, Oregon, district of the Army Corps of Engineers added the cats to photos of its projects to add some lighthearted fun to its important projects.
A giant Russian Blue cat stretching out over Oregon's Cascade Locks, a gray tabby using the Hills Creek Reservoir as a scratching post and a little chonk watching the Oregon State Police rappel down the 100-foot walls of the John Day Dam are just a few of the four-legged fans of Army engineering inside the calendar.
The calendar combines the best of the Portland District, U.S. Army Corps of Engineers' Facebook page and Twitter feed, which highlight projects like river jetties, dams and reservoirs using memes, GIFs and (of course) giant cats.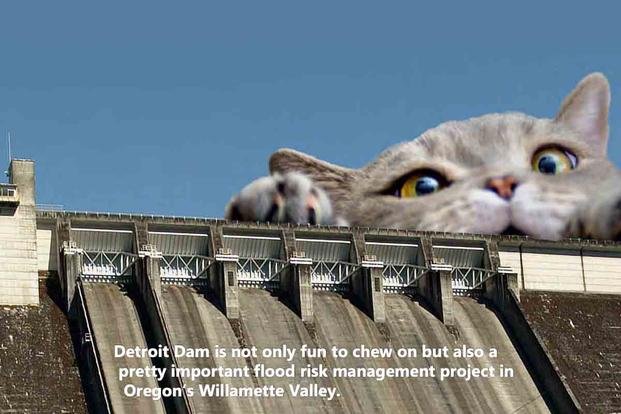 While a cat calendar is fun, the work done by the Corps of Engineers in the Portland district is vitally important. In Oregon, the Corps has been mitigating flood risks, managing hydropower stations, responding to emergencies and more since 1871.
Of course, hydropower, the internet and its giant cats haven't all been around since 1871, but it's still a job the engineers take very seriously, even if they have a unique way of teaching Americans about what they do.
As of this writing, the district is seeking public comment on a proposed 30-year plan for the operating and maintaining of a system of 13 dams and reservoirs across Oregon's Willamette River Basin, the state's largest basin.
Although not all of the Corps of Engineers' 38 districts are as social media savvy as the Portland area, each has an important mission. Like Portland, they all manage flood control systems, build and operate locks and dams and regulate environmental protections. They also design and build facilities for every branch of the armed forces.
The other districts just don't fully realize the potential of adorable kittens.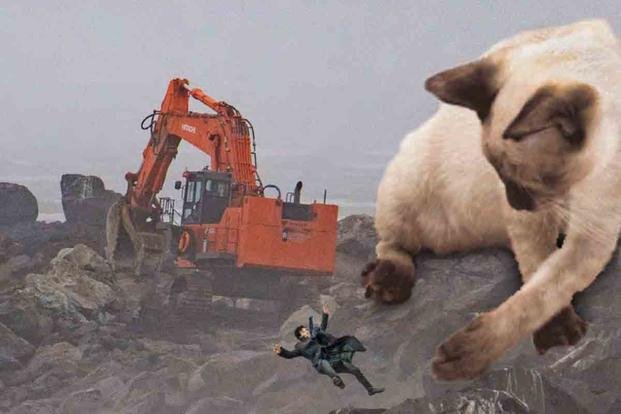 "Engineering is not that exciting," Chris Gaylord, the office's public affairs specialist who has worked to build the entity's social media following, told TODAY.com. "We all believe that what we do is very important, and that's the reason we don't take our social media so seriously."
The 2023 Corps of Engineers cat calendar is a free, downloadable PDF and can be found here.
-- Blake Stilwell can be reached at blake.stilwell@military.com. He can also be found on Twitter @blakestilwell or on Facebook.
Want to Learn More About Military Life?
Whether you're thinking of joining the military, looking for post-military careers or keeping up with military life and benefits, Military.com has you covered. Subscribe to Military.com to have military news, updates and resources delivered directly to your inbox.