On June 6, 1944, Lance Cpl. Ken Bailey of the British 13th Parachute Battalion jumped out of a plane over Normandy. With him was an Alsatian mutt named "Bing."
It was Bing's first jump into action, and he had to be tossed out of the plane as anti-aircraft fire peppered the aircraft.
He landed in a tree and had to be helped down.
It was an inauspicious start but, once on the ground, Bing was ready. He was trained to sniff out hidden enemies, stand watch over sleeping allies and locate threats such as mines and other booby traps.
In a history of the 13th Parachute Battalion called "13 -- Lucky for Some: The History of the 13th (Lancashire) Parachute Battalion," Andrew Woolhouse writes about Bailey, Bing and the rest of the unit's "paradogs."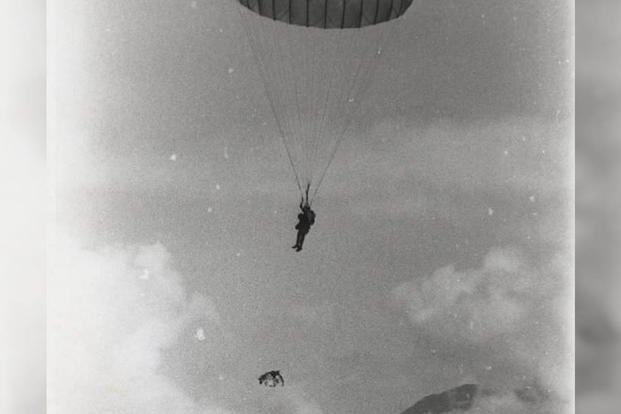 The British Army acquired and trained many canines to be used as dogs of war and unleashed on Hitler's Fortress Europe. The government in London encouraged citizens who could not feed their pets due to rationing to offer them up to the war effort. The dog, originally known as "Brian" to the Fetch family of Loughborough, became "Bing" after he was lent to the British Army.
Three dogs were trained by Cpl. Bailey to make the jump into occupied Europe. First, he trained them to become accustomed to loud noises. Once they could handle that, they were trained on how to detect gunpowder and explosives, locate enemy troops and perform when bullets started to fly.
The dogs began to genuinely enjoy their training jumps but, when it came time for the mission, all three needed to be "coaxed" out of their planes. At 0110 on D-Day, three planes, each carrying 20 men and one dog, reached Normandy for the jump.
Sadly, the other two dogs, named Ranee and Monty, didn't fare as well as Bing.
Ranee got separated from her unit and was never seen again. Monty was wounded on D-Day. They were both replaced with German Shepherds who finished the unit's mission.
Bing would again drop into enemy territory in March 1944 as part of Operation Varsity. It was the largest-ever airborne operation in a single location, featuring his handler, Sniper Jack Walton, and 16,000 other paratroopers.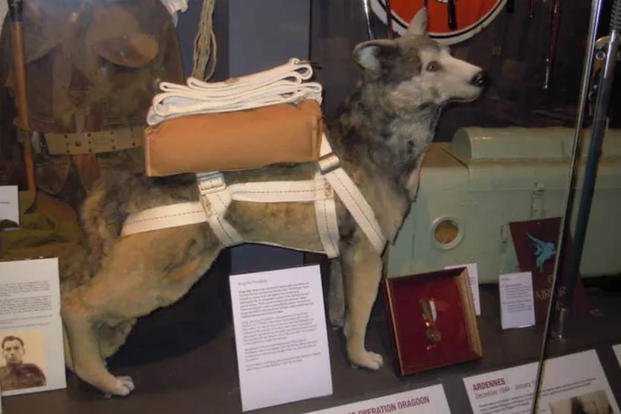 Bing would be awarded the Dickin Medal, the Victoria Cross for animal troops, and be returned to the Fetch family -- where he became "Brian" once more.
When he died in 1955, he was stuffed and put on display at the Imperial War Museum's Duxford branch, complete with his paradog parachute.
-- Blake Stilwell can be reached at blake.stilwell@military.com. He can also be found on Twitter @blakestilwell or on Facebook.
Keep Up With the Best in Military Entertainment
Whether you're looking for news and entertainment, thinking of joining the military or keeping up with military life and benefits, Military.com has you covered. Subscribe to the Military.com newsletter to have military news, updates and resources delivered straight to your inbox.