This article by James Clark originally appeared on Task & Purpose, a digital news and culture publication dedicated to military and veterans issues.
In honor of military working dogs, here are 10 awesome photos of the military's four-legged warriors.
Dogs have been a staple of military life for ages, but in recent years, military working dogs have captured the attention of countless Americans, and for good reason. There's Cairo, the Belgian Malinois that accompanied SEAL Team 6 on the infamous May 2011 Osama bin Laden raid. And of course, there are the countless other military working dogs who supported their handlers in Iraq and Afghanistan and continue to "pull security" on military bases across the globe.
Here are 10 photos that capture the loyalty, strength, and courage of our four-legged companions.
1. They start small, and cute.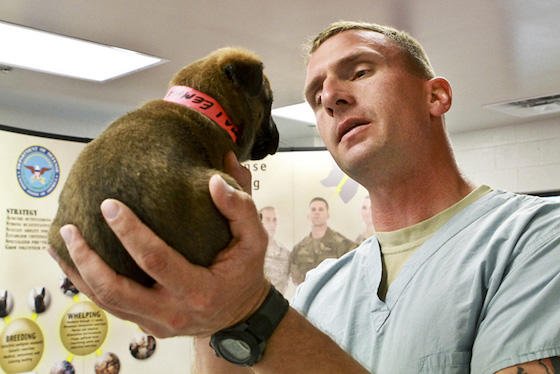 Army Sgt. 1st Class Russell Minta, senior noncommissioned officer for the Defense Department's Military Working Dog Breeding Program on Lackland Air Force Base in San Antonio, holds a puppy in his hand. U.S. Army photo photo by Linda Hosek
2. Then they get big, but they stay cute.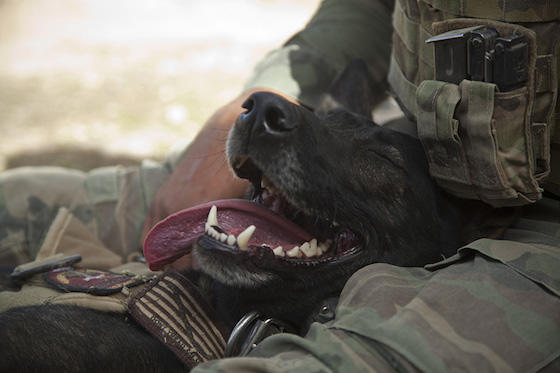 Wilbur, a U.S. Marine Corps military working dog with a Marine special operations team, takes a break with his handler after successfully searching a build site for an Afghan Local Police checkpoint in Helmand province, Afghanistan, on March 30, 2013.U.S. Marine Corps photo by Sgt. Pete Thibodeau
3. They're war dogs through and through.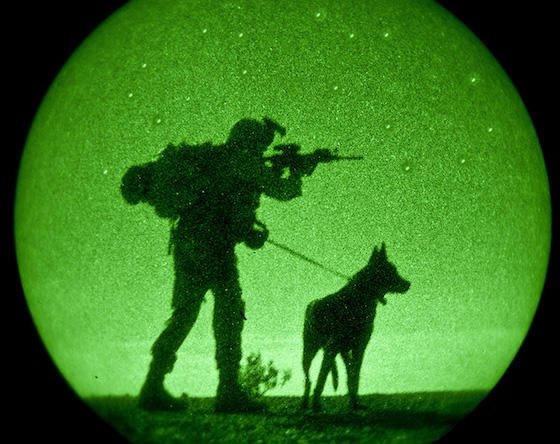 Lance Cpl. Sam Enriquez, a military working dog handler with 3rd Law Enforcement Battalion, stationed in Okinawa, Japan, and his K-9 partner Kally, take part in night operations training at the U.S. Army's Yuma Proving Ground on Sept. 24, 2012. U.S. Marine Corps photo by Cpl. Aaron Diamant
4. They take to the air.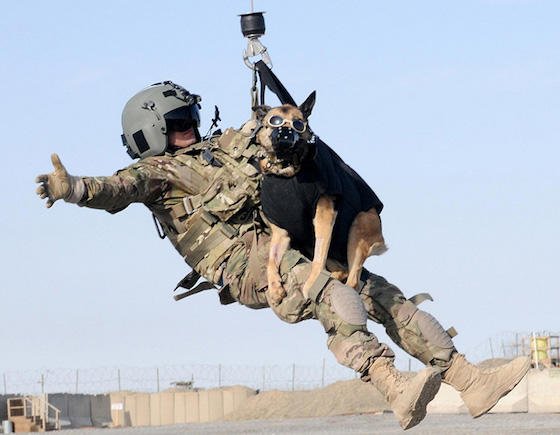 A flight medic with 2nd Battalion, 3rd Aviation Regiment, is hoisted into a medical helicopter with Luca, a military working dog, during a training exercise, at Forward Operating Base Spin Boldak, Afghanistan. U.S. Army photo by Sgt. Michael Needham
5. And they aren't scared of the water. Clearly.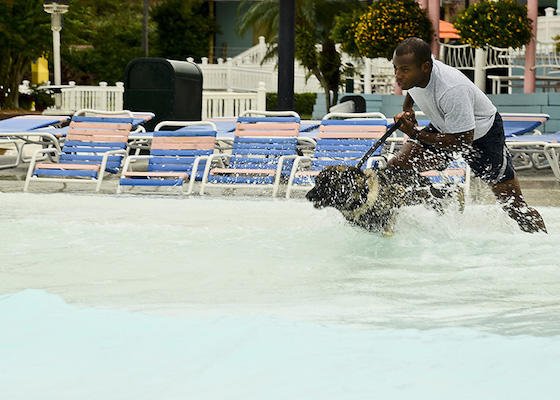 Staff Sgt. Erin Sims and Zoran, a military working dog, advance toward a decoy suspect during water training on Oct 15, 2013 in Tampa, Florida. U.S. Air Force photo by Senior Airman Melanie Bulow-Kelly
6. They know what it means to be "dog tired."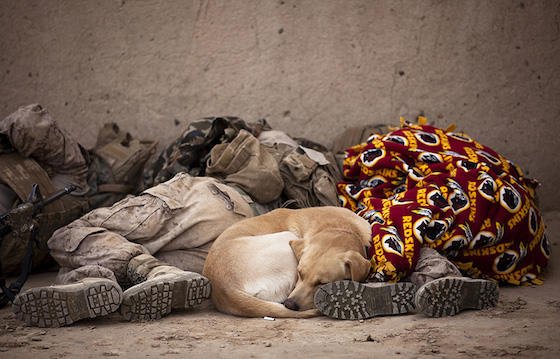 Marines with Lima Company, 3rd Battalion, 3rd Marine Regiment, rest next to Blue, a military working dog, after clearing compounds with Afghan National Army soldiers during Operation Tageer Shamal, Jan. 4, 2012. U.S. Marine Corps photo by Cpl. Reece Lodder
7. They are a serviceman's, or woman's, best friend.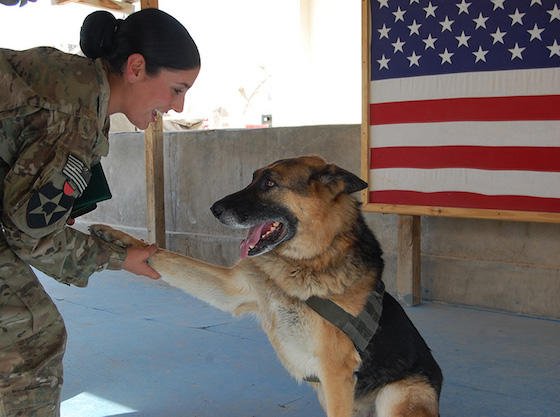 Spc. Morgan Chami shakes the paw of Perro, a military working dog, after her reenlistment ceremony July 20, 2012 at Camp Nathan Smith, Afghanistan. U.S. Army photo by Spc. Matt Kuzara
8. Don't push your luck though, they're not "all bark, and no bite."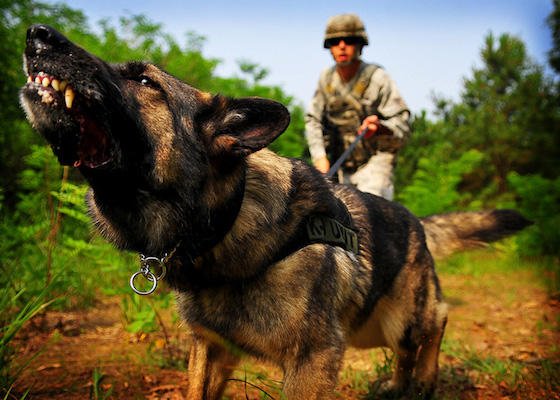 Fanta, a 51st Fighter Wing military working dog, barks at a "bad guy" at Osan Air Base, South Korea, June 20. U.S. Air Force photo by Senior Airman Evelyn Chavez
9. They bleed red, white, and blue.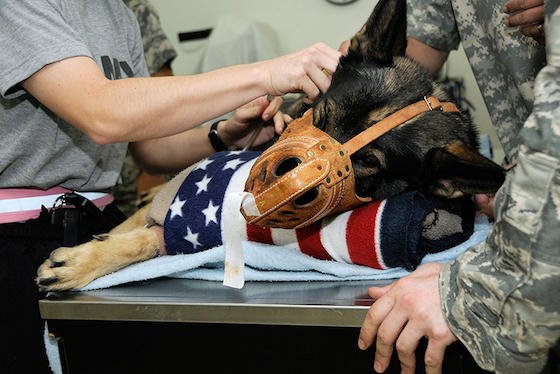 Carly, a security forces K-9 with the 332nd Expeditionary Security Forces Group is sedated to have blood drawn, July 3, during a canine blood drive at Joint Base Balad, Iraq. Just like humans, this life saving contribution can be used for another K-9 of the same blood type when needed. U.S. Air Force photo by Tech. Sgt. Caycee Cook
10 And they stick with their buddies on and off the battlefield.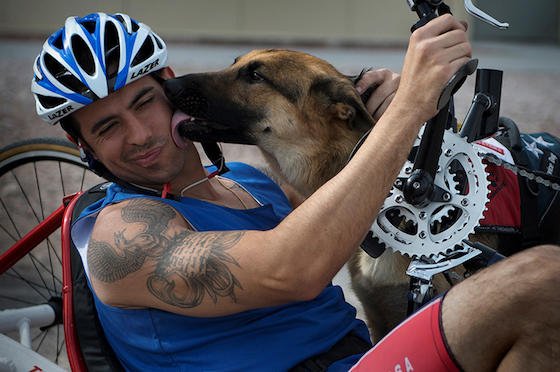 August O'Neill is kissed by his service dog, Kai, on April 9, 2014, during the cycling portion of the Air Force Trials at Nellis Air Force Base, Nev. O'Neill, an Air Force wounded warrior, competed in the 6-mile men's handcycle heat with four others. U.S. Air Force photo by Senior Airman Jette Carr
This article originally appeared on Task & Purpose,. Follow Task & Purpose on Twitter.
More articles from Task & Purpose:
Here Are The 6 Things I Wish I Knew Before I Joined The Military
Vet Kills Himself In VA Parking Lot After Allegedly Being Denied Care