This is about the time Jerry Coleman got cursed out by Ted Williams.
They were rivals on the ball field – Coleman as the slick-fielding second baseman for four Yankee World Series champions, and the legendary Williams as the dead-pull lefty slugger, the "man with the golden swing" for the Boston Red Sox.
In war, they were brother Marines, both serving as combat pilots in Korea. Both also professed that their pride in military service surpassed that of their accomplishments on the diamond.
"Your country is bigger than baseball," said Coleman, who died Jan. 5 at age 89 in San Diego, where he was the Padres' broadcaster for more than four decades. Williams said the assorted titles conferred on him in his Hall of Fame career didn't compare to the one he liked best: Capt. Theodore S. Williams of the U.S. Marine Corps.
There are a number of versions of the time Williams escaped death in the belly landing of his F-9 Panther jet in Korea on Feb. 16, 1953, but this is the one Williams told and it includes Coleman. I know this because he told it to me over the phone in October 1998.
I was working for the N.Y. Daily News at the time and was in Florida for John Glenn's return to orbit at age 77 on the space shuttle Discovery. We heard that Williams, who was in Glenn's squadron in Korea, was coming to the launch. I tried to contact him in Hernando, Fla., where he was running the "Ted Williams' Hitters Hall of Fame." The guy working for Williams said no.
I called back to the News in New York to Bill Gallo, a sports cartoonist and an Iwo Jima Marine. Bill knew Williams and maybe he could put in a word.
"Nah," Bill said. "You're a Marine. Call the guy back. No matter what he says, tell him you're a Marine and you want to talk about John Glenn, the Marine. Tell him to tell Ted that."
It worked.
Ted was 80 at the time and ailing. We were supposed to talk on the phone for 10 minutes but it was more like 45.
I told Williams I had heard a story about some guys giving him the business when he had to make the belly landing. He laughed and grudgingly allowed that it was true.
Williams' planes were hit by enemy fire three times on his 39 combat missions in Korea, many of them as the wingman for Glenn. On the Feb. 16, 1953 mission, Williams' plane took heavy hits. His hydraulics were gone, his radio was out, the plane was on fire. Glenn flew to his wingtip and pointed up. They went up into thinner air and the fire went out.
They flew back over the base. Now the problem was getting down. Other pilots gestured for Williams to bail out but he wouldn't do it. He was 6-foot-4 and thought his knees would catch in the ejection and that would be the end of baseball.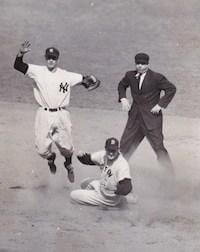 Williams dropped down to the runway, skidded into a belly landing, leaped from the cockpit and ran as the plane caught fire again.
Coleman was among other pilots who had gathered at the runway, praying for Williams to make it. Now he was okay and they feigned nonchalance.
Coleman called out: "Hey Ted, that's a lot faster than you ever ran around the bases." Williams growled at the memory: "Yeah, those guys."
He shot back at Coleman: "What the hell do you know? You never got on base." Williams allowed that he didn't quite say that, but he declined to repeat the words he actually used.
Both Williams and Coleman served in World War II and Korea. Williams was a stateside flight instructor in World War II while Coleman flew Douglass Dauntless bombers in the Pacific and Chance Vaught F-4U Corsair fighters in Korea.
Coleman was the only professional baseball player to serve in combat in both World War II and Korea and retired as a lieutenant colonel.
Five days after the Sept. 11, 2001, attacks on the World Trade Center and the Pentagon, Bill Madden, a baseball writer for the N.Y. Daily News, called up Coleman to get his thoughts.
As he watched the attacks on television, Coleman said he felt the same sense of rage that he did on Dec. 7, 1941, when much of the Pacific fleet was sunk at Pearl Harbor.
"Up until then all I wanted to be was a professional ballplayer. From that day forward, though, all I wanted to do was get into the war and fight back," Coleman said. "We got kicked in the ass at Pearl Harbor and like all Americans, I was mad as hell. Maybe a little young and dumb, too, but I couldn't wait to enlist."
Until 9/11, Coleman said he thought he'd never again experience a day when baseball would seem inconsequential.