Taylor Swift had always wanted to write a song to honor the military service of a man who died a few months before her ninth birthday.
Archie Dean Swift Jr., who served in the U.S. Marine Corps during World War II, never got to see his granddaughter achieve a level of success and popularity few have, but his commitment to his country stuck with her. Swift honored Archie's service at the Battle of Guadalcanal with the single "Epiphany" in 2020.
"He died when I was very young, but my dad would always tell this story that the only thing that his dad would ever say about the war was when somebody would ask him, 'Why do you have such a positive outlook on life?'" Swift told Entertainment Weekly in a 2020 interview. "My grandfather would reply, 'Well, I'm not supposed to be here. I shouldn't be here.'"
Written during the early days of the COVID-19 pandemic, "Epiphany" explores the similar emotions experienced by soldiers during war and health-care workers on the front lines of the worst health emergency they have ever seen.
Swift, who co-wrote the 4½-minute hymn with producer and musician Aaron Dessner, conceived of the song after watching documentaries about doctors and nurses treating COVID patients.
"I wrote it about health-care workers who are putting themselves at risk more than anyone else and don't have a choice," Swift said in an interview with Rolling Stone.
The inspiration for "Epiphany," though, was much more personal.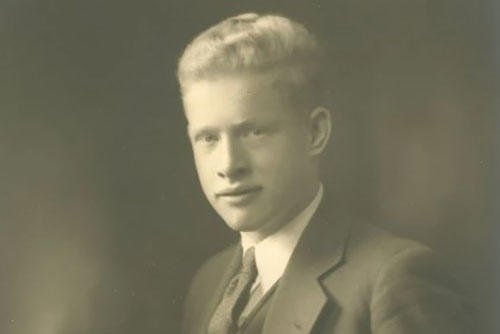 Archie Dean Swift Jr. was born in 1914 in Ridgway, Pennsylvania (about 120 miles northeast of Pittsburgh) and played varsity lacrosse at Princeton University. Nicknamed "Swifty" long before his granddaughter's legions of fans adopted that moniker as their own, Archie left during his junior year of college to accept a banking job in Philadelphia, then enlisted as a private in the Marines in 1938. By the time he separated from the military in 1953, Archie had achieved the rank of lieutenant colonel.
Taylor might never have learned about what Archie experienced during WWII if not for the efforts of his three sons. (Taylor's father, Scott, was the youngest.) Because Archie rarely discussed what he went through, they researched his service and discovered their father was present not only during the Battle of Guadalcanal -- a bloody six-month clash between Allied and Japanese forces in the Solomon Islands that began in August 1942 -- but also for the Battle of Okinawa two years later.
"He had seen a lot of heavy fire and casualties -- all of the things that nightmares are made of," Swift told EW.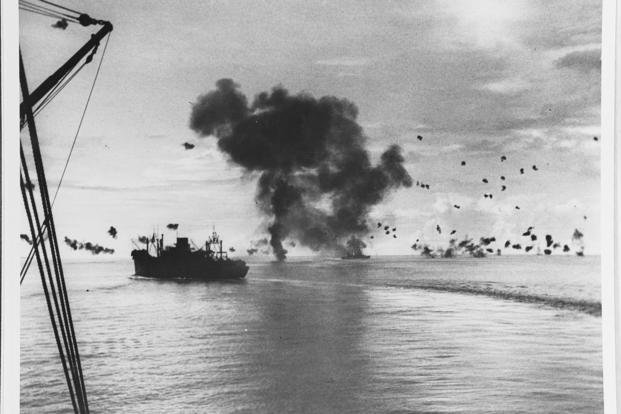 Approximately 44,000 Allied troops, including 11,000 Marines, fought at the Battle of Guadalcanal, also referred to as the Guadalcanal Campaign. While the Allies ultimately prevailed and Guadalcanal proved to be a turning point in the Pacific, the losses were substantial on both sides.
Roughly 7,100 Allied troops were killed, including more than 1,100 Marines, and 29 ships and 615 aircraft were destroyed -- compared to the loss of 31,000 troops, 38 ships and 683 aircraft for the Japanese.
While "Epiphany" has given a voice to the plight of beleaguered health-care workers, it also has resonated with the military community. After a video of the song was posted on YouTube, one commenter said, "As a firefighter and a veteran, this song means everything to me." Another chimed in, "As a infantry soldier who didn't serve in WW2 but in the Middleeast, it's very relatable and why I'm a 36 year old veteran and a 15 year Taylor fan."
Archie Dean Swift died in 1998 at the age of 83. Two decades later, his granddaughter was in the midst of becoming a pop-culture phenomenon when she sat down to write the song that guarantees his service won't be forgotten.
Keep your helmet, keep your life, son
Just a flesh wound, here's your rifle
Crawling up the beaches now
"Sir, I think he's bleeding out"
And some things you just can't speak about
-- Stephen Ruiz can be reached at stephen.ruiz@military.com.
Keep Up With the Best in Military Entertainment
Whether you're looking for news and entertainment, thinking of joining the military or keeping up with military life and benefits, Military.com has you covered. Subscribe to the Military.com newsletter to have military news, updates and resources delivered straight to your inbox.