Sarah Wilson is telling her story on a sunny summer day in 2022, during a break in a CrossFit competition in downtown Portsmouth, Ohio. She has just dragged a massive tractor tire back and forth across a parking lot before carrying a boat three blocks away to the Ohio River.
Before arriving at the lot, Wislon did enough weightlifting, pull-ups and other exercises to make even an Ironman competitor flinch. But it wasn't too long before our meeting that she was a homeless addict, sleeping under bridges and in hospitals, on felony probation for writing fake prescriptions. That was her life for at least 13 years.
"After I graduated, I was an adult, so I had to pretty much figure out how to live on my own," Wilson says. "I stayed with friends and picked the drugs. They kinda took control over the years … heroin, crack, meth, anything that was out there that I could put in my body. I wasn't picky."
Her journey is just a small part of "Small Town Strong," a new documentary co-directed by Army veteran and Portsmouth local Chase Millsap, along with his brother, award-winning photographer Spencer Millsap.
"I didn't have no soul, no care in the world," says Wilson. "All I was worried about was finding a way to get the next one to put in me; that's the only thing that mattered. You didn't matter. My sister didn't matter. My nieces didn't matter. Just trying not to be sick was the only thing that mattered."
Wilson grew up in Columbus, Ohio, to middle-class parents. Her father, an alcoholic, died of cirrhosis of the liver, and her mother's addiction grew "real dark." As time went on, Sarah spent more time avoiding home. That's how she found her own addiction.
"Every single person we followed was dealing with overwhelming challenges," Chase Millsap tells Military.com. "Whether fighting addiction or fighting to keep a business going, all chose to take the hard route and they didn't quit. These people are the epitome of strong, and I'm honored to know them."
Wilson isn't the only addict hauling tires outside the local CrossFit gym. The gym is Portsmouth Spartan Kettlebell Club (or PSKC, for short), owned by Army veteran Dale King. King was an intelligence officer in a Special Forces unit in Iraq, helping to train the Iraqi Army. When he came home to Portsmouth after leaving the military, he didn't like what he saw.
In 2010, King decided to "plant a flag" in one of the worst-hit areas of the city. It was a gamble. Many places have been labeled "ground zero" of the United States' opioid epidemic, and Portsmouth was certainly one of them. Also called "the pill mill capital of America," the city had 12 open at any time, and led Ohio in overdose death rates.
The flag King planted was PSKC, and today, the area around the gym hardly looks like one of the worst areas of town. In fact, it looks downright inviting, like the idyllic small towns that used to dot the Ohio byways. Much of that, it turns out, is because of King's efforts to reverse its decline.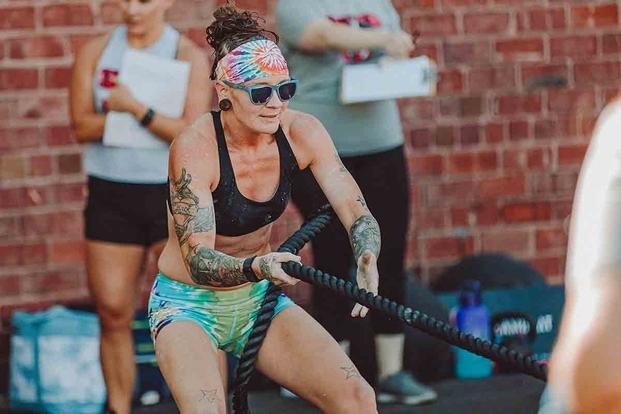 In 2015, he founded Doc Spartan, making skincare and grooming products from the same building. His first employee was Andrew Wright, an addict of 15 years who was also homeless. Wright worked out at PSKC, worked for Doc Spartan and stayed clean. It was, and still is, a remarkable comeback story.
King partnered with a nonprofit behavioral health agency in 2018 and began offering CrossFit classes to their clients. He realized that employment is an essential part of recovery. No one wants to hire people with criminal records, and those who do don't want to work around their counseling meetings. So King decided to hire as many of them as he could.
"I knew from the first time I met Dale that there was a story about Portsmouth's comeback," says Millsap. "It was hard to describe it at the time, but you could just tell good things were happening and it all centered around Dale's gym."
The combination of employment, exercise and cognitive behavioral therapy with trained and licensed counselors formed the foundation of the Portsmouth Method, a community revitalization project designed to reverse the opioid epidemic on an individual level. It's helped turn addicts like Sarah Wilson and Andrew Wright into functional members of society.
"Small Town Strong" is a behind-the-scenes look at Portsmouth's development and King's efforts to create a standard he can take to other places hit hard by the epidemic, in Ohio and beyond.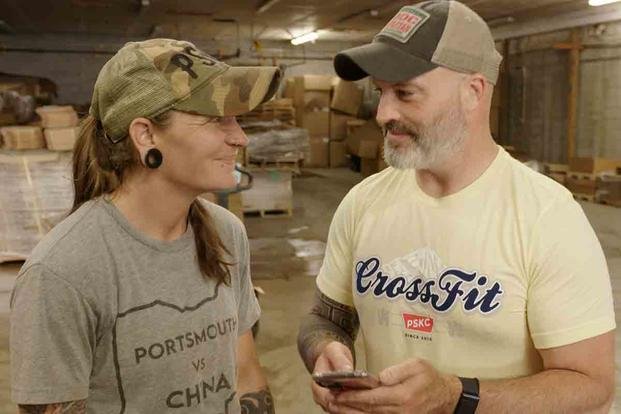 "'It's a comeback story," Chase Millsap says. "We've all seen the stories and news coverage of the opioid crisis, but like all great comeback stories, our film captures hope. This is a story that resonates with small towns all over the country, and my hope is that we can start a movement to fight back against addiction nationwide."
-- Blake Stilwell can be reached at blake.stilwell@military.com. He can also be found on Facebook, Twitter, or on LinkedIn.
Keep Up With the Best in Military Entertainment
Whether you're looking for news and entertainment, thinking of joining the military or keeping up with military life and benefits, Military.com has you covered. Subscribe to the Military.com newsletter to have military news, updates and resources delivered straight to your inbox.