How does an actor and producer follow "Top Gun: Maverick," the biggest movie of his career and the most successful military movie of all time? If you're Tom Cruise, that means taking more risks and pushing the envelope by filming stunts that are even more dangerous than what you delivered the last time around.
"Mission: Impossible - Dead Reckoning Part I," the seventh movie in Cruise's espionage action series, is set for theatrical release on July 14, 2023, and the hype machine is getting cranked up with the release of a behind-the-scenes video that details the preparation behind what they're calling "the biggest stunt in cinema history."
It's over nine minutes long, but the whole thing is worth watching.
The folks over at the Marvel movie factory know that you can create pretty much anything you want these days inside a computer, and their superhero movies feature extreme action scenes that involve nothing more dangerous than standing actors in front of a green screen and filling in the backgrounds.
That's not good enough for Tom Cruise and director Christopher McQuarrie. If agent Ethan Hunt needs to drive a motorcycle off a cliff in Norway and seamlessly transition to a base jump, then Cruise is going to ride that motorcycle and make that jump even if they have to invent new cameras capable of capturing the action.
Here's one thing you can say for Cruise: The guy's got unbelievable focus and commitment. The production claims he did over 500 practice skydives and 13,000 motocross jumps to work out the kinks and collect data that would allow the actual filming to be as predictable as possible.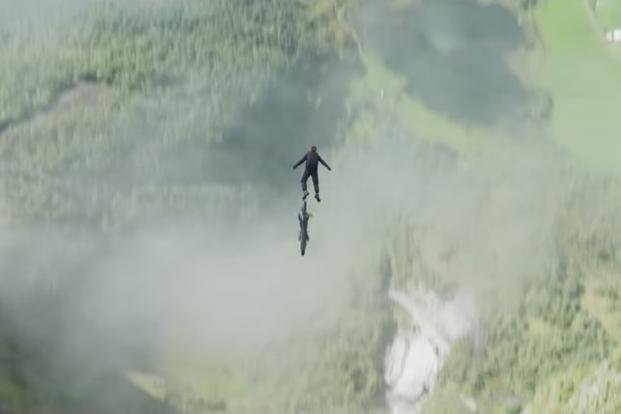 Even with all that prep work, Cruise did six takes of the stunt on the movie's first day of filming. Presumably, that's six motorcycle carcasses sacrificed at the bottom of the canyon in pursuit of filming a scene that will blow the audience's mind.
What's made the last few "Mission: Impossible" movies so good is McQuarrie's ability to tell a good story between all the breathtaking stunts. No one wants a letdown after "Maverick," so odds are good that they've paid as much attention to the details as before.
One last thought, though. If this crazy motorcycle jump was the most impressive stunt in "Mission: Impossible - Dead Reckoning Part I," there's no way the filmmakers would've leaked this much detail about it more than six months in advance of the release. They must have another trick up their sleeve, and we can't wait to find out what it is.
Keep Up With the Best in Military Entertainment
Whether you're looking for news and entertainment, thinking of joining the military or keeping up with military life and benefits, Military.com has you covered. Subscribe to the Military.com newsletter to have military news, updates and resources delivered straight to your inbox.