"Purple Hearts," which began streaming on Netflix on July 29, 2022, tells the story of a Marine Corps marriage for benefits. Can two kids who get hitched for mutual financial benefit break through their hangups and find true love?
Sofia Carson ("Descendants") plays Cassie, a bartender and aspiring musician who faces financial ruin because she can't afford the drugs she needs to manage her Type 1 diabetes. Nicholas Galitzine ("Cinderella," the 2021 one opposite Camila Cabello) plays Luke, a military kid who joins the Marines to escape his past mistakes.
Things start to go wrong when Luke is injured in combat and returns from Iraq just as Cassie gets a shot at a big record deal. Will the Corps discover their secret, or will love save the day? If you watch romance movies and care about what happens, there's not much more to say before we start revealing plot points.
What is notable is that the Marine Corps got behind a movie about such a controversial topic and allowed the production to film on Camp Pendleton in California. Director Elizabeth Allen Rosenbaum worked with military adviser and Marine veteran James Dever to convince the Corps to let their movie film on base.
Rosenbaum directed the recent Disney movie "Sneakerella" and has a long television resumé, directing shows like "Dead to Me," "Why Women Kill," "BH90210," "Empire," "Hawaii Five-0," "MacGyver," "90210" and "The Vampire Diaries."
Dever served 25 years in the Marine Corps including in Operation Desert Storm. After his retirement in 1998, he has become one of Hollywood's go-to technical advisers. His credits include HBO's "Westworld," the Apple TV+ series "For All Mankind," "American Sniper," "The Last Full Measure," "The 15:17 to Paris," "Captain America: Civil War," "Letters from Iwo Jima," "Flags of Our Fathers," "Jarhead," "We Were Soldiers" and "Heartbreak Ridge."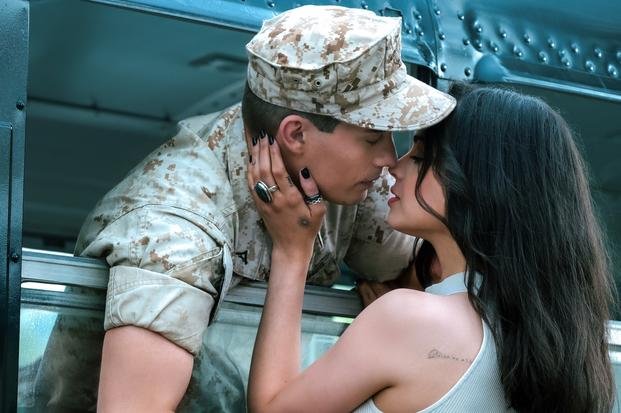 "We had a very tight prep, and so I was really focused on bringing in someone to be a military advisor who had a lot of film experience and would be able to jump in quickly," Rosenbaum said in an interview with Military.com. "I was really excited when Jim Dever was going to do it. When you look up his credits, you see that he's done all his Clint [Eastwood]'s movies, and he's done a lot of big military movies.
"He was also someone who was fun to talk with and work through things with. So he really was my go-to. Anytime we were hiring someone, or revising a line of dialogue, or the art department was doing signage, everything went through him. All of it was passed through his eyes.
"At a certain point, because we were pretty scrappy, but we wanted to keep the bar high visually, I kept pulling all these pictures of Pendleton to show the crew, because we're in Southern California and we've got to make sure to really maximize these locations that are so visual and great," Rosenbaum says.
"I would love the audience to have the experience that Cassie has. If someone lives in California, they've driven by that stretch of land near Pendleton all the time, but most people have no understanding of what's behind the gates. I really felt like it would be exciting for the audience to follow our lead character through those gates, and to really see inside."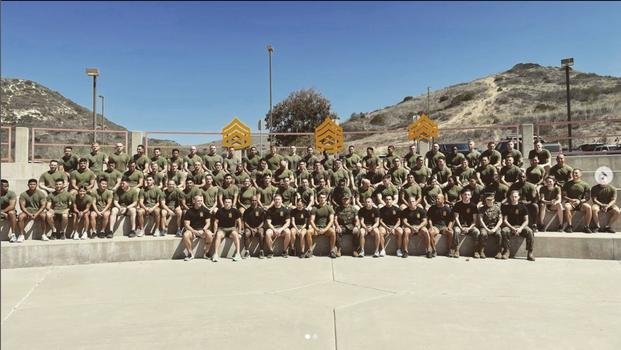 "We got rejected by Pendleton on our first pass," Rosenbaum says. "When James came on board, he gave it another try. He sent them the script. I think we may have sent a letter; I can't remember exactly. He just knew the right people to ask.
"We did have to adjust a little bit of dialogue to show a more balanced depiction of the Marine Corps, because we had a couple of Marines [who are still in the movie] that weren't particularly educated and were making slurs. So we balanced it out with a couple of the other characters.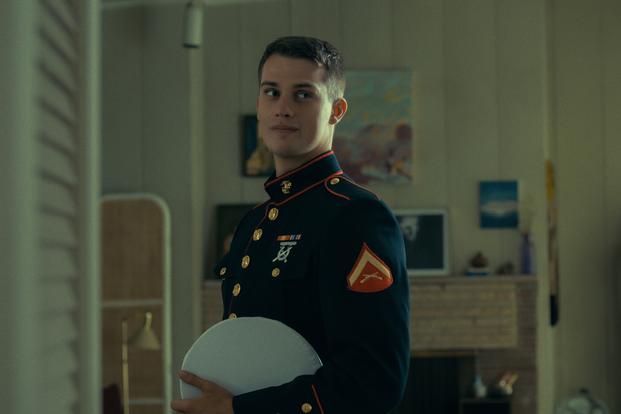 "Any time you see Camp Pendleton in a shot, those are actual Marines who were stationed there when we filmed," Rosenbaum says. "When we were at our deployment where we were cheating Iraq, those Marines were predominantly people that James Dever hired. He has a stable of former Marines who like to do that sort of work. It's such a great shorthand, because, if the scene has them patrolling in Iraq, they know exactly what to do."
"Purple Hearts" comes from Alloy Entertainment, the company behind "The Sisterhood of the Traveling Pants," "Gossip Girl," "Pretty Little Liars" and "The Vampire Diaries." The company usually takes a story, starts with a book (or series of books) and then develops a movie or television series based on the story's print success.
"The story came about over 10 years ago when one of the executives at Alloy Entertainment was listening to a podcast about these military marriages for convenience where people were married specifically for the benefits and the additional housing budget they would get per month as married spouses," Rosenbaum says.
"So they thought it was a really interesting idea, because it's like a new twist on 'Green Card' or one of those classic movies where two people are stuck together and have to learn to work together."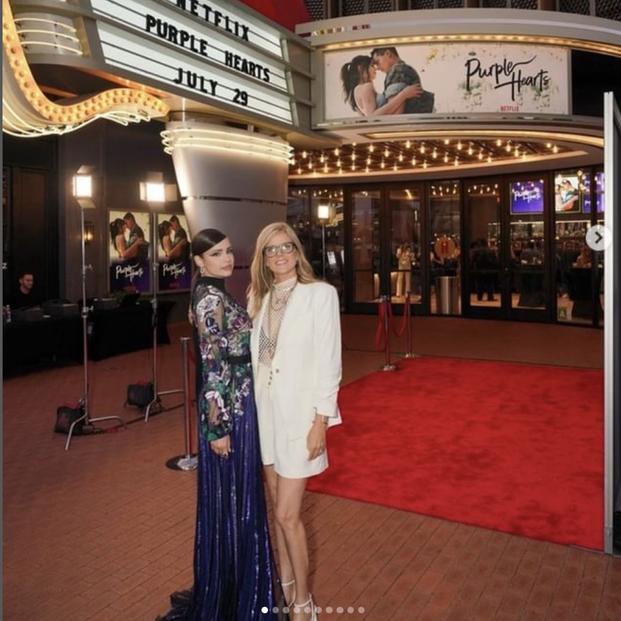 Carson worked with Rosenbaum on the Freeform series "Pretty Little Liars: The Perfectionists" in 2019, and the actor and director hit it off.
"About four years ago, I was working with Sofia Carson, who was just beginning her career. I just thought she was marvelous," Rosebaum continues. "We were trying to think of something else to do together, and I mentioned that to our producers on the 'Pretty Little Liars' TV series I was doing with her."
"In Hollywood, when you say, 'Oh, do you have anything for us to do together; we think it'd be really fun,' people always say, 'Yes!' and then nothing happens. But in this case, they came back to me two weeks later with 'Purple Hearts.'
"I think Alloy understood that she was really special, and on the cusp of something big," Rosenbaum says. "They brought me a draft of the script. That was four years ago, and the draft was slightly different, definitely featuring Luke a lot more than Cassie. But we saw the potential, so Sofia and I got really excited. We came on board and started developing it with Alloy. And then we once we had a draft of the script we were excited about, then we went out and sold it."
"Purple Hearts" has a remarkable look for a streaming movie. First of all, it was shot in California rather than Georgia, Vancouver or some other cheaper-to-film place that's subbing for the actual locations. Not only did the production shoot on Pendleton, there are scenes at the legendary Sunset Strip nightclub, the Whisky a Go Go, and the Hollywood Bowl.
Rosenbaum says the movie got a lot of help.
"'Purple Hearts' was one of the more tight budgets I've ever shot," she said. "We were just very lucky, because we had so many people receptive to letting us use locations. Pendleton was free. A lot of our locations had a lot of bang for their buck. We filmed the concerts when people were going to real concerts, and then we'd have our lead come out in character. So a lot of it was clever producing. The Whisky were very eager to have us because they've been shut down a lot for COVID. Normally, I think it would have been hard to get in there, but they were really receptive."
One other notable thing about "Purple Hearts" is the ambition behind its music. Carson co-wrote most of her character's songs alongside a team led by hitmaking producer Justin Tranter, a well-known artist who's written or produced songs for Selena Gomez, Gwen Stefani, Justin Bieber, Britney Spears, Julia Michaels, Imagine Dragons, Ariana Grande and Dua Lipa.
The first single, "Come Back Home," is now available on all streaming services, and there will be a soundtrack album released at the same time as the movie, so "Purple Hearts" could be the first military movie since "Top Gun" to generate a few hit singles.
Keep Up With the Best in Military Entertainment
Whether you're looking for news and entertainment, thinking of joining the military or keeping up with military life and benefits, Military.com has you covered. Subscribe to the Military.com newsletter to have military news, updates and resources delivered straight to your inbox.