Back in November 2016, Russian President Vladimir Putin took his friendship with Hollywood legend Steven Seagal to the next level when he granted the actor Russian citizenship and a Russian passport.
At the time, Putin described the ceremony, shown live on Russian television, as "a sign of a gradual normalization of the relations between the countries." The United States had a new president, and Putin seemed to predict blue skies and clear sailing for the foreseeable future.
Flash forward five years and a few months. Seagal is still a Russian citizen and Russia is currently fighting a war in Ukraine that has earned condemnation from most of the world's democratic nations, including the United States.
Remember that Seagal was asked to train Serbian special police forces in 2015 and served as a deputy to former Maricopa County, Arizona, Sheriff Joe Arpaio, driving a tank during a raid on a cockfighting ring back in 2011, so it's not surprising that people would think Seagal would want to mix it up on behalf of his country in Ukraine.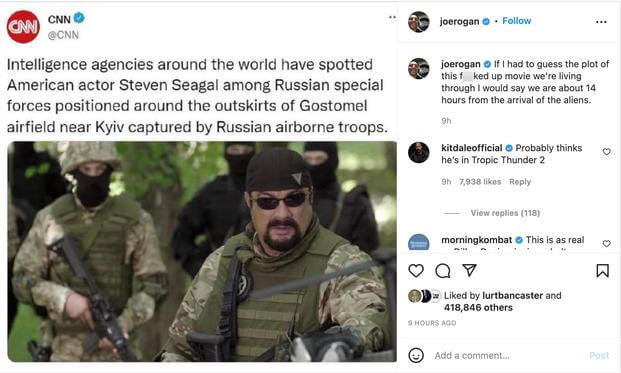 Podcast host Joe Rogan certainly believed that Seagal was on the front lines when he reposted a news report that said, "Intelligence agencies around the world have spotted American actor Steven Seagal among Russian special forces positioned around the outskirts of Gostomel airfield near Kyiv captured by Russian airborne troops."
Rogan wrote: "If I had to guess the plot of this f***** up movie we're living through I would say we are about 14 hours from the arrival of the aliens."
Unfortunately for Rogan and his readers, the news report was fake.
Let's leave aside that Seagal is now 69 years old, and as anyone who's enjoyed any of his straight-to-home-video movies over the past few years knows, he seems to have trouble walking across a room these days, much less taking down bad guys with his formerly lethal aikido.
Rogan got pummeled by commenters on social media before he took down the inaccurate post, but responded by reminding everyone that Seagal was banned from Ukraine as a "national security threat" in 2017 because of his "bromance" with Putin.
The Russian military attacks in Ukraine have yet to remove the country's government, but they're taking a huge toll on civilians with the Russian Army bombing schools and taking out Kyiv's television broadcast tower and holocaust memorial. As of March 2, 2022, Ukraine's State Emergency Service said more than 2,000 civilians have been killed in the fighting.
Seagal reportedly moved to Moscow to avoid paying a fine to the SEC for not disclosing his role in promoting a cryptocurrency, so he should at least be available for Bob Hope-style trips to entertain Russian troops on the front line, if not actually drive a tank into Kyiv.
A decade ago, almost nothing about this story would have seemed remotely possible: Seagal the Russian citizen, Rogan the national influencer and what the hell is crypto? Could we next see Gen. Seagal leading the troops into battle next week? Don't bet against it.
Keep Up With the Best in Military Entertainment
Whether you're looking for news and entertainment, thinking of joining the military or keeping up with military life and benefits, Military.com has you covered. Subscribe to the Military.com newsletter to have military news, updates and resources delivered straight to your inbox.