Super Bowl champion and Hall-of-Famer Kurt Warner is without question the greatest undrafted player in NFL history. Many sports fans know the rough outline of how he went from grocery store stock clerk to MVP, but the movie "American Underdog" digs into the very personal story behind the sports glory.
Warner has always credited his wife, Marine Corps veteran Brenda, with being his lifeline during all the years when it seemed that the quarterback himself was the only person who believed he had the goods to succeed at the highest level. Now, there's a movie that tells the story of their marriage.
On one level, "American Underdog" is barely a sports movie. Even though directors Jon and Andrew Erwin (a team best known as the Erwin Brothers) got their start as cameramen for live sports broadcasts, the movie focuses on the lives of Brenda, Kurt and their family. There are some great sports moments in the film, but everyone involved is more interested in the amazing personal stories behind the glory.
Brenda Warner freely admits she wasn't a sports fan when she met her future husband and that she's not really a sports fan today. She fell in love with a young college graduate with few career prospects, and he fell in love with a Marine with two small children who left the service on a hardship discharge after her son was injured.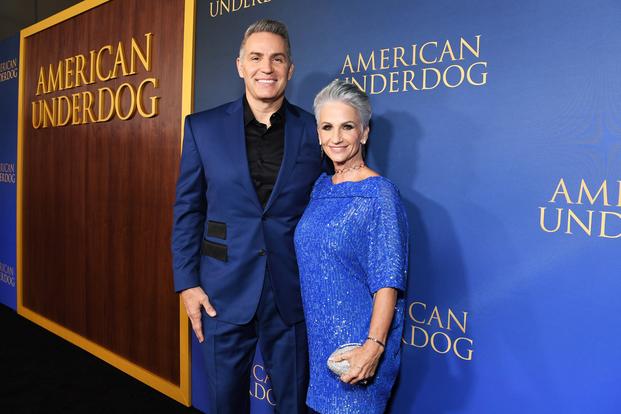 Their story features the kind of struggle that many Americans can directly understand, and it's how their love leads to triumph that will make "American Underdog" resonate with everyday people who might not care one bit about sports.
Brenda Warner shared her story with us in a video interview. She talks about her military career, what it's like to see your personal story told in a movie, why her family chose to trust the Erwins with its story, and how she and Kurt have used their celebrity on behalf of charitable causes.
Jon and Andrew Erwin are the grandsons of World War II veteran Staff Sgt. Henry E. "Red" Erwin, a B-29 Superfortress operator who was awarded the Medal of Honor for his actions over Japan in 1945. Jon, in collaboration with noted author William Doyle, published a best-selling book about his grandfather ​​in 2020 called "Beyond Valor: A World War II Story of Extraordinary Heroism, Sacrificial Love, and a Race against Time."
The Erwin brothers have made a name in the movie business with a series of successful movies that include the hits "I Can Only Imagine," "I Still Believe" and "Moms' Night Out." They most recently released the documentary "The Jesus Music," which tells a fascinating story about the roots of contemporary Christian music.
The Erwins spoke to us about their grandfather and his military service, why their movie focuses so much on Brenda Warner's story, and how they had to condense some of the sports background to keep their film focused on the real story.
"American Underdog" will be in theaters on Dec. 25, 2021.
Keep Up With the Best in Military Entertainment
Whether you're looking for news and entertainment, thinking of joining the military or keeping up with military life and benefits, Military.com has you covered. Subscribe to the Military.com newsletter to have military news, updates and resources delivered straight to your inbox.