The YouTube series "Could You Survive the Movies?" kicks off its new season with a dive into "Top Gun." The Jake Roper-hosted show examines the science behind some of Hollywood's most popular films, and "Top Gun" is a classic that's just loaded with physics.
In addition to the July 1 release of the "Top Gun" show, the new season will include episodes that look at "Jurassic Park," "A Quiet Place," the "Harry Potter" series, zombie movies and "Titanic." Future episodes will premiere Thursdays at noon ET, but YouTube Premium subscribers can get access to the entire series now as well as "Top Gun" bonus footage featuring a 360-VR perspective throughout Roper's flight with the Blue Angels.
If you're not already familiar with YouTube creator culture, here's some background. Roper is the lead presenter on the Vsauce3 Channel as part of a YouTube network created by Michael Stevens, aka Vsauce. The show is produced by Ample Entertainment with Ari Mark, Phil Lott, David Brown and Roper.Their videos aim to present science in an accessible way for viewers, and they've got millions of subscribers. "Could You Survive the Movies?" has proved to be a big hit, and the show even won a Daytime Emmy in 2020.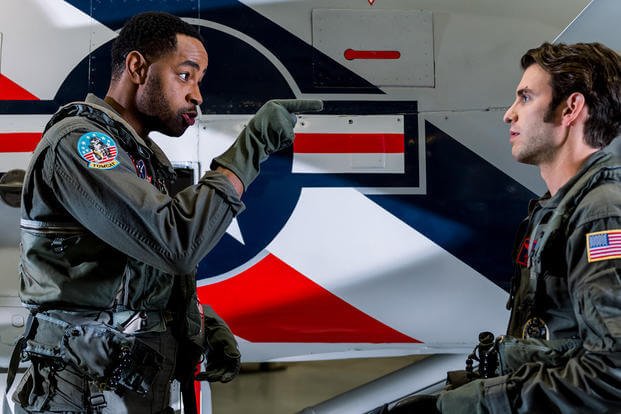 Their "Top Gun" episode features a loose reenactment of the movie's plot with Jake Roper taking on the Maverick role (call sign: Vsauce3) and "Top Gun: Maverick" actor Jay Ellis (call sign: Payback) as his Iceman-style rival. The acting is loose and pretty humorous. No one's trying to convince anyone this is a genuine recreation of the Navy classic. "Top Gun: Maverick" director Joseph Kosinski even shows up to "improve" the notorious locker-room showdown.
So, they're working with Paramount's full cooperation and also a lot of support from the Navy. The Blue Angels show up and give Jake a ride-along flight, and Navy surgeon Lt. Monica Borza explains exactly how G-forces work.
We've got a clip from the episode. Pay attention and you'll learn something.
This science is more advanced than you might think, but the team behind the show really have figured out how to convey the meat of the subject in ways that non-science types can understand. Twenty minutes with Roper was far more effective than a full semester of high school physics managed to be for explaining the topics covered here.
If you get hooked, go back and watch the first season that includes episodes about "Die Hard," "Jumanji," "Ghostbusters," "Alien," "Men in Black" and "Back to the Future."
Keep Up With the Best in Military Entertainment
Whether you're looking for news and entertainment, thinking of joining the military or keeping up with military life and benefits, Military.com has you covered. Subscribe to the Military.com newsletter to have military news, updates and resources delivered straight to your inbox.