Jason Statham and director Guy Ritchie have teamed again for the kind of elaborate puzzle box movie that Ritchie makes best. "Wrath of Man" is opening in theaters on May 7.
Statham looks great, and he's figuring out how to carry his silent, tough-guy persona into middle age with roles that suit his particular skill set. Since he made his movie debut in Ritchie's "Lock, Stock and Two Smoking Barrels" in 1998, Statham has become one of the most successful action movie stars in the business, and "Wrath of Man" reunites him with Ritchie for the first time since 2005's "Revolver."
Jeffrey Donovan ("Burn Notice"), Holt McCallany ("Mindhunter"), Scott Eastwood ("The Outpost"), Andy Garcia ("The Godfather: Part III), Josh Hartnett ("Penny Dreadful"), Rob Delaney ("Catastrophe") and Post Malone lead a cast of men doing manly things.
The movie reveals itself slowly with a series of flashbacks detailing just why Statham's character, H, has taken a job at a high-end Los Angeles security firm that transports enormous amounts of cash. Spec ops veterans are everywhere in this movie, and it's worth not knowing much more than that when you walk into the theater.
Check out the trailer and read on for some reveals about the veterans who drive the plot. Or bookmark this and come back after you go to the movie theater and watch it in person.
McCallany's Bullet is the friendly ballbuster who shows the new guys the ropes at Fortico Securities. It's a high-pressure gig because armored car robberies seem to be a common, nearly everyday occurrence in Ritchie's fictional Los Angeles. He welcomes Statham's H to the team and introduces him to Hartnett's Boy Sweat Dave. It's a Guy Ritchie movie. Did you expect people to have normal names?
Donovan and Eastwood lead a crew of special ops veterans who haven't found their place after they've returned to civilian society. They're bored, unemployed and desperate for ways to get the unit back together and find a common purpose. Donovan's Jackson was dishonorably discharged after a mission went wrong in Afghanistan, and he's been unable to get a job with his bad paper hanging over him. His men still answer to him as their sergeant.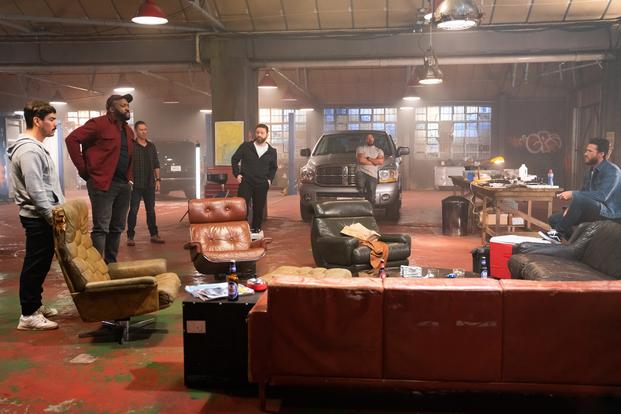 Eastwood's Jan is that tip-of-the-spear warrior who combines exceptional combat skills with an unpredictable and dangerously short fuse. His crew needs him, but everyone wonders if they can trust him in a pinch.
These guys need a mission, and America has failed to offer them a sense of purpose since their return from the war. They're antsy and need something to do, especially something that involves risk and a good amount of danger.
If you've been to the movies in the past 50 years, you probably can piece most of it together from here. What will surprise you is just who H is and why he's there. While he's never specially identified as an SAS veteran, his epic combat skills mark him as a UK military veteran.
Ritchie uses some great drone-establishing shots of Los Angeles to lull the audience into believing that this movie was shot on location in Southern California. In fact, most of it was shot in and around London, and the movie's location scout deserves some kind of award for finding places that let Ritchie make England look like SoCal.
2019's "The Gentlemen" was the beginning of a return to form for Ritchie after his 2019 live-action remake of "Aladdin" and 2017's "King Arthur: Legend of the Sword." "Wrath of Man" ranks up there with his best.
Keep Up With the Best in Military Entertainment
Whether you're looking for news and entertainment, thinking of joining the military or keeping up with military life and benefits, Military.com has you covered. Subscribe to the Military.com newsletter to have military news, updates and resources delivered straight to your inbox.