Jake Gyllenhaal is set to team up with "Extraction" director Sam Hargrave to make "Combat Control," a movie about Air Force Sgt. John Chapman, killed in action in Afghanistan during Operation Anaconda in March 2002.
Originally awarded the posthumous Air Force Cross, the Combat Control Technician's award was upgraded to the Medal of Honor in 2018 after an investigation led by Air Force Capt. Cora Alexander. The film will tell Chapman's story through Alexander's investigation.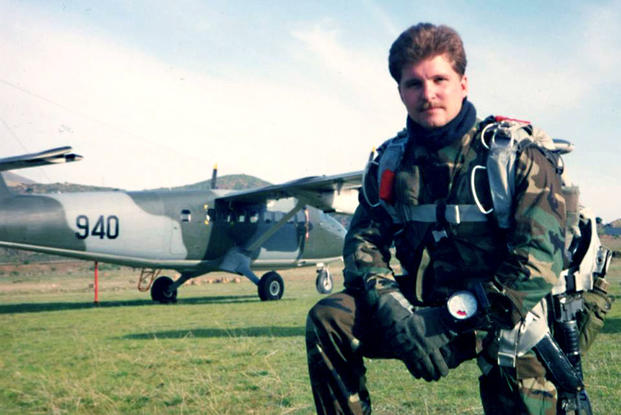 The movie will be based on the best-selling book "Alone at Dawn: Medal of Honor Recipient John Chapman and the Untold Story of the World's Deadliest Special Operations Force" by Dan Schilling and Lori Chapman Longfritz. Schilling, who also served as an Air Force Combat Controller and authored the upcoming book "The Power of Awareness," has been hired as the film's military consultant.
Michael Russell Gunn ("Designated Survivor," "Billions") has been brought on to adapt the script.
Related: New Details Reveal Airman John Chapman's Heroism at Roberts Ridge
The Combat Controllers are a highly classified unit, and the emergence of Chapman's story in recent years has been the first most Americans have heard of their work. Chapman was the first Air Force member to be recognized with a Medal of Honor since the Vietnam War.
Gyllenhaal made a huge impression when he played Marine sniper Anthony Swofford in "Jarhead," a 2005 movie based on Swofford's memoir about his service in the Gulf War. The film deserved more awards attention than it got at the time, but Hollywood just couldn't quit Gyllenhaal's other big movie that year, "Brokeback Mountain," and gave him his only Oscar nomination for his role in that movie instead of his lead performance in "Jarhead."
Gyllenhaal currently is filming a Michael Bay action picture called "Ambulance," and Hargrave owes Netflix a sequel to the new action classic "Extraction," so it's likely to be a few months or even next year before "Combat Control" begins filming. Our best guess is that we're looking at a 2023 release. We'll have more details as they become available.
Keep Up With the Best in Military Entertainment
Whether you're looking for news and entertainment, thinking of joining the military or keeping up with military life and benefits, Military.com has you covered. Subscribe to the Military.com newsletter to have military news, updates and resources delivered straight to your inbox.