Raise your hand if you already knew about the U.S. Navy's Honorary Naval Aviator award.
Tom "Maverick" Cruise and "Top Gun" producer Jerry Bruckheimer became the 35th and 36th recipients of the title in a ceremony last month at Paramount Studios in Los Angeles.
More importantly, the ceremony came before a private screening of "Top Gun: Maverick," the long-awaited sequel whose release has been delayed until July 2, 2021, by the COVID-19 pandemic.
Vice Adm. DeWolfe Miller III, commander of Naval Air Forces, did the presentation honors, so it's safe to assume he stuck around to catch the movie. Right? You'd stick around, and so would I.
If anyone wants to get a review out of the vice admiral, we're all ears.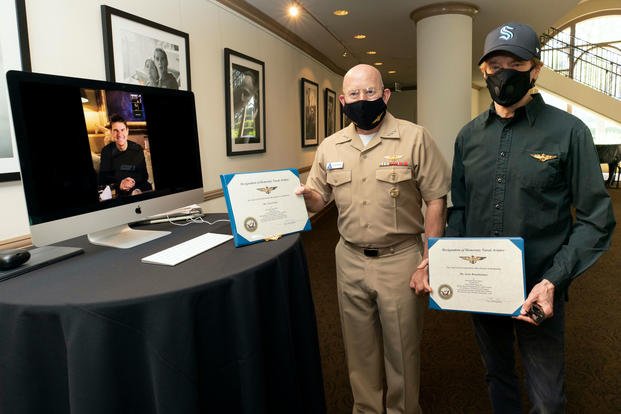 You'll notice that Bruckheimer is wearing a cap for the Seattle Kraken, the NHL expansion team that begins play in 2021. Jerry's a co-owner of the squad and deserves congratulations for the awesome team name and the logo, which looks kind of like a sea monster.
Tom joined the ceremony via videoconference because he's on location somewhere in Europe (last sighting: Norway) as he films the upcoming ""Mission: Impossible" sequel with full safety protocols.
Related: Check Out Tom Cruise Filming on Top of a Moving Train
Back to the award. Those wings may look like the ones airline pilots used to hand out to little kids on commercial flights, but these "wings of gold" are special. Honorary Naval Aviators are entitled to all the honors, courtesies and privileges that go with the wings of a U.S. naval aviator. That's probably a big deal to Bruckheimer, but let's be fair: Cruise was already entitled to all of the above just because he's Maverick.
The citation for the award reads, "In the history of motion pictures, there is not a more iconic aviation movie than the 1986 Paramount Pictures film 'Top Gun.' Its characters, dialogue and imagery are ingrained in the minds of an entire generation of Americans. The movie captured the hearts of millions, making a profound positive impact on recruiting for Naval Aviation … [and] significantly promoted and supported Naval Aviation and put aircraft carriers and naval aircraft into popular culture."
It goes on to say that Cruise and Bruckheimer made great efforts to "ensure the 'Top Gun' franchise is as authentic as possible, staying true to the unparalleled tactical excellence of the Navy Fighter Weapons School, the ethos of Naval Aviation, and the fighting spirit of the men and women of the world's greatest Navy."
That's some top quality prose from a Navy public affairs officer and has the added bonus of actually being true.
So, what's the deal with Honorary Naval Aviators? The designation was first awarded to noted stunt pilot Naval Reserve Capt. Dick Schram, who promoted aviation with his "Flying Professor" act. Over the years, it's been given to high-profile military supporters of aviation such as Vice Adm. Hyman Rickover, Navy Secretary (and future senator) John Warner, Gen. James Doolittle and Adm. Arleigh Burke.
Hollywood actor Jackie Cooper was recognized in 1970, but that was more for his high-profile recruiting work as a reservist than his movies. The first flat-out celebrity play was the 1986 recognition of Bob Hope, the comedy legend who entertained generations of military men and women with his USO shows.
Other high-profile recipients include Jim Nabors ("Gomer Pyle, USMC"), Tony Orlando (singer of "Tie a Yellow Ribbon") and His Royal Highness, Prince Mohamed, foreign minister of Brunei. An stellar group, but everyone who's received the honor in the past just got more impressed with themselves now that they share the honor with Maverick.
We'll continue patiently waiting for the pandemic to clear so that theaters can reopen and hope that all has returned to some kind of normal by next July. In the meantime, "Top Gun: Maverick" sits on a shelf and taunts everyone who's been waiting decades to find out what happens next.
Keep Up With the Best in Military Entertainment
Whether you're looking for news and entertainment, thinking of joining the military or keeping up with military life and benefits, Military.com has you covered. Subscribe to the Military.com newsletter to have military news, updates and resources delivered straight to your inbox.