A powerful new documentary, "Rebuilding Paradise," from director Ron Howard and National Geographic, follows the city of Paradise, California, as it faces the destruction wrought by the 2018 Camp Fire. The movie is currently in a hybrid theatrical/'virtual cinema" streaming release, and you can visit its "Find a Screening" page to find out how to see it.
The film opens with a harrowing nine-minute recap of the fire. The footage is made up of phone videos taken by residents as they fled the rapidly approaching fire, which killed 85 people, displaced 50,000 residents and destroyed 95% of local structures.
Howard and his crew then follow a group of residents as they aim to save the community and rebuild the city. We meet the local school superintendent; a man who got sober and put his life together in Paradise before becoming its mayor and a community leader; the school custodian and his young family; a policeman whose family life is strained by his work; a young family with deep ties to the area; a pair of high school seniors whose year is wrecked; and a school psychologist who's trying to counsel kids while dealing with her own trauma.
Howard's mother-in-law lived in Paradise for several years, and it's obvious that the community trusts a filmmaker with local ties and opens up to his crew in a way they may never have for strangers. As a man who knew the town before the fire, Howard is perhaps better suited than any other documentarian to help these people communicate their loss.
The opening sequence is spectacular, edited with a skill that makes it equal to or surpassing anything you'd see in a big-budget action movie. As we follow the residents over the course of the next year, there's nothing to match that excitement, but it's also impossible to forget the trauma that the people we're following have experienced.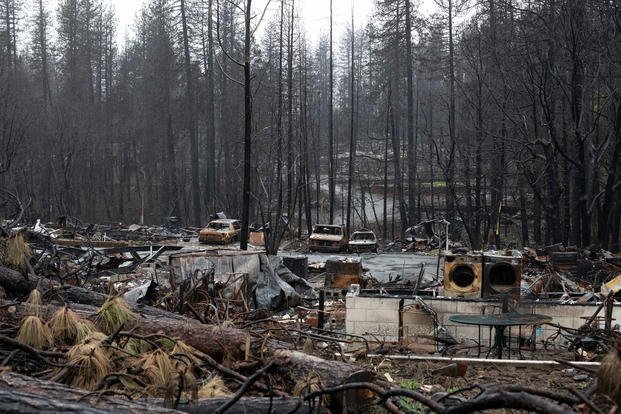 The movie doesn't shy away from the causes of the fire. Power company PG&E has notoriously failed to do proper maintenance on its equipment in the state, and investigators have established that faulty equipment caused the Camp Fire. We see residents face off with a PG&E executive sent to offer bland apologies for the fire, and he's overwhelmed by the anger and pain of the community.
There's also some enlightening discussion of how California's refusal to conduct controlled burns has made all these communities more vulnerable to disasters like this. There's a concise lesson in exactly why and how these fires get out of control and what the state should be doing to lessen their impact.
Finally, every person in the film connects the conditions that allowed for the fire to climate change. The rainy season seems to start later every year, and residents felt vulnerable long before the fire actually occurred. They just didn't realize how vulnerable they would be when it came.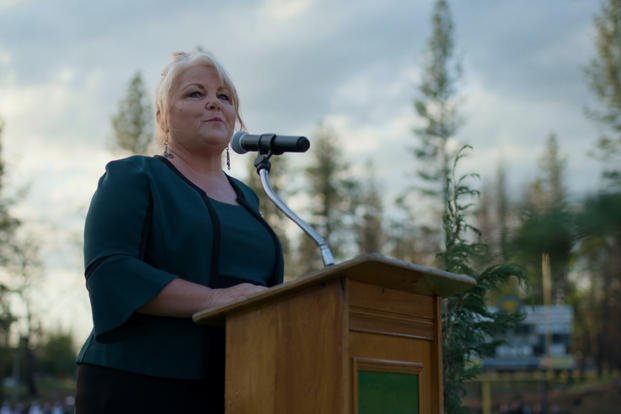 Superintendent of Schools Michelle John is the heart of the film. She's determined to save the school year for her students, and it's her husband, Vietnam War veteran Philip John, who finds himself tasked with making sure she takes care of her own health and well-being in the face of the crisis.
The time period covered in "Rebuilding Paradise" ends in late 2019. After watching the film, it's impossible not to wonder how all of these tough Americans have dealt with 2020. Here's hoping for a Zoom-based sequel called "COVID in Paradise."
A note on "virtual cinema" streaming: Dozens of independent movie theaters around the country have partnered with studios to stream the movies they'd be showing if theaters were allowed to open in their communities. Viewers pay for the stream via the theater's website, and the studio and theater split the proceeds.
If you use the "Find a Screening" page and there's no participating theater in your community, then just find any theater that does offer the streaming option and you can rent the film. If you want to watch on your home TV, you'll likely need to use Google Chromecast, Apple AirPlay or an HDMI cable to connect your computer to the bigger screen.
This isn't a perfect solution, but it does put some money into struggling independent businesses during the pandemic. If this seems too complicated, you can wait for the release to traditional video on-demand stores, its airing on National Geographic Channel or for it to arrive at its eventual streaming home on Disney+.
Keep Up With the Best in Military Entertainment
Whether you're looking for news and entertainment, thinking of joining the military or keeping up with military life and benefits, Military.com has you covered. Subscribe to the Military.com newsletter to have military news, updates and resources delivered straight to your inbox.