Getting "Glory" to the screen took a long time, though star Matthew Broderick did learn a lot about the Civil War along the way. He also learned to ride a horse.
"In terms of time and effort, that was the role I put the most into," the actor said.
Broderick volunteered to be part of a virtual question-and-answer session hosted by the USO, whose presence can be felt in every overseas military base, most CONUS military bases and many, many airports.
For more than an hour, the star of stage and screen took questions about his 30-year career from American troops and dependents the world over, including Germany, Bahrain, Japan, Iraq, Hawaii and Kansas.
On top of portraying Col. Robert Gould Shaw in "Glory," his family has a military history dating back to the Civil War, one the actor wasn't aware of (Broderick himself was not in the military). He appeared on an episode of NBC's "Who Do You Think You Are?" in which his lineage was traced back to his grandfather, who fought in World War I. Broderick's ancestors also fought in the Union Army at Gettysburg.
"They took me to France to this battlefield, where my grandfather was a stretcher bearer. … It still has the craters from all the bombs," he said. "It's scary to stand on it with no soldiers. … It's hard for me to imagine what he went through."
His grandfather died before he was born, but Broderick's family told him the World War I doughboy never said a word about fighting in France.
The military community also asked the actor about his roles in "Ladyhawke," "The Freshman," "WarGames" and more. They also wanted to know his favorite co-stars, the differences between working on a movie versus on a Broadway stage, and how he prepares for either.
Broderick mentioned that he always has a picture of his father, an actor and World War II Navy veteran, in his dressing room. His father became an actor after the war, his acting training partly funded by the Defense Department.
"To him, acting and the military went hand-in-hand," he said. "Because that's how he got himself to be able to learn about it."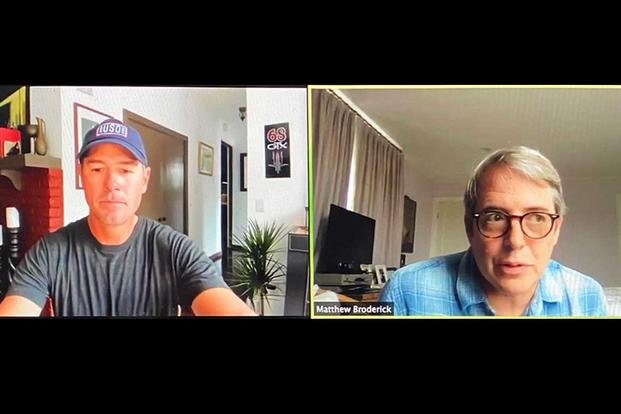 After "Glory," the most stressful moment for the actor was filming the parade scene in "Ferris Bueller's Day Off," which was shot over two days in Chicago.
"That was really, really fun to shoot, although I was absolutely petrified the night before," he recalled. "But once they start blaring music at you and everyone starts dancing around, before you know it, you forget you're scared and you go crazy."
Broderick had no idea that "Ferris Bueller" would become the cultural force it became in the years since.
"They called John Hughes the 'Spielberg of Teen Movies,'" he said. "But if anyone had told me I'd be talking about it 130 years later, I'd be amazed. I AM amazed."
He also went through some of his favorite movies, ones he just has to watch whenever they're on. Broderick's list includes "The Towering Inferno," "2001: A Space Odyssey" and "Casablanca."
-- Blake Stilwell can be reached at blake.stilwell@military.com. He can also be found on Twitter @blakestilwell or on Facebook.
Keep Up With the Best in Military Entertainment
Whether you're looking for news and entertainment, thinking of joining the military or keeping up with military life and benefits, Military.com has you covered. Subscribe to the Military.com newsletter to have military news, updates and resources delivered straight to your inbox.