Riding Into the Danger Zone:
Every week we'll break down the movers, shakers, winners and losers in fantasy football, and keep an eye out for the players you should be eyeing for your fantasy rosters.
Remember last week's Military.com Fantasy Football Forecast (MFFF) column in which we said everything old is new again? Reverse that statement once again and you'll have a pretty good idea of what went down in Week 3 of the NFL. Teams given up for dead like Oakland, Kansas City and Tennessee resuscitated themselves (for at least one more week), while mighty teams judged to be among the best (49ers, Patriots) found themselves on the L side of the ledger. Call it parity, call it parody, call it whatever you want, but navigating the treacherous waters of pro football forecasting is tougher than ever; ditto for fantasy football.
Speaking of old and new, this week we're giving a new spin on an old military movie classic, Top Gun -- who is this year's Viper? Iceman? Or (gulp) Goose? Read on and find out, but first, let's do our usual debrief for Week 3...
The Week 3 Debrief (spiced with some predictions for Week 4):
TE Martellus Bennett, QB Andrew Luck, WR Randall Cobb, WR Damaris Johnson, WR Cecil Shorts = Good MFFF! Let's pat ourselves on the back (because as you'll see, we have little reason to otherwise this year) for selecting these players to break out. Bennett has caught a TD in each of his first three games and solidified himself as a go-to target for the Giants. After a shaky start Luck is putting up decent numbers for a starting fantasy QB, and with the way RG3 is getting pummeled week after week, he's a better bet to last the entire season. Cobb may be ready to supplant WR Greg Jennings as a prime receiver in Green Bay. We can't say the same for Damaris Johnson in Philadelphia, but as long as Jeremy Maclin is gimpy he will receive his share of catches. And even though Shorts only caught one pass last week, it was a doozy, as he nabbed a game-winning 80-yard TD pass, which will hopefully earn him more looks in the coming weeks.
RB Ronnie Hillman, RB LaGarette Blount, WR Braylon Edwards, WR/RB Dexter McCluster, WR Brandon LaFell, TE Coby Fleener = Bad MFFF! Combined, all these players have had about as many yards as Shorts did on his one play last week. Hoo boy.
Kansas City + Oakland = Offense? We picked the Saints to score the most points in the league this past Sunday against the Chiefs, and while they put up a respectable 24 points, it was the Chiefs with the eye-opening performance of the day, as Jamaal Charles emerged from fantasy Siberia with nearly 300 total yards of offense. And after looking dead against the Dolphins in Week 2, the Raiders rang up 34 points in a victory over the once-vaunted Steeler D -- so much for our prediction of a Raiders collapse in that game. What does all of this mean? We're not sure yet, but it looks like the Bill Simmons stink is in full effect when it comes to MFFF picking offensive matchups.
The RB scramble. Look out below, fantasy owners! Here come the injuries. First to go down was Buffalo RB C.J. Spiller, who was leading the league in rushing before he received a shoulder injury that sidelined him for most of Sunday's win over Cleveland, followed by Miami RB Reggie Bush, who banged up his knee against the Jets. Both are expected to be back before too long, but it's a stark reminder that today's fantasy hero is tomorrow's IR casualty. On that note, Buffalo RB Tashard Choice and Miami RB Daniel Thomas are good fill-in plays for Week 4.
QBs = Jury still out. Tom Brady and Peyton Manning turned in top-5 passing performances on Sunday. Just like old times right? Then how about Tennessee QB Jake Locker, who piled up 378 yards and 2 TDs against the suddenly vulnerable Lions? Or  Cincinnati QB Andy Dalton, who strung together 328 yards and 3 TDs versus the Redskins? MFFF's suspicion is that more than ever, this is a league of match-ups, and QB performance will fluctuate wildly depending on who a team plays from week to week. Going by that theory, Minnesota QB Christian Ponder (playing the Lions), Peyton Manning (against a sieve-like Raider pass D), and Aaron Rodgers (against a Saints D struggling to find any coherence) are the big plays this weekend.
With that out of the way, we're proud to present...
Fantasy Football: The Top Gun Corner
Cougar = Tennessee RB Chris Johnson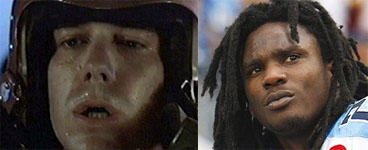 As the Righteous Brothers would say, you may be trying hard not to show it, Mr. Johnson, but baby, MFFF knows it -- you've lost that loving feeling. It seems impossible now, but a few scant years ago Johnson gained over 2,000 yards rushing in a single season. His stats through three games this year? 33 carries, 45 yards. Just like Cougar, who was once destined for stardom as Top Gun, it appears that Johnson is holding on too tight and has lost that edge. Time to turn in those wings, Chris.
Goose = Oakland RB Darren McFadden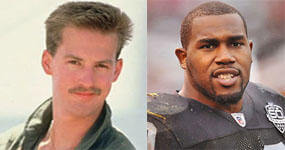 Great balls of fire! Who didn't love Goose? He was the ultimate compadre, he had a beyond-cute wife in Meg Ryan, and he was there when you needed him -- until he was cruelly ripped from us by a low-hanging jet canopy. MFFF loves McFadden's speed and game-breaking ability, but given his history of injuries, and how hard the Raiders are riding him (at his current usage rate he's going to hit his career average for carries in a season by week 9), we sadly predict that McFadden will be in our hearts but out of the running before too long.
Iceman = Atlanta QB Matty "Ice" Ryan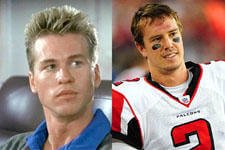 Competent, rock-solid, by-the-book, very far from being "dangerous" -- that's Val Kilmer's Iceman, and that's "Matty Ice" Ryan, who is finally living up to his nickname this season with some torrid passing stats out of the gate. But just as Iceman needed a little help from his friends when the going got tough, Ryan has a history of underperforming in critical games, and his 0-3 playoff record as a starter is still an albatross around his neck. Still, when it comes to consistent production week in and week out, Ryan can be your wingman anytime.
Merlin = Buffalo QB Ryan Fitzpatrick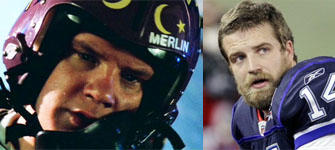 Wait a minute -- isn't Merlin the guy who ends up caddying for both Cougar and Maverick, and doesn't contribute much beyond some worried dialogue? Yep, that in a nutshell is Mr. Fitzpatrick, who is a decent complementary player and can put up good numbers when he gets help from his buddies C.J. Spiller and WR Stevie Johnson, but can look helpless when things around him aren't at an optimal level. Not a bad guy to have around if you've got a Maverick on your fantasy team, not much use if you have a Cougar.
Viper = Denver QB Peyton Manning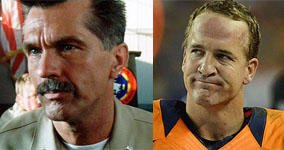 The cool, grizzled veteran who insists you follow the rules or you're out of here -- that's Viper and that's Peyton Manning, who has essentially imported his Colts offense to the Mile High City, and told his new teammates that it's his way or the highway. He may have lost something off his fastball, but Peyton can still smoke you if he gets time, just like Viper can still get the drop on some fresh-faced pilots. The question is, which up-and-coming QB will join Peyton's name on the plaque?
Maverick = ?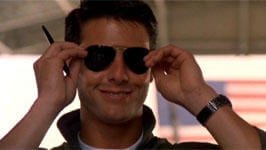 You didn't think we'd fire all our guns and ammo in one column, did you? Besides, Maverick's tale is one of cockiness, guilt and redemption, and it's too early in the season for that storyline to have played out yet. We'll keep our eye on this one, though, and offer up a few candidates in the coming weeks (hint: Drew Brees, we're looking at you).
Week 4 Fantasy Steals: Our Picks
WR Josh Gordon, Browns: With WR Greg Little in coach Pat Shurmur's doghouse for dropping too many passes, the door is open for the raw but talented Gordon to step in.
RB Mikel LeShoure, Lions: The Lions may have lost a game this past weekend, but they gained themselves a starting RB as LeShoure cracked 100 yards rushing. He's still coming back from an Achilles injury, so approach with caution, but if you're in need of a RB jump-start he's a worthy pickup.
RB Jackie Battle, Chargers: He was a battering ram when the Chargers beat the Titans in Week 2, and even though San Diego was blown out by the Falcons Sunday, he still picked up 55 on 3 carries. With starting RB Ryan Mathews affllicted with fumblitis, Battle will have more opportunities near the goal line moving forward.
RB Andre Brown, Giants: In the NFL's latest feel-good story, Brown got his time to shine after getting cut by five teams (including the Giants) eight times over the past four seasons, and has gathered up nearly 200 yards and 3 TDs in just over six quarters of play. His carries may decrease when HB Ahmad Bradshaw returns from injury, but he'll be a solid play moving forward, with real potential to be a #1 RB.
Best Offensive Matchup of the Week:
New Orleans at Green Bay: See above. Saints floundering + Green Bay at home = a bushel of points for the Packers.
Best Defensive Matchup of the Week:
New York Giants at Philadelphia: Philadelphia continues to turn the ball over at an alarming rate, and after a rough start, the Giants' defense has allowed only 17 points over the last six quarters. With the New York secondary getting healthy, and the Eagle O-line still beat up, to the tune of Michael Vick getting hit over 50 times in the first three games, there will be opportunities to rack up defensive points
Got a specific question or need advice on fantasy football this week? Sound off in the comments section below.