In the wake of American withdrawals from Iraq and now Afghanistan, one group of U.S. allies whose work constantly put them and their families in harm's way face another deadly challenge: being left behind.
American troops are worried that the interpreters who helped U.S. and NATO forces during the Global War on Terrorism will face mass reprisals when their primary means of protection head home for good.
"My fear is they will hunt him down," U.S. Army 1st Sgt. (ret.) Gerald Keen told Michigan's WOODTV about a young interpreter he worked with in Afghanistan. "Not only him, his family… He'll be the last one killed if they find him. They'll kill his brothers, sisters, kids, wife and then, they'll kill him. And they'll behead him. They have no remorse."
Reprisals against interpreters have been a constant fear for Americans deployed overseas, many of whom formed close ties with their trusted interpreters during their time in the wars.
Another soldier, Army Col. (ret.) Steve Miska, wrote a new book about his effort to save the lives of his Iraqi interpreters by funneling them to neighboring Jordan in 2007. "Baghdad Underground Railroad: Saving American Allies in Iraq" recounts Miska's 2007 deployment with the Army's 2nd Brigade, 1st Infantry Division -- also known as the Dagger Brigade.
Miska and the Dagger Brigade established a modern-day underground railroad from Baghdad to Amman, Jordan, that would help dozens of Army interpreters escape their untimely end at the hands of the "death squads" that hunted down and killed interpreters and their families.
The book recounts the bureaucratic efforts to provide a special means of helping those interpreters escape to the United States and the broken promises that often accompanied those efforts.
"Baghdad Underground Railroad" also offers readers a detailed explanation of the way interpreters aid American troops overseas, the bonds formed between the interpreters and U.S. troops, and the ways military spouses and mothers have played as sponsors, hosts, friends and advocates to interpreters when they actually do make it to safety in the U.S.
In 2007, Iraq was embroiled in a civil war that pitted sectarian militias against one another and against American forces trying to bring stability to the country. Tens of thousands of Iraqis volunteered to help the United States understand the people, the culture and the languages of Iraq's diverse populations.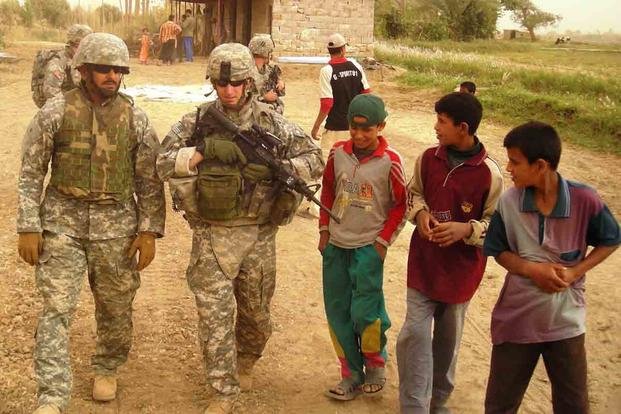 Many were wounded in combat and carried no weapons despite facing the same dangers as the American troops with whom they worked alongside. For their effort, they faced assassination, abduction and torture at home.
In 2008, Congress created the Special Immigrant Visa Program to incentivize the local population to assist American troops. Between 2016 and 2019, just over 500 visas were granted to Iraqis, according to an NBC News report.
At the end of 2020, the Washington Post reported that 100,000 interpreters and at-risk family members remain in Iraq. Another 70,000 await visas in Afghanistan.
-- Blake Stilwell can be reached at blake.stilwell@military.com. He can also be found on Twitter @blakestilwell or on Facebook.
Want to Learn More About Military Life?
Whether you're thinking of joining the military, looking for post-military careers or keeping up with military life and benefits, Military.com has you covered. Subscribe to Military.com to have military news, updates and resources delivered directly to your inbox.