With a new year comes new cars, and the USAA has produced its annual list of top cars that offer the best in affordability, safety, and reliability. We had a chance to speak with Lauren Fix, an independent auto expert, who gave us the skinny on the top picks for 2013.
Can you tell us about the 14 best cars for 2013?
USAA is creating its annual best vehicle list for 2013, and they took the best combination of affordability, safety, and reliability. Safety can be very confusing so we went to the Insurance Institute for Highway Safety, and we put them in 16 categories of vehicles that met those three qualifiers. These had to be top safety picks as well, so we really stepped up our game for 2013. Of those 16 categories, only 14 cars qualified – 2 categories are left empty because nothing qualified.
Large Sedan – Dodge Charger This is its third year in a row winning this category.
Mid-Sized Sedan – Dodge Avenger It's a top safety pick, plus it's the only one on the list that met all the qualifiers as well as being a top safety pick for IIHS.
Small Sedan – Mitsubishi Lancer
Large Luxury Sedan – Lincoln MKF
Mid-Sized Luxury Sedan – Audi A4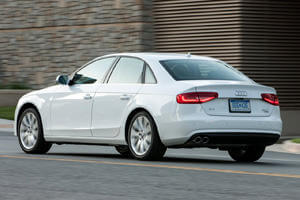 Large SUV – Chevy Traverse This is the Chevrolet Traverses third year in a row. It's a large SUV, but a lot of people need those especially if you've got two children or carry a lot of gear with you.
Mid-Sized SUV – Ford Explorer This is the Explorer's first time on the list.
Small-Sized SUV – Kia Sportage This is its third year in a row as well. This happens to be built in Westpoint, Georgia. It's nice that it's a U.S.-built vehicle even though it's a Korean vehicle.
Large Luxury SUV – Nothing qualified, this category is empty. It's probably because of rollover; if you've got a large SUV, you've got a higher center of gravity, so it's very easy to get in over your head.
Mid-Sized Luxury SUV – Lexus RX-450H This is the hybrid, third year in a row. We didn't separate hybrids on their own, but this one qualified in all the categories.
Large Pickup – Toyota Tundra This is actually built in Texas.
Small Pickup – We didn't find anything that qualified in this category either.
Sports car – Scion FRS It's the same thing as the Subaru BRZ. It was a partnership between the two, but they just changed the letters.
Coup – Honda CRV Second year in a row, it's a cute little car with an eco-mode.
Wagon – Audi A3 Audi's going to be building a factory here in North America.
Minivan – Dodge Grand Caravan It's the second year running for the Caravan. Dodge does have U-Connect which is a cool technology. You can also put a Hemi motor in it if you want something more masculine.
You'll get great financial value out of all of these vehicles, and that's what the evaluation was for. The nice thing about this is that you can go through the USAA credit union to get banking, financing, and insurance at one stop. The Auto Circle program lets you do research in one location which eliminates the need to pick through all the websites out there.
Do you have any personal favorites out of the list?
I test-drove all of these cars. I really like the Kia Sportage, I think they've done a great job redoing it. The Ford Explorer looks fantastic – it's got a Land Rover type look. I did like the FRS, it was a fun little sports car. Absolutely not designed for the family, but if you're single and want something really fun to drive this is a good choice. The Audi A3 comes in diesel now and it 55 miles to the gallon.
Is it harder to fuel up on diesel since there's less infrastructure?
It's easy. I have an SUV that's diesel and just drove from Cleveland to Buffalo just yesterday – no problem at all, didn't even use a quarter tank of gas. Diesel's not the unusual anymore. German manufacturers are saying that over 83% of their sales are diesel. General Motors just came out with a Chevy Cruise diesel, so it's getting very popular.  Once one domestic company brings it in, next year everyone's going to have at least one or two diesel option.
What are the top picks for teens?
One of the trends is safety. People are getting newer cars and giving them to teens and keeping older vehicles because we tend to pay more attention to the road. New cars have backup cameras, backup sensors, lane change departure, and all those other great safety features. Teens aren't as aware of the vehicle and the roadway as we are. With that in mind, we took a list of reliability, safety, reasonable insurance cost, and created a top eleven list for teens. All of these picks are good choices, so I always say: let them pick the color, you pick the car.
Dodge Dart There are some really fantastic deals for this. I've seen a few of them around the $10,000 range. When you start adding options, of course it can get higher.
Dodge Avenger
Honda CRV
Chrysler 200
Honda Insight This is a hybrid car if you want to go on the greener side of things.
VW Golf This is one of my absolute favorite cars.
Hyundai Elantra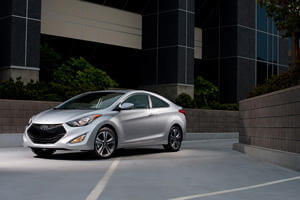 Nissan Versa This is known for having a huge backseat which is good if you've got an older child driving the younger ones to school.
Kia Optima
Chevy Malibu Another really unusual looking vehicle, and this comes down to personal preference when it comes to this list. This is getting closer to a mid-sized vehicle which might make parents feel a little more secure.
What are your personal favorites out of that list?
Well I like the Golf personally. But, the Kia Optima is a really great looking car. If you want a more mature look, this is certainly a very cool car. Those are my two favorites, but the Dodge Dart is a blast to drive. Sales aren't where they wanted them to be so there are deals to be had with the Dart. You can get one starting at 10 grand. If I could add safety features that cost a little bit extra, I'd rather to that then receive a horrible phone call.
Can you talk about the Young Driver Intelligence program?
We've dubbed it the YDI. Every car has it from 1996 to newer, and it's done to inform and open conversations between parents and teens. You'll receive texts immediately when there's heavy breaking, passing the speed limit, etc. It pinpoints exactly where each alert was, and you can also add a barrier. If you don't want your kid driving into New York City and they cross that barrier, you'll get an alert right away. When you put down rules and have a conversation about what they expect and give them guidelines, they usually follow them. If they don't, you send them on their way and take the keys. You can't go by someone's word of mouth, and you can use the precise information generated by the computer in the car. I think it's also good to let them know that you're watching.