The Electrical System
Diesels require more stored energy for starting than gasoline vehicles do, especially on cold days. Instead of just using the battery to enable the starter to crank the engine, a diesel must have sufficient power to enable the glow plugs to warm the combustion chambers and then must build up enough heat and compression in the cylinders to ignite the fuel. For this reason, diesels must possess considerably more battery capacity than conventional vehicles. Some diesels come equipped with two batteries; others feature a single oversized battery that may be more than 50 percent biggerthan one found on a conventional vehicle.
Aside from this battery issue, electrical systems on diesels are pretty much the same as those on conventional vehicles; alternators, solenoids, and starters perform their usual functions.
The Emissions System
Along with much cleaner fuel, automakers are transforming the old, toxic diesels into vehicles with clean exhaust emissions by making dramatic changes to their emissions control systems. As of 2007, all diesels sold in the U.S. were clean diesels, and they'll continue to get cleaner each year asnew technologies for exhaust cleansing are developed. California has led the way in this area of change, and each year more and more states adopt itsstandards, which are stricter than those set by the federal government.Hopefully, the federal government will raise its standards as high asCalifornia's (or higher!) as time goes on.
The first innovations in cleaner diesel emissions systems were the additions of the following components:
A diesel oxide catalytic converter that cleans hydrocarbons from the exhaust stream.
A diesel particulate filter (see Figure 9-10) that scrubs sooty particles from the exhaust, trapping them in the filter material and regularly hittingthe filter with a burst of superheated gasses to burn up the particles.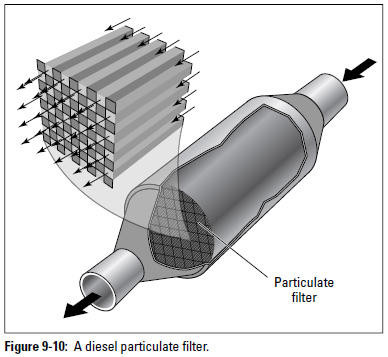 A number of automakers have introduced additional emissions traps to their diesel passenger vehicles and light trucks. Here are two systems:
One system injects a mist of urea (a type of ammonia) that's nontoxic, odorless, and biodegradable into the exhaust stream, where it bonds to toxic NOx emissions (nitrogen oxides) and breaks them down to nitrogenand water. Then the exhaust flow carries the residue into a selective reduction catalyst (SRC) where it's burned away. The urea container mustbe refilled regularly, usually with each scheduled mechanical checkup.
The other system uses a new type of plasma catalyst to superheat andconvert the NOx emissions into ammonia and then into harmless nitrogengas.
From Auto Repair for Dummies, copyright © 2009 by Wiley Publishing, Inc., Indianapolis, Indiana. Used by arrangement with John Wiley & Sons, Inc.