When it came to basketball, few were more brilliant and memorable than Bob Knight.
The legendary coach, who died Nov. 1 at age 83, did it all. He played the game as a young man, coached at every level and even led the U.S. Olympic men's basketball team to a gold medal. There's a reason he became a Hall of Famer while he was still coaching. During his more than four decades leading the Army Black Knights, Indiana Hoosiers and Texas Tech Red Raiders, Knight won more than 900 NCAA Division I men's basketball games, invented a fake player to expose shady recruiting practices and immediately recognized the potential of a young Michael Jordan.
He even made an expletive-filled Marine Corps recruiting video (Warning: This video is peak Bob Knight).
Naturally, the same passion for playing basketball and winning got Knight into trouble both on and off the court, and even cost him his job as the longtime head coach at Indiana after allegations of accosting a student forced the university to ask for his resignation. He's famous for throwing chairs in anger, feuding with officials and even assaulting a police officer -- the list goes on.
But Knight also innovated basketball's motion offense, which uses speed and passing to negate an opposing team's advantage in size and allow for an uncontested jump shot or layup. It requires discipline, patience and teamwork to be effective, which sounds a lot like a military unit -- something that might have to do with Knight's service in the Army and Army Reserve in the 1960s, a time that briefly interrupted his basketball career.
Knight was born in 1940 in Massillon, Ohio, but grew up in nearby Orrville, where he played high school basketball. He attended Ohio State University, playing basketball under Hall of Fame coach Fred Taylor. His team won the 1960 NCAA championship and went to the big game over the next two seasons, but lost both to the Cincinnati Bearcats. Knight didn't get a lot of playing time, but he lettered in the sport.
After graduating from Ohio State, Knight enlisted in the U.S. Army as a private in the 1st Battalion, 1st Infantry Regiment, the enlisted unit that supports the U.S. Military Academy at West Point. He served on active duty between June 1963 and June 1965 and then in the Army Reserve until May 1969, earning the Good Conduct Medal. During his enlisted tenure at West Point, he became an assistant coach for the Black Knights basketball team. Two years later, upon leaving active duty, then-Pfc. Knight was elevated to head coach at just 24 years old.
Over six seasons at Army, he led the Black Knights to a 102-50 record, with just one losing season, his last as Army head coach. He even coached future Hall of Fame coach Mike Krzyzewski while Krzyzewski was a cadet at the academy. Knight would be called "the General" later in his career because of his on-court intensity and his background with the Army.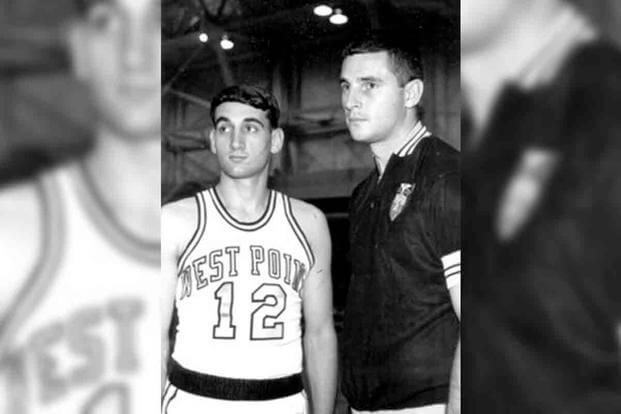 In 1971, Knight was hired by Indiana University, where he would spend the next 29 years, win 662 games, lead the Hoosiers to 24 appearances in the NCAA Tournament, winning three. He demanded his players also succeed off the court by actually attending class and studying hard. His teams had an 80% graduation rate, double the national average for Division I teams.
Indiana was also where Knight's temper caught the attention of the national media. As he produced legendary players and coaches who played the game with him, he found himself increasingly embroiled in controversy. It came to a head in 2000, when the coach was accused of choking former player Neil Reed during a 1997 practice. Knight was placed under a "zero tolerance" policy by Indiana President Myles Brand. By September of that year, Knight was accused of accosting a student and asked to resign. When Knight refused, he was fired.
Knight spent the rest of his coaching career at Texas Tech, which had not reached the NCAA Tournament since 1996. After taking over, Knight led the Red Raiders to four tournament appearances and a 138-82 record. He retired in 2008 and began calling basketball games as a sportscaster shortly after. In 2013, he published a book, "The Power of Negative Thinking: An Unconventional Approach to Achieving Positive Results."
Knight died on Nov. 1, 2023. His family didn't cite a cause. Today, he still boasts the sixth-most wins among college basketball head coaches, behind his former student, Duke's Mike Krzyzewski, Syracuse's Jim Boeheim, former West Virginia coach Bob Huggins, Connecticut's Jim Calhoun and North Carolina's Roy Williams.
-- Blake Stilwell can be reached at blake.stilwell@military.com. He can also be found on Facebook, X or on LinkedIn.
Keep Up With the Best in Military Entertainment
Whether you're looking for news and entertainment, thinking of joining the military or keeping up with military life and benefits, Military.com has you covered. Subscribe to the Military.com newsletter to have military news, updates and resources delivered straight to your inbox.