A comedy career is hard. Keeping any career on track amid frequent military moves is harder. But Ashley Gutermuth is determined to do both -- and it looks like she's succeeding.
Ashley Gutermuth is married to a career Air Force reservist, and she's rapidly building an online following with her unique take on spouse and military humor. While she's carving out a name with her inside-military jokes, there's evidence that she's just plain hilarious, and her command of the craft will give her a chance to break out to a mainstream audience.
She's finding her fans on Instagram and TikTok, where her quick-hit takes often offer "advice" to young spouses who are trying to figure out the rules of military life. You can also follow her on YouTube, Twitter and Facebook or visit her website. It's the 21st century, and artists have to hustle to meet the people wherever they want to hang out.
We've got a video that compiles just a few of Gutermuth's best bits. Watch now before we continue this discussion.
If you're wondering what's up with Jerry Seinfeld and Jimmy Fallon in that clip, it's from last year when Gutermuth won "The Tonight Show Seinfeld Challenge" where contestants recreated standup comedy bits published in Seinfeld's book "Is This Anything?" Gutermuth nails the routine about talk show hosts, but it's also apparent that most of her own material is funnier than Seinfeld's schtick.
Gutermuth is married to Air Force Reserve Col. William Gutermuth, who really is 20 years older than his wife that Ashley's comedy says he is. We persuaded her to give us more details about her life and how she approaches her comedy career in an interview with Military.com.
Military.com: What qualifies you to make military and spouse jokes?
Ashley Gutermuth: "What qualifies me? Well, I have the certificate. That's what you need ... I am a military spouse; my husband is in the Air Force Reserves. He's a full-time Air Force reservist; technically, he's an ART. If we're doing a deep dive, we can start using the acronyms. That's how you know it's real. He's an Air Reserve technician.
"He works every day in uniform. Over the years, we have moved from base to base. We move at a pretty high tempo with around two years we spend at each place, sometimes. Or it's nine months, 13 months, and then we move again.
"We're in New Jersey now because I needed to be closer to New York City. So we tried to get as close as we possibly could, baseline. And that's where Jersey fell into it."
Military.com: Why did you want to be so close to New York City?
AG: "Oh, because I'm a standup comedian. As a standup comedian, there are two main places that you can live, Los Angeles or New York City. Now you can travel, and I do travel. I do a lot of road work and drive hours to go do random gigs. But you want to get a lot of stuff, a lot of gigs, a lot of face time, you go to New York City and try to meet people and do as much comedy as you can."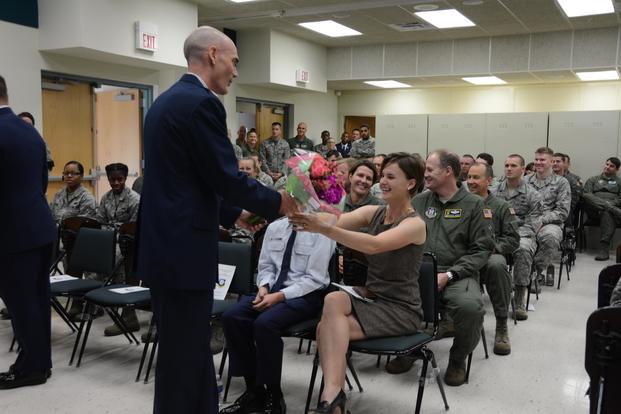 Military.com: Our ace reporting staff did some research and found a photo of you from about five or six years ago, where you're rocking a very different look. How did you get from that place to the amazing presentation you've got now?
AG: "I believe that in the photo you found, I had a short bob that was cut around my ears. I used to have really long hair, like super long. Any time I would get it cut, nobody would notice. I decided that I was just going to keep cutting it. And it kept going up and up and up.
"I have never been very good at doing anything that women traditionally do. I don't wear makeup. I'm bad with styling hair. You can kind of force me into a dress, but you have to tell me which one to wear. I'm not good at any of it. I'm more into sports and comedy and things like that.
"How do I get from that look to my Marine-style crew cut that I rock now? One of the reasons is that I can cut my hair myself now. I always wanted to have short hair and just thought, 'Well, I'm just going to keep cutting it until I get to a place where I think it looks cool.' I ended up with a supervillain/superhero mix."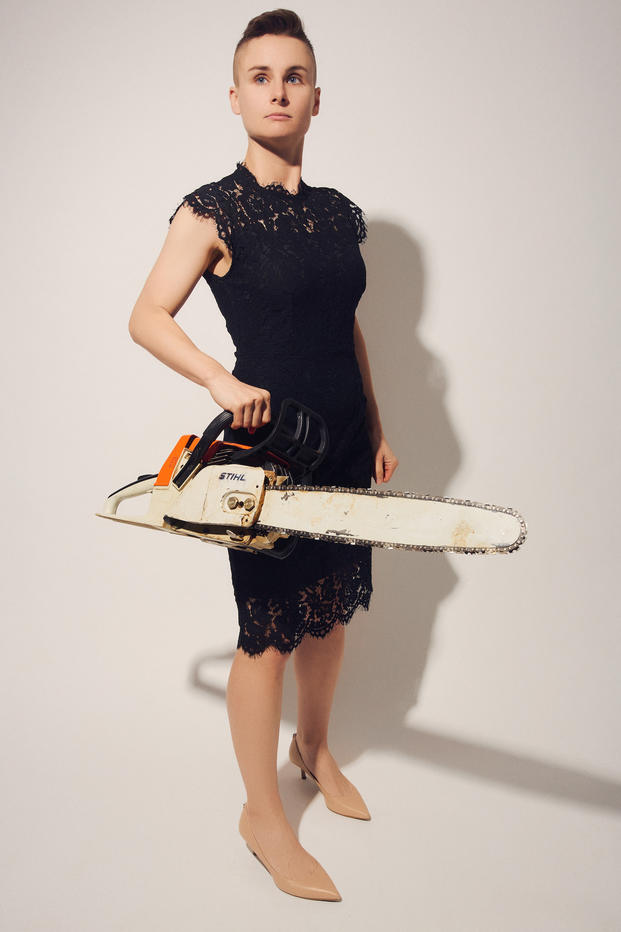 Military.com: In your life as a military spouse, is there any friction or pushback to your new style from other military wives? Is that even a fair question?
AG: "There's been no pushback from the other military wives, but I've never been a typical military wife. My whole life, I've always been treated as the silly one. So that's sort of the way it's fallen out here, too. It's like, 'Oh, what silly thing has Ashley done today?' I've definitely had run-ins with other military wives over the years but not for my hairstyle."
Military.com: I would guess that some of those run-ins inspired some of your most on-target comedy.
AG: "Yeah. It's so interesting to me, because the military world and moving so much and meeting all these different people, it's such a neat experience. I love being a military spouse, and I love the military and being able to have some support role in it.
"What I want to come out of my comedy is to be able to help organizations and [the] military. Every Friday, for example, I try to help promote military spouses, military-owned businesses, or any business that will help the military. I try to channel all of my silly jokes into eventually creating some good in the community, because I do really like it."
Military.com: Everybody always loves a good military romance story. So how did you become a military wife? Was your spouse in the military when you met him?
AG: "First of all, my husband is 20 years older than I am. So there's already that, you know, I've got the hair thing, I've got the 20 years older thing. He's been in the military for a long time; he's got 29 or some odd years. We met, we were friends and just sort of went from there. We went together for a few years; we've been married for a few years.
"It's funny, because he was at the same base for a long time. You know, in the reserves sometimes, people don't move that much, but we do. But he was at the same base for a long time. And then we started moving, and now we just live on base now. Everybody around us is active duty, and we've fallen into that different rhythm."
Military.com: Did your husband know you had this comedy blood running through your veins when he met you, or was it something that developed later?
AG: "Well, I have always been obsessed with comedy from when I was really little, like three years old listening to Monty Python. My parents would play it while I went to work with them. I was completely obsessed with British comedy.
"I started doing Toastmasters and got kicked out of Toastmasters because I kept doing jokes and wouldn't follow their rules. I was 17. They didn't like that.
"I really was dying to do comedy for years. But military spouse-wise, we moved so much and we were often in the middle of nowhere, in places where there wasn't a comedy club nearby. I would try to go do the local bar scene and get into open mics there. That's just really difficult. You know, just like with any military spouse job, it's really hard to keep something going on, but I was desperate to do it.
"So I wrote. And I also started doing comedy voiceover acting. When we lived at Warner Robins for a little bit in Georgia, I would do voiceover acting from our house. Now Robins is a depot for all the planes. So they strip them down and then build them back up. So there was sonic boom, and stealth bombers and it was so noisy. There was no way that I was gonna get any recording done. It was just constant.
"So I just wrote and wrote and wrote some more until I could start performing regularly. And now I do as much as I can. I do tons of virtual shows. I do a lot of stuff for different companies and travel around and do clubs and bars and house parties. I'll do anything. I bring my microphone, and I will talk at you."
Military.com: It seems like your career is starting to get some real traction.
AG: "I went and opened the Military Spouse of the Year awards in D.C. a couple of days ago, and that was awesome. There were a lot of people there that knew me from Instagram and TikTok. They're asking for pictures, which was really great.
"I'm just constantly trying to build up and get noticed. People think, 'Oh, I just need to have one video that hits a million,' but that's not true. It's difficult, but you have to do it over and over and over again.
"One of my videos has 13 million views. And it's one that people do not like. A lot of people get upset about it. Trying to weed through comments from people who don't like the military, there's a lot of that. Then there's people who don't like how I look. There's people who don't like the United States. Now that my platform has gotten bigger, I get a lot more attention from different groups, not just the supportive ones, which has been something to work through."
Military.com: Is your audience bigger on Instagram on TikTok?
AG: "I have more people who follow me on TikTok, but I prefer Instagram, because Instagram has stories, and Instagram has better ways to interact with people and for me to help people. So Instagram has these things called highlight bubbles, where you can keep things on your page forever."
"Say I get a 19-year-old new Army wife that's like, 'Oh, I'm in my first PCS [permanent change of station], and I don't know what to do.' And I can point her to my PCS bubble, 'Hey, these are things that might happen that will be terrible. So you know, write these down.' And I can help her in that way. Which is great, because I love that followup.
"People will ask me questions. I had a mom, her son was in basic training, and she really wanted to send him a ton of letters and a ton of gift baskets and all kinds of stuff. So I said, 'You know, let's ask the group.' And I put the question box in my Instagram and got tons of answers from people in the military that were like, 'DO NOT send tons and tons of letters to your son who's going to be in the Marines, because for every letter, he might have to do extra push-ups.' For some reason, they use letters as punishment in the Marines. And don't send him super expensive stuff. You know, I like to help with little things and be somewhere that people can get tips on what to do and what to avoid."
Keep Up With the Best in Military Entertainment
Whether you're looking for news and entertainment, thinking of joining the military or keeping up with military life and benefits, Military.com has you covered. Subscribe to the Military.com newsletter to have military news, updates and resources delivered straight to your inbox.