The NFL, notorious for its strict rules about uniforms and uniformity, has tried to loosen things up for players the last few years with its My Cause My Cleats campaign, which encourages players to decorate their shoes to honor causes they support.
San Francisco 49ers tight end George Kittle has come up with some rather spectacular art to honor the Tragedy Assistance Program for Survivors (TAPS), a military support organization that aims to provide comfort, care and resources to all those grieving the death of a military loved one.
Check out the video detailing their creation. The film was made in partnership with USAA, Official NFL Salute to Service Partner.
Kittle is an All-Pro tight end and he first encountered TAPS at his first Pro Bowl after the 2018 season, and immediately felt a connection with the kids who have lost a family member who served. When he was asked to participate in the campaign this season, he immediately thought of TAPS.
George worked with artist Marcus Rivero of SolesBySir to create his custom shoes. He wanted to include images for each of the five branches of the military. Rivero also added Kittle's jersey number 85 on the right toe and the TAPS logo on the left toe.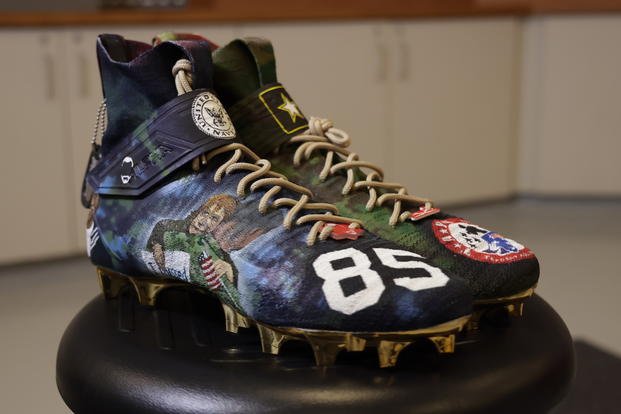 There's also an image of the Gold Star family of late Sgt. Martin "Mick" LaMar, killed in action in 2011. Kittle met the family and gifted tickets to Super Bowl LIV and remembered them when it was time to design his cleats.
The cleats also feature his uncle, Col. Pat Coen, who served in the Army National Guard and his long-time friend, Rico Hogan, who serves in the Navy.
Kittle signed a contract during the offseason that made him the league's highest-paid tight end but he's been sidelined part of this season with a broken bone in his foot. He hopes to return before the end of the season and a possible playoff run. In the meantime, his wife Claire has designed a line of glasses for the discount online retailer Zenni and the couple are appearing in commercials for the eyewear.
Keep Up With the Best in Military Entertainment
Whether you're looking for news and entertainment, thinking of joining the military or keeping up with military life and benefits, Military.com has you covered. Subscribe to the Military.com newsletter to have military news, updates and resources delivered straight to your inbox.