As our country experiences its most intense civil rights demonstrations in more than 40 years, "Good Trouble," a new documentary about activist-turned-Congressman John Lewis, arrives to give younger generations some important historical background.
Rep. John Lewis, a Georgia Democrat, has fought for civil rights his entire career. As a longtime advocate of peaceful demonstrations, of getting in "good trouble, necessary trouble," he's been beaten, threatened, spat upon and arrested more than 40 times while advocating for change.
In late December 2019, Lewis announced that he is in a fight for his life, disclosing that he had been diagnosed with Stage 4 pancreatic cancer.
"Good Trouble," the new documentary film by Dawn Porter, details important milestones in the political icon's pilgrimage. Through "This is Your Life" moments and historical footage, we watch Lewis react and reflect on some of our nation's most defining days. What he witnesses often brings him to tears.
On May 8, 2020, the world saw George Floyd, an unarmed black man, killed while in the custody of Minneapolis police officers -- sparking demonstrations, civil unrest and turmoil not only in every corner of the United States, but as far away as Australia. Often referred to as "the conscience of the U.S. Congress," many look to Lewis for calm, wisdom and guidance. The congressman, who is currently receiving chemotherapy, released the following statement via Twitter:
"I know your pain, your rage, your sense of despair and hopelessness. Justice has, indeed, been denied for far too long. Rioting, looting, and burning is not the way. Organize. Demonstrate. Sit-in. Stand-up. Vote. Be constructive, not destructive."
Porter was able to show the congressman the documentary and has spoken with him about the recent protests and unrest.
"I can't speak for him, but I'm very confident that he understands all too well the rage that seeing a person murdered in that way would inflict, particularly at a time when black and brown people are suffering disproportionately from the effects of the coronavirus from lack of health care," said Porter. "His message is consistent, and it is the same if you must speak up, speak out. And he believes that the most effective way to do that is nonviolent."
Lewis, born the son of sharecroppers outside rural Troy, Alabama, began his activism at a very early age after being inspired by Dr. Martin Luther King Jr.'s sermons on the radio. While at Fisk University, Lewis led peaceful sit-ins and was a Freedom Rider during the Montgomery Bus Boycott. He was beaten by police for merely sitting.
Lewis was an architect of the historic August 1963 March on Washington, as well as the event's youngest speaker, and earned the distinction as one of the Big Six leaders of the Civil Rights Movement. Prior to King's historic "I Have a Dream" speech, Lewis called out all federal officials for their apathy:
"Where is the political party that will make it unnecessary to march in the streets of Birmingham? Where is the political party that will protect the citizens of Albany, Georgia? Do you know that in Albany, Georgia, nine of our leaders have been indicted, not by the Dixiecrats, but by the federal government for peaceful protest? But what did the federal government do when Albany's deputy sheriff beat Attorney C.B. King and left him half-dead? What did the federal government do when local police officials kicked and assaulted the pregnant wife of Slater King, and she lost her baby?"
Perhaps the most defining moment in Lewis' early activism was the day he joined fellow activist Hosea Williams and more than 600 protesters on a march across the Edmund Pettus Bridge in Selma, Alabama. Though they were peaceful, unarmed, permitted and not violating a single law, marchers were gassed, beaten and attacked by officers and police dogs.
Lewis' skull was cracked that day and yet his dedication to nonviolence never wavered.
"John Lewis is the most nonjudgmental person I have ever met," Porter said. "I'm watching his legacy be dismantled, and he's saying, 'You can't be bitter about that,' that when you give up your power is if you let someone else let you be bitter."
In making the film, Porter unearthed information about Lewis' accomplishments that often get drummed out in the hum of larger-scale events.
"What I really want to do with this film is say, 'John Lewis is not a postage stamp. He's not just a historical figure. He's a living legislator who has taken those early influences from the time he was a teenager, and he's continually evolved and grown," Porter said. "And I think that that's a lesson for all of us. He was once the outsider banging on the halls, and now he's inside making those laws."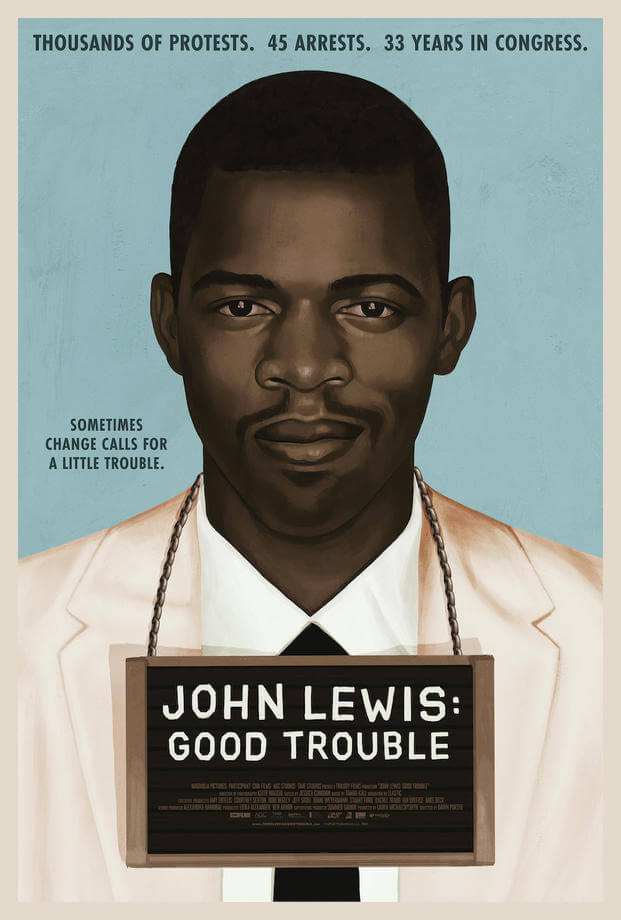 Porter said that Lewis is currently at peace, that he doesn't have any regrets, and he's sowing all his roses.
"He knows that he has lived his purpose. And when you see that in action, I think that that's, for me, that's something I'm aspiring to. I'm not as peaceful as he is. I want to be more peaceful. Yeah. Yeah. Definitely. He's someone who is a beacon of exactly how to be, and we clearly need that. And that's independent of parties. That is just moral character."
"Good Trouble," from Magnolia Pictures and Participant Media and directed by Dawn Porter, will be in select theaters and available for download July 3.
Keep Up With the Best in Military Entertainment
Whether you're looking for news and entertainment, thinking of joining the military or keeping up with military life and benefits, Military.com has you covered. Subscribe to the Military.com newsletter to have military news, updates and resources delivered straight to your inbox.