You feel like you've exhausted all your choices on Netflix or Amazon Prime or HBO or Starz or Hulu or Showtime, but don't want to pay for a new service. What next?
The good news is that there's been an explosion of free-to-stream options lately, if you're willing to deal with some old-school advertising. We've got a list of the best options below.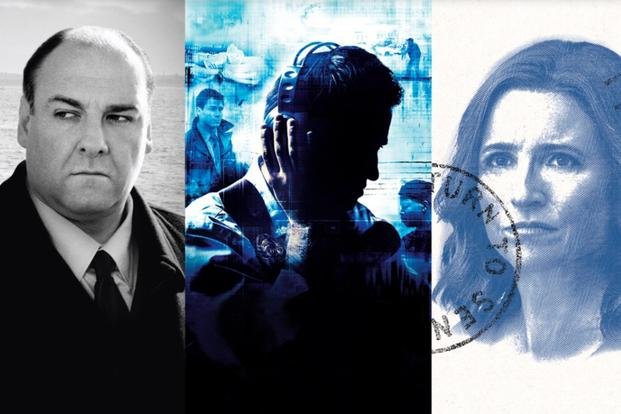 Warner Media is set to launch its $15/month HBO Max streaming service in May, and it's decided to make a substantial amount of classic HBO programming available for free while everyone is supposed to be staying home.
You won't get "Game of Thrones" for free, but you can watch some of the best TV ever made: "The Sopranos," "The Wire," "VEEP," "Succession," "Ballers," "Six Feet Under," "Silicon Valley" and "Barry." There's also a good selection of documentaries, including the recent hit "McMillion$," and a selection of Warner Bros. movies.
This offer won't last forever, so now's the time to catch up with those shows that other people are shocked that you've never watched.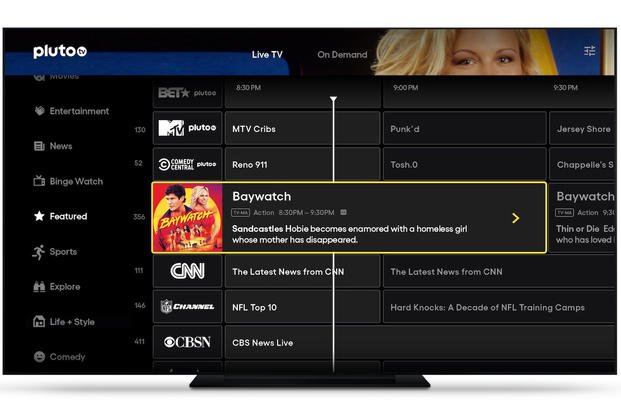 If I was allowed to pick only one streaming service (paid or unpaid), I'll confess that PLUTO would be my choice. PLUTO features more than 250 streaming channels and a substantial on-demand library.
The service looks and feels like a free version of cable TV, and the ads can get repetitive and lean toward the stuff you see at 3 a.m. on local TV. That said, it's free and has apps for virtually every phone, tablet or streaming box you'd want to use.
Channels include a James Bond movies channel that plays 007 24/7, an '80s throwback movies channel, a cult movies channel, a classic movies channel and one that features the best films from the Paramount Studios catalog. There are also channels dedicated to horror, terror, thrillers, westerns, indie, documentary and martial-arts movies.
There are channels that recycle old MTV, VH1, Spike and BET programming. If you're nostalgic for your high school DVR days, PLUTO has you covered.
If you're into focusing on one show, there are 24-hour channels that play only "Baywatch," "Cops," "Unsolved Mysteries," "Forensic Files," "Cold Case Files," "Leverage," "Dog the Bounty Hunter," Gordon Ramsay shows, old World Poker Tour events, "This Old House," 'Doctor Who," "Midsomer Murders," "The Addams Family," "MST3K" and the U.K. version of "Antiques Roadshow." It may not quite be something for everyone, but it's paradise for fans of any or all of the above.
PLUTO is also a great place to experience Norway's contribution to television. Slow TV features hours (and hours) of train trips and boat voyages. Viewers just look out a window. It's weirdly calming and great background company when you're reading trashy novels, doing puzzles, knitting or however else you're passing time when locked in the house. There's also a 4K TV channel that features nature and travel videos that were shot to demo 4K technology. They look great and have a similar calming effect.
If you must connect with reality, there's a wide variety of news channels from NBC, CBS, CNN, America's Voice, The Blaze, Bloomberg, NewsMax, Sky News, The Young Turks, RT America and Court TV. Even though most of these channels are recycling earlier programming from paid versions of their services, it's not that far behind, and it's, you know, free.
There are also sports, comedy, home repair, music streaming and Spanish-language networks. It's the closest you'll come to replicating the experience of watching cable TV in 1997 without a time machine.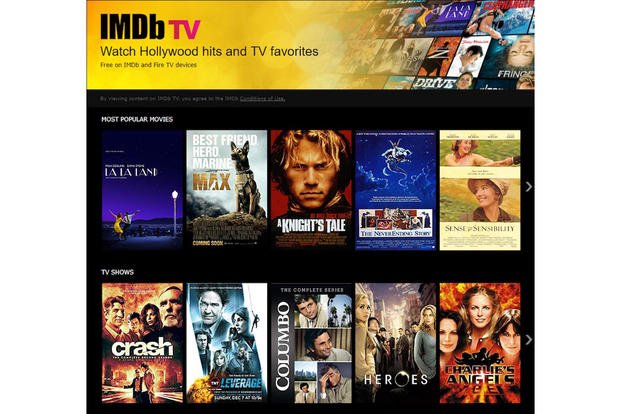 IMDb.com is the Internet Movie Database, the greatest online resource for learning the cast and crew of whatever movie you happen to be watching. It started in the early days of the web as a cultural project, but Amazon bought the site in 1998 and has done an excellent job of maintaining it and growing the business.
Last year, Amazon launched IMDb TV, an ad-supported free service that's available to watch in the IMDb app on your phone or tablet. If you're using an Amazon Fire device or a TV with Fire built in, there's an IMDb TV app built in. If you're using a Roku, Apple TV or smart TV, use the Amazon Prime app even if you're not a subscriber. They really want you to sign up, but you don't have to. Scroll down to the "Prime Video Channels" section and move right until you reach the IMDb TV channel and choose it.
Once you get there, you'll find an impressive array of movies and shows to watch free with ads. Right now, there's "12 Strong," "Spider-Man" (2002 version), Oscar Best Picture winner "Spotlight," "Airplane!," "Blade Runner 2049," "Starship Troopers," "True Romance" and "Road House."
TV series include "Schitt's Creek," "The Middle," "Columbo," "Spenser for Hire," "Desperate Housewives," "Chicago Fire," "Heroes," "The A-Team," "Starsky and Hutch," "The Incredible Hulk," "The Rockford Files," "Army Wives," "Duck Dynasty," "ALF" and "The Partridge Family." Are these shows hot right now like "Friends" or "The Office"? Nope, but they're free and have all been favorites of someone in your house at some point.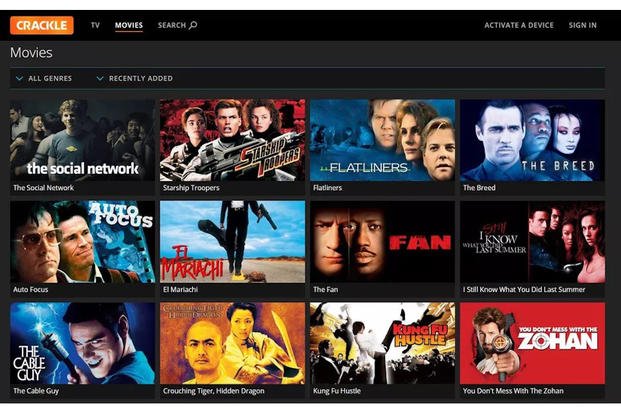 Sony launched Crackle but sold a majority interest to the publishers behind "Chicken Soup for the Soul" last year. The service hasn't changed much and still offers a selection of movies and TV series for ad-supported streaming.
Current movies include "The Bridge Over the River Kwai," "Dr. Strangelove," "Glory," "Marathon Man," "Close Encounters of the Third Kind," "The Big Chill," "Patriot Games," "The Art of War" (with Wesley Snipes), "Easy Rider," "Rules of Engagement," "Once Upon a Time in the West," "The Way We Were," "Starship Troopers" and the Jessica Simpson military classic "Private Valentine: Blonde & Dangerous."
TV shows include selected episodes from "All in the Family," "Barney Miller," "Charlie's Angels," "The Facts of Life," "Fantasy Island," "I Dream of Jeannie," "News Radio," "The Partridge Family," "Roseanne," the original 1970s "S.W.A.T.," "Starsky and Hutch," "T.J. Hooker" and "What's Happening."
Crackle has apps for every conceivable phone, tablet, smart TV or streaming box.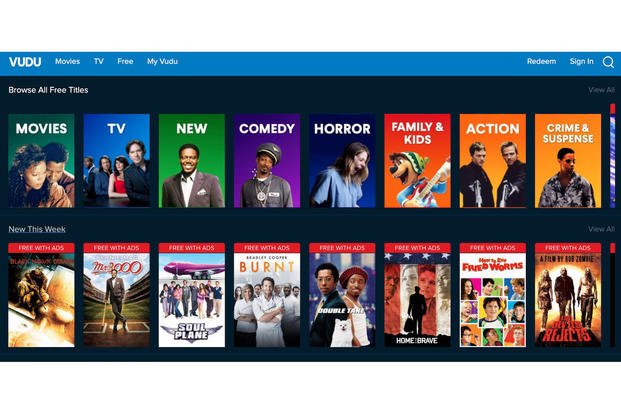 Vudu is Walmart's digital store, and it's interested in selling you movies and shows. It doeshave an ad-supported streaming option. Look for the "Free" tab at the top of the homepage or in the app.
Current movies include "Black Hawk Down," "City Slickers," "The English Patient," "The Ninth Gate," "Bull Durham," "Navy SEALs" and "Thelma & Louise." TV shows include "Hunter," the U.K. version of "Shameless," "Roseanne" and seemingly endless (and censored) seasons of Gordon Ramsay's "Hell's Kitchen."
Vudu has apps for every conceivable phone, tablet, smart TV or streaming box.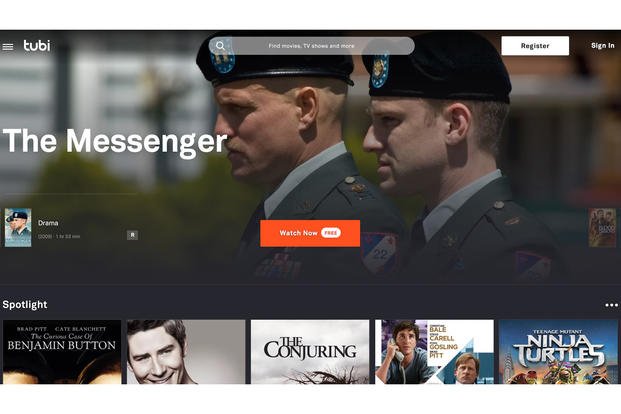 After seeing the success that CBS Viacom is having with PLUTO TV, Fox decided to buy the ad-supported, on-demand streaming service Tubi. It's one of the original players in the free-with-ads world and has a deeper catalog than Vudu or Crackle.
Current movies include "The Curious Case of Benjamin Button," "The Boondock Saints," "Road to Perdition," "Heathers," the original "Total Recall," "The Long Riders," "Flight of the Intruder," "The Big Short," the original John Wayne "Stagecoach" and Charles Bronson in the "Death Wish" sequels number 2-5.
The surprising draw here is all seven seasons of the original, celebrity-free version of "The Apprentice" and all seven seasons of the original "The Celebrity Apprentice." Budding historians and fans of the current administration can revisit the old days. You can compare and contrast the original with the single season of Arnold Schwarzenegger's "New Celebrity Apprentice," a show that was canceled because of "bad (pathetic) ratings" and not through the influence of the original host.
Other TV series include "Bonanza," "Space 1999," "21 Jump Street," "The Dick Van Dyke Show," "Father Knows Best" and "The Doris Day Show."
Tubi has apps for every conceivable phone, tablet, smart TV or streaming box.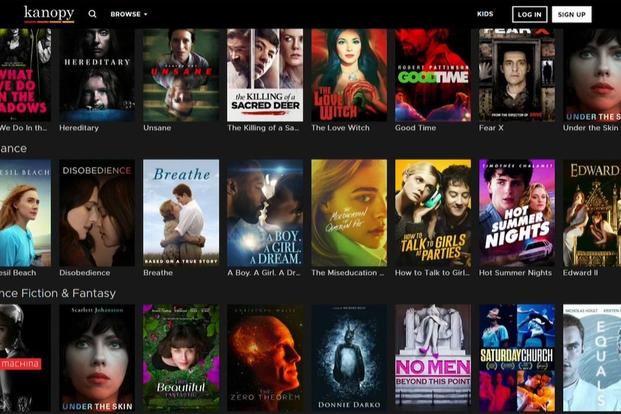 Kanopy is free to users who have a library card with participating public, college and university libraries. The site lets you search to find out whether your library is part of the system. If you're eligible, you log in with your library card and can watch 10 movies per month.
Kanopy charges a fee to the library for each film you watch, so this service is your tax dollars at work. It's one of the few times you can get a direct, measurable benefit from your taxes or tuition payments. Unlike most of the other services listed here, there are no commercials.
The movies tend toward documentaries, art movies and foreign films. Before you start shouting about liberal government conspiracies, current and outstanding espionage- and military-themed titles on Kanopy include "The Kill Team" (both the original documentary and the 2019 feature film), "Stop-Loss," "The Sands of Iwo Jima," "6 Days," "Beirut, "Hotel Mumbai," "The Messenger," "Anthropoid," "Eye in the Sky," "Combat Obscura," "Gallipoli" and "The Miracle of Morgan's Creek."
That's enough to get you started before you dig into the broad selection of Criterion classic films, buzzy modern independents from A24 Studios, and a deep bench of PBS documentaries.
Bonus: During the current health crisis, Kanopy has made a small selection of films available to members who can watch them without using one of their 10 monthly credits.
Kanopy has apps for phone, tablet, Samsung smart TV and Roku, Amazon and Apple TV streaming boxes.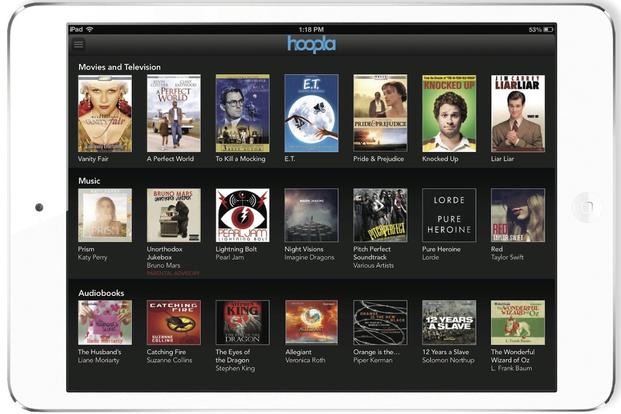 Hoopla is another free service funded by public libraries. If your library participates in the service, you'll get access to movies, television shows, streaming music albums, audiobooks and ebooks. With that broader selection, you get 15 credits per month. Like Kanopy, there are no commercials.
The selection is a bit more mainstream than Kanopy. Current movie highlights include "The Sting," "Meatballs," "Midnight Cowboy," "Good Will Hunting," "13 Going on 30" and "The Thomas Crown Affair" (Steve McQueen version).
TV series include the recent History Channel biography of George Washington, "Lonesome Dove," "Angie Tribeca," "Rick and Morty," "Beavis and Butt-head," "Aqua Teen Hunger Force," Ken Burns' "The Civil War," and Ken Burns' "The War."
There are dozens of British crime and mystery shows. You've heard of "Poirot" and Miss Marple" from their time on PBS, but there are plenty that will be new to curious viewers.
Bonus: During the current health crisis, Hoopla is allowing for credit-free borrowing on a host of titles, including a wide variety of fitness videos and programming aimed at children. The Bonus Borrows extend to music (a selection of Disney albums and greatest hits records from popular artists like Tom Petty, Led Zeppelin, Prince, Madonna and Elvis Presley), ebooks and audiobooks (including outstanding selections of The Boxcar Children and Captain Underpants for kids).
Hoopla has apps for phone, tablet, Android TV and Roku, Amazon and Apple TV streaming boxes.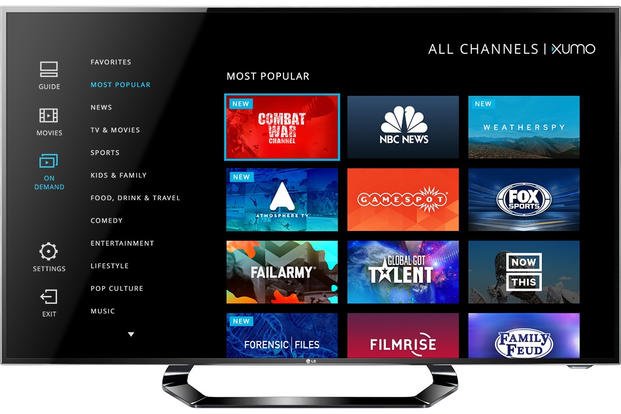 XUMO has been trying to make a go of it as a pared-down version of PLUTO, but Comcast just bought the ad-supported service. Look for a transformation to come over the next year as Comcast integrates its NBC programming and library into the service.
XUMO's movie selection isn't as good as PLUTO, and it duplicates a lot of the larger service's news and non-exclusive entertainment programming (SHOUT! TV, This Old House, Antiques Roadshow U.K., Forensic Files).
What makes XUMO different are the excellent music channels Stingray Qello (featuring live concerts and documentaries), Austin Music Live (live performances from one of the world's great music capitals) and the Stingray Karaoke channel so your family can sing along with whatever's next.
There are also channels that highlight content from magazines such as Vanity Fair, Sports Illustrated, Vogue, Wired, Popular Science, Condé Nast Traveler, Glamour and GQ. There are also 24-hour Family Feud and TMZ channels and a Combat War Channel.
If you have an LG Smart TV, XUMO is available as "LG Channels" on your home screen. It's available for download on Hisense, Magnavox, Panasonic, Philips, Samsung, Sanyo, Sharp and VIZIO smart TVs. It's available for Android and iOS phones and tablets. You can download XUMO on Roku or Amazon FireTV, but you'll have to use AirPlay from an iPhone or iPad to watch via Apple TV.
If you're already paying for internet service in your home or have an unlimited data plan for your phone, this list features enough free entertainment that we should all be able to hole up until September without getting bored.
Happy viewing!
Keep Up With the Best in Military Entertainment
Whether you're looking for news and entertainment, thinking of joining the military or keeping up with military life and benefits, Military.com has you covered. Subscribe to the Military.com newsletter to have military news, updates and resources delivered straight to your inbox.