Most Americans know legendary Hong Kong director John Woo from his Hollywood hits like "Mission: Impossible II," "Face/Off," "Windtalkers," Hard Target" and "Broken Arrow."
Those are some fine movies, but real action movie fans know his best movies were his Chinese language masterpieces with leading man Chow Yun-Fat: "Hard Boiled," "A Better Tomorrow" and "The Killer."
But what almost no American fans know is that Woo got his start directing commercially successful comedies, and Hong Kong studios wanted him to stick to that strength. The 1986 film "Heroes Shed No Tears" (restored and out now on Blu-ray and DVD) was the director's first step towards the style that would make him an international force, and one of the greatest influences on modern shoot 'em up cinema.
Set in the Golden Triangle and shot on location in Thailand, the movie follows a band of Chinese mercenaries hired by the Thai government to capture a drug lord and bring him to justice. Eddie Ko (a minor star who later worked in Hollywood in "Lethal Weapon 4" and "The Martian") plays squad leader Chan Chung, a tough guy who mainly speaks with his eyes, his fists and his weapons.
The local military is totally corrupt and in league with the drug merchants, so they send a Vietnamese officer and his unit to track down the mercenaries and retrieve the drug lord. Most of the Woo trademarks are already here: an obsession with the particulars of loading and reloading as a way to build suspense, an outrageous number of squibs to make the rain of bullets seem as relentless as possible and gunmen with tortured faces who are already feeling the guilt over killing men who aren't quite dead yet.
There are also flamethrowers everywhere and three or more burning stuntmen in scenes where one would've made the point. The heavily saturated fake blood is as red as the vampire blood from those British Hammer horror films of the '60s and '70s. There's pretty much everything a grindhouse movie fan could want.
That includes some weird comic interludes and gratuitous sex scenes that were likely ordered up by the studio and not actually directed by Woo. In an extensive essay included in a booklet that comes with the release, novelist and movie writer Grady Hendrix asserts that HK studio Golden Harvest wasn't happy with Woo's new direction and shot the additional footage before shelving the movie.
By the end of the movie, almost everyone in the raiding party has sacrificed his or her life for the mission. Most have died spectacular deaths. That shouldn't surprise anyone who's seen Woo's other movies and Eddie Ko's eyes have a particular gift for showing the pain and weight of the carnage.
After Woo's first "real" John Woo movie "A Better Tomorrow" opened to raves and huge box office, Golden Harvest rushed "Heroes Shed No Tears" into cinemas where it played only a couple of weeks. Since then it has mostly sat on the shelf, and Woo has allegedly never watched the finished film.
So, it's flawed. But it's also a roadmap for what was to come -- and a throwback to an era before the heroin trade had migrated to Afghanistan and Mexico. Approximately 60 minutes of its 90-minute running time are vintage John Woo. For fans of the genre, that's enough to make this one a must-see.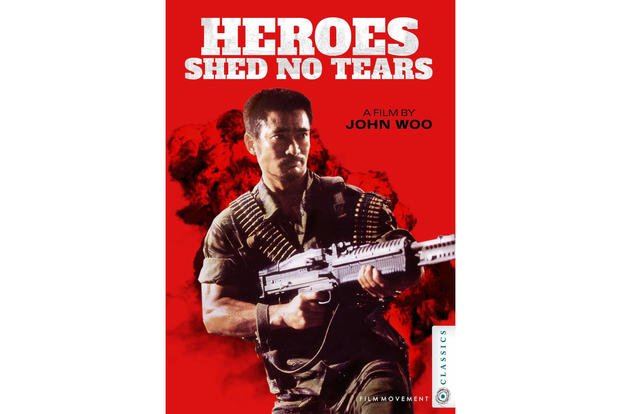 Keep Up With the Best in Military Entertainment
Whether you're looking for news and entertainment, thinking of joining the military or keeping up with military life and benefits, Military.com has you covered. Sign up for a free Military.com membership to have military news, updates and resources delivered directly to your inbox