Marcus Luttrell, the former SEAL whose book and real-life experiences inspired the movie "Lone Survivor," and Jarred Taylor, the Air Force veteran who's now at Black Rifle Coffee, will face off this week in the Tire Rack One Lap of America race. The race kicked off Saturday, May 4th, and runs through May 11.
Marcus and Jarred have worked together before as actors in the 2016 military zombie movie classic "Range 15" so this won't be their first go-round in the public eye.
This will be the 35th edition of the One Lap of America race, an event started by legendary "Car & Driver" magazine editor Brock Yates as the successor to his notorious coast-to-coast Cannonball Run race. Teams drive for nearly 24 hours a day.
Jarred is partnered with pro race driver Steve Arpin in a 2017 Ford Focus RS. They're sponsored by Black Rifle Coffee along with cbdMD, and the car will be equipped with Harris Radio equipment for live streaming, Toyo Tires and ENEOS lubricants.
Marcus is driving with Travis Pastrana in a 2019 Subaru WRX STI sponsored by Yokohama Tires, Vermont Sports Car and Subaru Racing.
These are profoundly competitive guys who have mastered the art of taking things seriously yet not taking anything too seriously at the same time. If that sentence makes no sense to you, please read on. If, after reading, you still don't get it, don't worry because you never will.
Jarred's team sent out a press release that featured the following quote: "Travis and Marcus Luttrell have no clue what is about to hit them in terms of competition of course. Sure, I have zero experience behind the wheel of a race car, but I have years of Xbox experience playing racing video games, and that's pretty much the same. I have even packed the glove box full of tissues for Marcus for his post-race tears."
Considering his pro-wrestling smack talk, we just jumped right to it when we all got on the phone for an interview. Make sure you get to the end of this page so you can follow everyone on social media and find out if the race visits your town.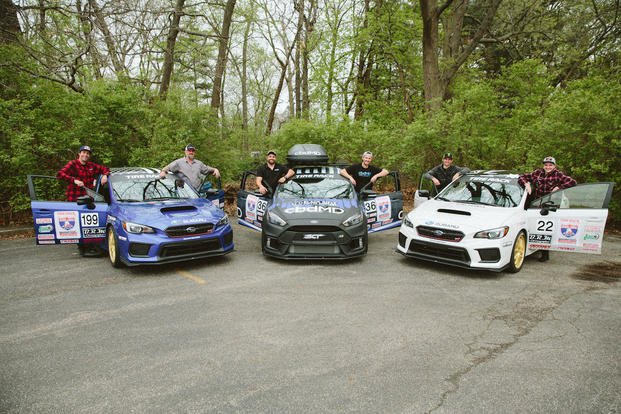 So, let's get rolling. So, Adam your PR guy sent me an email, and he said this is a grudge match. What do you guys have to settle?
MARCUS LUTTRELL: All right, trying to start it up, huh?
Let's just go right there.
JARRED TAYLOR: That's just Air Force and Navy.
MARCUS: That's it, man. I'm kind of a bastard child when it comes to military anyways because of our lateral training, but ultimately our grudge match is between is a road trip for us in a race car, man, so you can't tell me we're not gonna have a good time. I was watching some of those One Lap America videos and these guys in these high-end cars are there to do a -- I mean they're racing, right? Well, we're tactically trained to race, so this ought to be hilarious.
JARRED: Steve [Arpin] actually pulled our roll cage out because the seat wouldn't recline. He was like, "Aren't you worried about that? I mean we're gonna be in the car for 3800 miles." I go, "Dude, I slept in a Humvee so many times. I can sleep sitting up. It don't matter."
MARCUS: Right, exactly, man. The only difference between a Humvee and a car that we don't own that we get to drive like a rental car is there's just some places a Humvee won't go. They're literally giving us a modified race car to haul ass across the country. This is our greatest dream ever. I've always wanted to do something like this.
JARRED: This whole thing came about when I did Marcus's podcast, Team Never Quit. He was talking about how he always wanted to do a Gumball Rally. Travis had brought this up and I thought, "Wait a minute, we might be able to get in on this.
MARCUS: When you said that at first, I thought you all were messing with me. The thing about us, we've been doing stuff together for a long time. When we both got out, we got catapulted into certain areas of this and we just had a great time doing it. And the longer we do it, there are more and more opportunities for us to come together. I still can't believe we get to do this, bro. I mean this is gonna be fun.
JARRED: I know. I mean, we got custom racing suits and helmets and everything. Like, I think Marcus, you've got the Texas flag across yours?
MARCUS: Oh, bro, man, I tell you what, that was one of the best parts about it. Everyone knows that military guys, we love our gear, right? Especially gear issue days; everyone is on time, right? Man, you're just standing there waiting to get that new schwag.
When they showed up and started measuring me, I mean you want to talk about fine-tuned measurements, I was like, "Oh, yeah, yeah, this is gonna be fun, man." They're giving us suits that are fire retardant in a race car.
Just you know this thing is gonna get western probably from day one, right? If you're gonna be a bear, be a grizzly. Man, we didn't come here to race. We just came here to beat everybody else.
JARRED: What's funny is there's like 92 cars in the race, but really the only thing you're gonna see on social media is our team, Travis' team, and Bilko's team going back and forth with each other.
MARCUS: It's a great way to kick off the summer.
JARRED: We have a couple different things too. Our team, which is Arpin, it's Team Ford. Travis and Marcus' team is Subaru, so you have a Ford versus Subaru. You have Toyo Tires versus Travis' tire...
MARCUS: Yokohamas.
JARRED: And then you've got both of us as both U.S. teams versus Bilko, who is Team Australia. There's a lot of things going on, on there.
MARCUS: We're doing the normal race thing, but all those states we're going through have all those national monuments and we're also having a scavenger hunt through this thing. I've got all kinds of things I'm gonna try and get away with while we're doing this. Hey, we're gonna remember this.
JARRED: Harris Radio Systems outfitted my entire car with a vehicle satellite and a scanner, so we have the ability to jump on police band and aircraft radio systems and talk to them. Right now I'm working with the Air Force and I'm trying to get us authority so that fighters or bombers will follow us.
MARCUS: We've got fixed and rotary wing above us and satellite feeds moving over for GPS, fixing updates. This is literally Smokey and the Bandit 2019. Then we have one of those tractor trailers from the motor pool following us with some extra cars.
JARRED: We should definitely put a callout that any national guard or military in the areas that we're passing, they need to put convoys on the freeways so we can keep it moving.
MARCUS: Get an escort from border to border? Let's see if we can't get that done.
I remember when Extortion went down, we were transpo-ing JT across the state line in Indianapolis. Dude, those Indiana police officers there are unbelievable. Man, they escorted us from border to border.
JARRED: Well, with the help of these guys, we just gotta get that story out.
MARCUS: Once we get together and then we kick this thing off, man, we'll light social media up like you can't believe.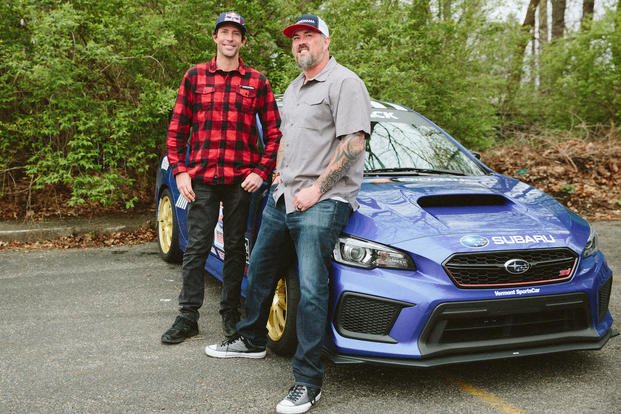 Well, this is the 35th running of One Lap America. It sounds like this is going to be the most famous version just because of you two. You're going change the rules of the whole race.
JARRED: Well, we're gonna make this as fun as humanly possible. I can only hope that next year we persuade at least 50 percent of the drivers to pull a veteran in and make them their teammate.
MARCUS: Wait until you see how we drive. There's a difference between racing a car, normal driving, and then being trained to get a high-value target out of somewhere when you're getting shot at, right? We definitely know what those cars can do and can't do.
My wife Melanie is freaking out about this. We started watching some of the videos [of earlier races] and she's just like, "I don't know about this one." I was like, "Nah, I'll be fine. J has got me. He's good."
JARRED: Marcus is teamed up with an internationally ranked rally race car professional.
MARCUS: Yeah, I'm rolling with Travis [Pastrana]. This guy does the Double Backflip Team. We're gonna try and do a backflip in that car.
How did you guys get recruited for this?
JARRED: Travis did it last year and I spent a lot of time with Travis. He just said how fun it was and he's like, "You should try and get in on it." And then one day at his house at the bar, he just turned to me and was like, "Do you think Marcus would do this with me?" It was, no kidding, like a week after our episode of the podcast, where Marcus was saying he's always wanted to do something like this. And I was like, wait a minute, this could f**king go down.
Then Steve and I were added. We were the last team added. Once Travis and Marcus linked up, you know obviously we needed to roll out on this. One Lap let Steve and I add last minute and we got the car prepped in less than 30 days.
MARCUS: Incredible. My brother linked up with Travis first. He's a neuroscientist, so he went out there to hook up with them dudes.
JARRED: And then Morgan [Marcus' twin brother and a former SEAL himself] did a backflip on a bike into Travis' air bag.
MARCUS: Since he got to do that, I get to race with him. You know we're twins, man. He can't get to do something cool and then I don't have the same chance. As a matter of fact, after this thing blows down, bro, next year, we'll just start stacking the deck with all these guys and turn it into One Lap America with bragging rights all the way through the military.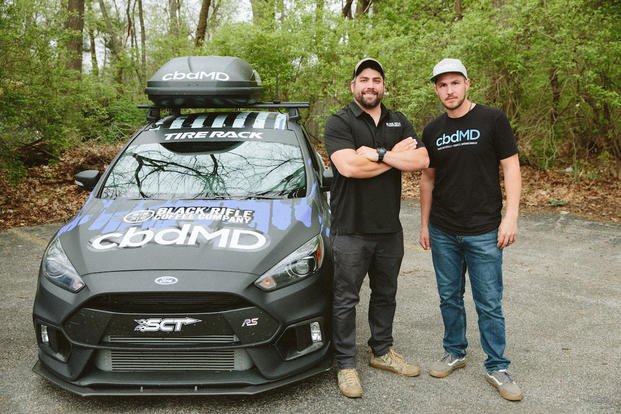 So, Jarred, do you have a road rig to take Black Rifle Coffee with you? What kind of competitive advantage are you gonna get from that?
JARRED: Absolutely! Black Rifle Coffee supplied the car, so they were the ones that put up our race car, so thank you to them for that. cbdMD came in and provided our travel and then Black Rifle has given us about a year supply of Caffeinated As F**k or CAF and a road rig.
Our strategy is going to be to try and distract Travis' team with outright competition. Travis is an incredibly competitive person, so if you start interjecting small bets and start increasing those bets, you can get him really excited. And we're just hoping that we'll be able to use that to our advantage.
MARCUS: You nailed it, brother. Jarred's overall competitive nature is what drives him, man. And I'm like a battery. You put me around anybody like that, man, I'll spin as hard as I possibly can.
Some guys in that Black Rifle are juiced up with that rocket fuel, man. We've just got a positive go get 'em attitude and a smile over here. I'm telling you, it's the in-between competition, in-between the track and when we're racing. We're going down and it's going to be something.
JARRED: I definitely hope we can see some support from guys like the Patriot Guard and Motorcycle CVMA and stuff like that. Like, I hope once we post our route, that we're met on the freeway this entire time.
MARCUS: I'm on the road 300 days a year, city to city, state to state. I'm one of those guys who'd rather have friends over money. Imagine walking into any state or any town having a best friend there. So, as we're rolling through this, we'll put out the call and ask as many people as we can to join us.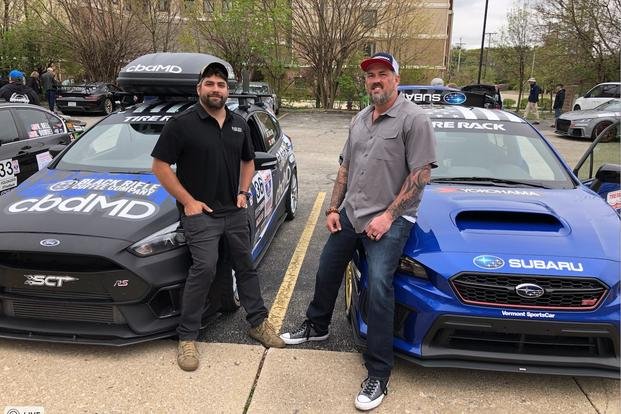 For people who want to track you during the race, what are the best social media places to look for you?
JARRED: Instagram is gonna be #1 for us.
MARCUS: I was gonna say Instagram. Just the Twitter, Facebook, all of them, I would imagine, because I know a lot of us are linked into multiple accounts. So, once we post something on any of them, it'll blast out accordingly.
JARRED: Harris is drilling into the roof of our race car today and installing the antennas. We'll be able to have a mobile 4G network, so as our cars are together, we're going to be able to go live and put out real-time video. We're coming with the powerhouse.
I hope you're taking a video camera on the road so you can release a documentary when you're done.
JARRED: We have two camera crews with our team. Marcus' team has the full Nitro Circus camera crew and Bilko's team has a camera crew. so we've got a total of four full camera crews that are running on the sides with this.
Then we're being intercepted in Missouri by Marty Skovlund, the editor-in-chief of Coffee or Die, which is Black Rifle Coffee's online publication.
MARCUS: I've got mine outfitted with paintball guns and just anything you can think of. One of the best things about going to those tactical driving schools, man, is firing paintball guns on each other. My wife gave me a hall pass to go crazy with some of my closest buddies, so I'm gonna take full advantage of it. We don't do anything half-ass around here.
----
Here's the race itinerary:
May 4/May 11: Tire Rack Skid Pad, South Bend, Indiana
May 4: Grissom Air Force Base, Peru, Indiana
May 5: Nelson Ledges, Garrettville, Ohio
May 6: Road America, Elkhart Lake, Wisconsin
May 7: Brainerd International Raceway, Brainerd, Minnesota
May 8: Motorsports Park Hastings, Hastings, Nebraska
May 9: Blackhawk Farms Raceway, South Beloit, Illinois
May 10: NCM Motorsports Park, Bowling Green, Kentucky
Social Media
Jarred Taylor: Instagram, Twitter, Facebook
Marcus Luttrell: Instagram, Twitter, Facebook
Steve Arpin: Instagram
Travis Pastrana: Instagram