Navy SEAL veteran Stew Smith is known as Military.com's fitness guru -- but how did he build his business and brand? Military.com's Sean Mclain Brown had the opportunity to chat with Stew about his journey from SEAL to entrepreneur, including his valuable, hard-earned advice for veterans making the transition to the civilian workforce.
1. Briefly describe your career in the military.
I went to the Naval Academy after high school and graduated in 1991. I was one of 20 BUD/S candidates from the Class of 1991. BUD/S training  boasts a 75-80% attrition rate. My USNA class had 100% graduation rate. I went onto SEAL/Delivery Vehicle Team Two in Virginia and learned to drive the mini-Sub and launch the SDV and zodiacs off of submerged nuclear-powered submarines.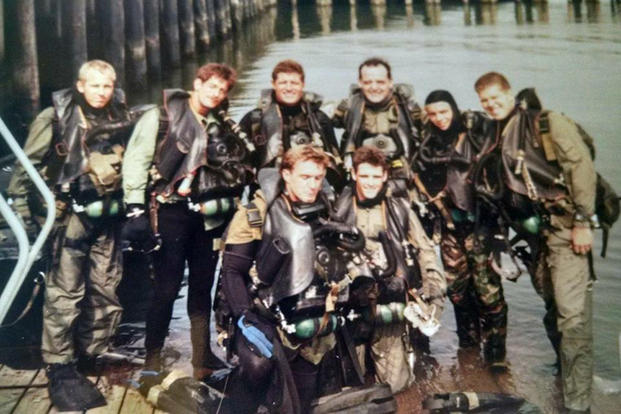 I later went back to the Naval Academy as a Company Officer, worked in the Physical Education Department mainly as the remedial training officer (PT and swim failures), and ran the SEAL pre-training program for the Midshipmen seeking to become SEALs after graduation. This was my last duty station, as I resigned my commission in 1999 after nearly 8 years active duty.
2. When you decided to transition out of the military, what was that process like for you?
Well, I was in during the 1990's and it was a different world compared to post-911. I think a perfect storm of events and thoughts culminated in the late nineties that led to my only 8 years of service.
I had many injuries for starters (stress fracture, ankles, lower back, and shoulder separations) that were nagging at my performance. I focused on rebuilding myself, and in the process I started learning about physiology, training smarter. I was seeing results with the young men and women I was coaching. I guess I got the coaching bug and was having more fun doing that than being a SEAL at the time. I think in hindsight, I was a much better coach than a SEAL officer.
The Navy was actually paying young junior officers at that time to get out of the military early so the environment was leaning toward downsizing of the military ranks. These circumstances, along with the birth of my first child, led me to making the transition out of the military.
3. Briefly describe your civilian career journey from the time you left the military to now.
I started off learning more about the training business and started writing. I religiously kept a detailed exercise log of everything I have ever done. This helped me develop workout articles for Military.com as well as write books and develop programs that specifically address those in the military, special ops, police, and fire fighter professions.
When I began, the term "Tactical Fitness" did not exist, but I have been writing about it since 2000. I started writing fitness books for a publisher who specialized in military and police fitness programming. Some of my books are: Maximum Fitness, Complete Guide to Navy SEAL Fitness, The SWAT Workout, Tactical Fitness, Tactical Strength, Warrior Workouts and several other self-published EBOOKS addressing the specifics and getting TO and THROUGH training programs is what I have been writing since 2000. A complete list of training programs that all started out with simply keeping a daily workout log for myself and other training clients over the years is now at www.stewsmith.com and www.stewsmithfitness.com.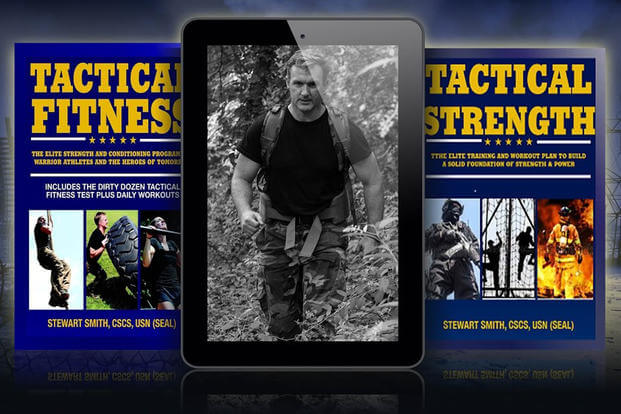 4. How has your SEAL training and experience as a coach and trainer helped you in your career?
It's helped me tremendously. I learned so much in my short time in the military alongside some of the smartest and most motivated people in the world.
My transition was much easier largely due to my Naval Academy duty station experience as a coach and instructor for future military members. I was always a good writer, growing up with the classes that required big writing projects, but I guess it was also genetic. My mom was an English teacher and my dad was a journalist/newspaper publisher so writing, editing, blended nicely with my passion for fitness and coaching.
5. What were some of your career highlights and accomplishments?
Graduating from USNA stands as one of my greatest achievements. I really had to work hard to maintain a grade point average that allowed for me to graduate. Getting the opportunity to attend SEAL training and making it into the Teams was a blessing and the result of even harder work and long days of struggle. I look back at those challenging days and months and realize that's what made me who I am today.
I am fortunate enough to have been a guest PT instructor at the Naval Academy Summer Seminar program for the past 20 years. The Seminar is an Admission Department recruiting week for 2,400 high school students considering attending the Naval Academy.  I realize that I am probably many of the senior high school students first exposure to military workouts and I take that honor seriously. I also still coach the motivated midshipmen through a club they created called the Spec Ops Team where the members all have goals of serving in the SEAL Teams, EOD, or Marine Corps.
I have to say, one of my "big breaks" into the fitness writing world was writing fitness articles for Military.com. I have more than 1000 articles in the Military.com fitness section.
I'm a member of the National Strength and Conditioning Association's Tactical Strength and Conditioning (TSAC) program, which is huge honor. Additionally, I am on the editorial staff for the TSAC Journal and am offered conference speaking engagements every year at the TSAC Annual Training Conferences. Some of the smartest minds in training, combined with the most advanced military, police, and firefighter training programs, are part of this gathering of talent.
6. What are your top tips for those in the military looking to transition to the civilian workforce?
Take your time in the transition. Give yourself a couple of years to prepare.  This may require getting some extra education, training, certifications on your spare time, but make those last few years a time to seriously consider your future profession. This includes where you will be living, making future employer contacts, or preparing properly to start your own business and self-employed career.
If you are seeking to become a self-employed or work as a contractor, pick an area of interest that you enjoy and are good at doing. This choice might be related to your military experience, further education experience, or a hobby that you think you can make a business out of. Regardless, all of the above options require action and work by you to get TO and THROUGH that transition.
7. How important is it for military veterans to focus on building their "brand" and what does that mean or look like?
Take veteran-owned companies like Article 15, RangerUp, and Black Rifle Coffee. These veteran owned businesses went viral with funny videos, memes, and social media posts that match their target audience and products. The sooner you get media savvy, the better for you and the launch of your business.
8. Can you talk about your Tactical Fitness series and how that came to be? And for The Complete Guide to Navy SEAL Fitness?
When I first heard the term "tactical fitness" back in 2007, I told my publisher, we have to create a book called Tactical Fitness and we did. In fact, we realized that all the elements of fitness are similar to regular athletics but the "tactical athlete" needs to be good at all of them, and not just specialize in one or two the way most college, professional and Olympic athletes are able to do.
The Tactical Athlete needs to be good at strength, power, cardio endurance, muscle stamina, speed / agility, flexibility and mobility in order to be "tactically fit."  So we also created Tactical Strength for those that needed to focus more on strength and power. In addition, we just came out with Tactical Mobility which focuses on how to sustain your fitness over a long, physically demanding military, law enforcement, or firefighting career.
The Complete Guide to Navy SEAL Fitness was my first book and was what I published the year after I got out of the military. It is a program similar to the one I used preparing future BUD/S students for SEAL training back in 1996-98 at the Naval Academy. Once again, writing everything I have ever done in the gym, track, or pool down on paper for years allowed me to have a database of successful programming that have worked well since 1999 for a generation of special ops soldiers.
9. Can you talk about Heroes of Tomorrow and how that came to be?
I created the Heroes of Tomorrow by accident really.  I was doing my normal morning swim workout and saw a young man trying the combat swimmer stroke.  I asked if he needed help and showed him a few things. He asked if I was going to be here the following the day and I said, "Yes every day – same time." He brought a few of his fellow recruits and it has grown since that early morning in 2003. I workout with these fine men and women regularly and it helped me perfect a Tactical Fitness Periodization program that has been a major part of my writing and speaking engagements for the past 15 years.
10. What was it like to be featured on National Geographic's Fight Science segment? How did that come to be?
That was just fun. I was contacted through my website and Military.com articles by the producer who was looking for a former special ops guy to do some scientific testing.
I have always stayed in above average shape since recovering from those injuries in the 90s, so I thought I would give it a try. Little did I know it was a hypothermic test where I stay submerged in ice water for over an hour and then be required to  get out and engage a threat/no threat scenario–shooting the bad guy with a pistol. It was a fun time and has been a hit with my family and friends since airing a few years ago.
11. What's next for you?
I have started a few new ventures in the past year, though I plan on continuing to work out, write and speak about tactical fitness for as long as I can. I teamed up with an online marketing guru and created the DIY Media Marketing Academy – it is a training program that teaches people to become the "Media Company That Sells X".  Together, we coach several hundred people on skills from building a newsletter list, making a website, using social media, creating a podcast, and even writing a book to market yourself in your career field.
I am also teaching fitness trainers how to write a book and leverage that to make them more credible in the highly competitive field of personal and group fitness. This program is called the Trainer Success System and we will walk people through the entire book writing process from creation to formatting, to creating the EBOOK, printed BOOK, and even selling it on Amazon.com.  The addition of a book to a trainer's resume is a great way to build your business with more clients, free advertising in the form of local interviews, and greater credibility.
I will also keep coaching local kids and future special-ops candidates as long as I can physically do so. It is a passion and extremely rewarding. Many former military have joined the Heroes of Tomorrow coaching army and created free training programs where they live. See the FREE Workouts links at StewSmith.com for more information and ways to help.
-- Sean Mclain Brown can be reached at sean.brown@military.com. Follow him on Twitter at @seanmclainbrown.