The end of the year is when many families wrap up financial matters, make charitable donations, and collect tax-related documents. If you have TRICARE health insurance, the last quarter of the year also begins open enrollment season. Every year, you get to make elections for your health care, but this year there are special issues that demand your attention. Here are five tips to help you stay ahead of important TRICARE deadlines.
TRICARE CHANGES ARE COMING
Many aspects of TRICARE are changing, as of January 1, 2018. If you have US Family Health Plan, TRICARE Dental Program, or TRICARE Retiree Dental Program nothing will change for those programs.
If you have practically any other TRICARE coverage, there are changes that do affect you. Notably:
The new plan year will run 01/01 through 12/31 every year, starting in 2018.
The plan known as "TRICARE Standard/Extra" is changing to become "TRICARE Select." (01/01/2018)
TRICARE is splitting beneficiaries, known as "plan sponsors," into two groups: Group A and Group B, based on enlistment date. Group A = enlistment prior to 01/01/2018; Group B = enlistment after 01/01/2018. Different cost share rates go into effect for retirees and active duty families based on groupings.
Enrollees with TRICARE Reserve Select, TRICARE Retired Reserve, TRICARE Young Adult, and Continued Health Care Benefit Plan will have Group B cost shares, regardless of when the sponsor first joined the military, effective 01/01/2018.
TRICARE for Life is also moving to a calendar year system from a fiscal year system, so if you use TRICARE for Life and you incur out of pocket costs due to using services not covered by Medicare, your year will now reset on 1/1/2018.
Additional details can be found on the TRICARE.mil Changes page*, referenced at the end of this article.
TIP #1: ENROLL OR CHANGE PLANS NOW
As of today, if you're in DEERS, the ID card you get in the mail is all you need to use TRICARE. Not so, starting next year: New TRICARE recipients will have to proactively choose a plan. According to tricare.mil, "After Jan. 1, 2018, you must enroll in a TRICARE plan to get or change coverage."
If you already have TRICARE coverage today, don't worry. You will be automatically converted to your respective TRICARE plan in 2018.
Pro tip: If you already have TRICARE, and you want to make changes to your plan, do so before a temporary, three-week freeze kicks in on 11/20/2017. Even if you miss that, you can still make changes in 2018. By 2020, enrollment fees begin, and plan changes will be limited to the open enrollment season.
TIP #2: START CUTTING OUT-OF-POCKET COSTS
For Group A TRICARE sponsors, your catastrophic cap is typically $3,000 in one plan year. That's the maximum out-of-pocket amount you are obligated to pay yourself. If you haven't already done so, it's time to figure out how much money you've paid toward your 2017 deductible. You can do that by visiting myTRICARE.com
If you find that your actual out-of-pocket expenses exceeded what you thought you'd pay, you may want to look at ways to limit costs:
Use in-network providers
Save all health care receipts and file all your claims
Switch medications to mail order pharmacy
Look into TRICARE supplement insurance
TRICARE supplement insurance is optional insurance you can buy that helps reimburse you for out-of-pocket expenses. If you're trying to reduce cost by skipping doctor visits, avoiding specialists, or stretching medications, think again. An insurance supplement can help you get reimbursed for cost shares so you don't feel the need to skimp on proper care.
TIP #3: OPTIMIZE YOUR PLAN
Now is a great time to reassess your current plan.
Did you have a baby or adopt a child? Did you get married or divorced? Did you move, retire, activate, or have any other significant life event? If so, you may need to change your plan.
Did your dependents/spouse age out of/into different coverage?
If you're a retiree and your current employer offers insurance, how does TRICARE compare to your employer-sponsored health plan? Should you switch?
If you have Prime, are your service providers conveniently located?
A free and easy-to-use comparison sheet** is available to see how all TRICARE plans compare today, and going forward for Group A and Group B. Pro tip: For some TRICARE Prime beneficiaries who are not active duty, it actually makes sense to switch to TRICARE Standard/Extra (aka "Select") and add a TRICARE supplement insurance plan. If you aren't near the coverage area or if you must routinely seek medical care outside your coverage area, you may find this combination of coverage is the best value to help save you money. This type of insurance is similar to CHAMPVA supplements or Medicare supplements, which are all designed to cover the gaps where government programs fall short.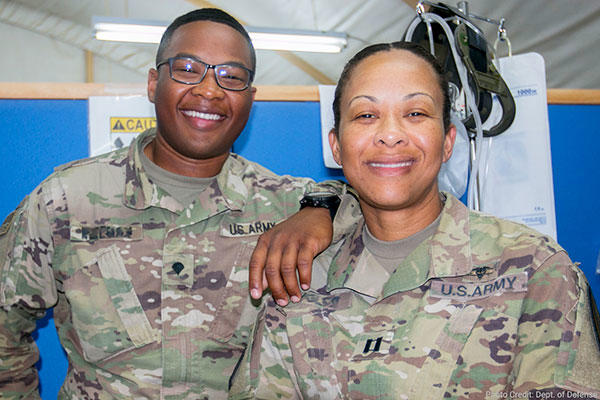 TIP #4: GET READY FOR NEW DEDUCTIBLE RESETS
The plan year changes mean that plan year deductibles for 2017 won't reset until 1/1/2018. That means this year, you'll have fifteen months to accumulate deductibles instead of twelve. You'll be on the hook for costs incurred toward your deductible all the way until December 31, 2017. Take the time to dig up your pharmacy and health care receipts so that you can get reimbursed for covered expenses. If you're holding on to bills, now is the time to file a claim.
TIP #5: UPDATE YOUR ONLINE INFORMATION
Take the time to update all your TRICARE contact information, payment information, and check DEERS. This is probably the easiest thing you can do to manage your health care, yet many people overlook it.
Get a DoD Self-Service Logon (DS Logon) to access myTRICARE.com
Update DEERS with your current address, email, and phone. Be sure to report life event changes that affect your coverage, too.
Watch for your regional contractor to send you information so you can set up electronic payments.
Sign up for TRICARE updates to help you navigate the next couple of years as changes take effect.
The TRICARE checklist*** includes a comprehensive list of sites you should visit. Health care information is increasingly delivered paperless, so make sure you're receiving the communications you need. It may seem overwhelming in the moment, but if you meet deadlines and work through these TRICARE changes, you will minimize costs and secure your best health care option; which is a great way to start the New Year.
*TRICARE Changes: click here.