Low home prices, reduced competition, and competitive interest rates will make the winter of 2018, for many people, the right time to pull the trigger on buying a home.
Common wisdom tells us that spring and summer are the best seasons to buy a home. After all, the warm weather and long days lend themselves to visiting open houses and exploring new areas. But market indicators suggest that defying conventional wisdom may be a good idea for this year's home shoppers, including Veterans who would like to use their VA home loan benefits. Here's why:
Historically, December, January, and February often have the lowest home prices of the year.
Winter typically has less foot traffic and less competition when compared to other seasons.
Motivated sellers may be more willing to negotiate during slower months.
If you are interested in using your VA home loan benefits, you may not want to wait until spring or summer to start the process. Getting pre-qualified can help ensure you're prepared to make an offer when the right home comes along. And it will help you know your price range, and whether you will be able to take advantage of VA loan program benefits, such as no down payment up to the loan limit, competitive interest rates, and no private mortgage insurance. See more advantages of owning a home with a VA loan by clicking here.
Take Advantage of the Lowest Home Prices of the Year
According to home price data from the National Association of Realtors (NAR) and the Federal Housing Finance Agency (FHFA), winter months typically have the lowest home prices of the year. FHFA data shows a general pattern in most U.S. regions with prices starting out low in January and climbing to their peak in the summer months. Similarly, NerdWallet, a financial blog, analyzed two years of home-price data from NAR and concluded that for the 50 most populous U.S. metro areas home prices were, on average, 8.45% lower in January and February as compared to June through August. So if you're looking for the lowest price, it may make sense to buy early in the year.
Fewer Buyers Means Less Competition
Data collected by the National Association of Realtors (NAR) indicates that winter homebuyers may have less competition. Every month, NAR Research shares a foot traffic report that is based on data collected from SentriLock, LLC, the company whose "smart" lockbox is used for most real estate listings. The lockbox signals foot traffic, or the number of times a property is shown by a real estate agent. According to NAR, foot traffic is a great indicator of how many purchase agreements may be coming down the pipeline.
The graphic below uses NAR foot traffic data to show how house hunting steeply drops off in January and works its way back up. Less foot traffic translates to fewer people looking at homes, and fewer competing bids you may have to contend with when you make an offer.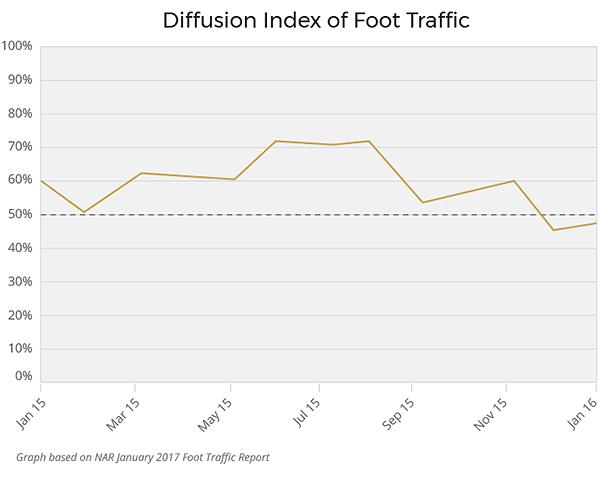 Mortgage Interest Rates May Go Up
The winter of 2018 may hold an additional reason for homebuyers to not wait. The government-owned corporation Freddie Mac publishes its Primary Mortgage Market Survey (PMMS) every month. The PMMS shows average interest rates for the most common kinds of mortgages, including 30-year fixed rate loans. In May of 2017, Freddie Mac forecasted rising interest rates for 2018. It predicted the average rate for a 30-year mortgage could be 4.4%, up from an average of 4.0% in 2017.
FHFA takes its predictions even further into the future, giving an idea of what's to come for the years ahead. An FHFA report entitled The Size of the Affordable Mortgage Market: 2018-2020 Enterprise Single-Family Housing Goals, says 30-year mortgage rates will average 5.4 and 5.8 for 2019 and 2020, respectively.
The following graphic is based on the FHFA's forecast made in September 2017 for mortgage interest rates: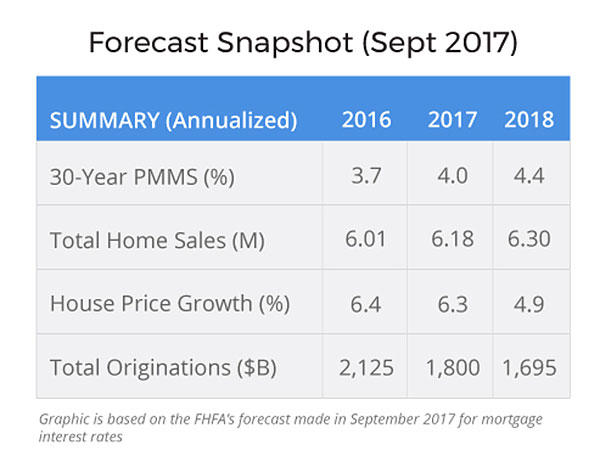 If buying a home is on your mind, winter just may be the time to act on it. The advantages that come with the down season, along with possibly rising interest rates, may be motivation for some to look into buying a home with a VA loan sooner than later.
For more information about buying a home with a VA loan in winter, click here to contact a VA lender that specializes in serving Veterans.