It can be difficult for Veterans to compete with other buyers when there are more buyers than homes on the market. Experienced real estate professionals can help close the gap.
Interest rates for home loans have remained at near-record lows for several months, putting the dream of home ownership within reach for more and more Americans. However, the number of homes available for sale has dropped in markets across the nation.*
For Veterans looking to use their VA home loan benefits, these "seller's market" conditions make finding the right real estate agent more important than ever.
Statistics Show Shopping For A Home Is Taking Longer
New figures from Veterans First Mortgage® illustrate one of the biggest problems of the current housing market for Veterans: It's taking longer to find the right home. In January, borrowers took an average of 53 days to close a loan after being prequalified. In August, it took 77 days – an increase of more than 30%.**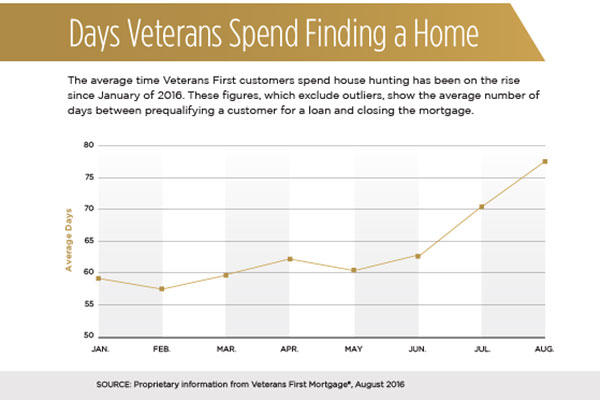 There could be multiple reasons for this time increase, but a tight housing market is an important part of the equation. Real estate agents are having to put more offers in than they did a few years ago, and more offers are going through personal sellers. That means working with real homeowners rather than REO and short sale systems.
How Can Your Real Estate Agent Make A Difference?
Jeremy Lambert, principal broker of Salt Lake City, Utah-based Freedom Eagle Realty, matches buyers with military-friendly real estate agents across the country. He agreed that low inventory poses unique challenges for Veterans in the housing market, but said that working with a knowledgeable agent and loan officer can make a big difference.
"If they understand the workings and timelines of a VA deal, you may still be able to get a deal done within 45 days," he said.
Nuts And Bolts
Government-backed VA loans include benefits such as the potential for no down payment and no annual private mortgage insurance fees. They also carry some requirements that can make it harder to get offers accepted, such as a special appraisal process, limits on the closing costs Veterans can pay, and additional legal language in the offer.
These rules can seem like a maze to a real estate agent or lender who isn't familiar with them, but real estate agents who work with Veterans often understand that certain rules are there to help protect Veterans' interests.
Beyond helping the process go smoothly on the buyer's end, a knowledgeable agent can educate the seller and listing agent about the VA loan process so they feel more comfortable accepting an offer.
Selling Your Story
Having served your country provides you with federal VA home loan benefits, but it can also help convince sellers that you are the right person for their home. Veterans are known for being dedicated, responsible, and engaged in their communities.
A good agent will take the time to learn who you are, what you need, what a home means to you, and what you have sacrificed for your country. Then, they can pass this information on to the seller with either a personal call to the listing agent or a well-written cover letter on your offer. Learn more by clicking here.
Extra Insight
From knowing when to offer extra earnest money to writing clean offers or even knowing when it's time to move on, an agent who is experienced with the VA process can help you make the most of your VA home loan benefit.
NEXT STEP: Click here to learn more about the VA home loan benefit and get in touch with a lender that specializes in serving Veterans.
Veterans First Mortgage is not affiliated with any real estate agent or real estate broker and cannot provide any express or implied warranty or guarantee as to an agent or broker's services.
*Source: http://economistsoutlook.blogs.realtor.org/2016/08/02/june-2016-existing-home-sales/
**Veterans First calculated average closing times for VA loans based on a total of all mortgages serviced by Veterans First in 2016. The data excludes outliers.
Veterans First is a trade name of Wintrust Mortgage, a division of Barrington Bank & Trust Company, N.A., a Wintrust Community Bank. I NMLS# 449042 I Equal Housing Lender