Think VA loans are just for first-time homebuyers? Think again. The unique advantages of Veterans loans, like financing up to 100 percent of a home's value and no PMI, can benefit borrowers at any stage in life.
A VA home loan can be a great option for first-time homebuyers who don't have a lot of cash to put down on a house. What many active duty military members and Veterans don't realize is that there are many more reasons to use VA home loan benefits.
The VA home loan program can be used over and over throughout all stages of life. The government backing of the VA mortgage allows lenders to offer eligible and qualified borrowers a loan with no down payment or private mortgage insurance (PMI).
One Vietnam-era Veteran used a housing grant for disabled servicemen and women to build a home adapted to his needs. Another Veteran used his benefit to purchase a beautiful first home with no down payment despite early objections from his Realtor®.
In Idaho, a Veteran used his benefit to upgrade to a large mountain home for his growing family and hunting trophies, while another Veteran consolidated debt and then reduced her rate with the VA refinance program. Across the country in Atlanta, two married Colonels used their benefits to purchase and customize the retirement home of their dreams.
Below, read their stories in detail and learn more about the lifelong benefits of VA home loans.
VA LOANS FOR FIRST HOMES
Meet Bryan. He is a U.S. Navy Veteran who lives in Danbury, Connecticut. When he and his wife Bridget were ready to buy their first home, they decided to use their zero-down-payment VA home loan benefit.
They were able to buy the Colonial home they had dreamed of with much less cash out of pocket than other mortgage programs.
At first, their Realtor tried to sway them into using another loan program based on misinformation about VA loans. With the help of their loan officer, Bryan and Bridget were able to turn their agent into a VA loan proponent.
Look for the video on Bryan and Bridget's full story here.
Bryan and Bridget, who had always been renters, did not have a lot of cash saved up to become homeowners. Conventional and FHA programs would require sizable down payments. So a no-down-payment loan backed by the VA was the clear choice for them. They also saved additional cash each month by never having to pay private mortgage insurance (PMI).
You may already know why VA loans can be useful for first-timers. What about the many other stages of life?
VA MORTGAGES FOR BIGGER HOMES
Homes priced over the VA loan limit represent another example of how a VA mortgage can work to a Veteran's advantage.
Meet Josh. He is a Veteran of the U.S. Army who flew Apache helicopters in Iraq. With four children, he needed to upsize. An avid big-game hunter, he was looking for vaulted ceilings and tall walls to mount his trophies. He set his sights on a sprawling 4,000 square-foot rustic mountain home in Idaho, but it was priced over the VA loan limit. The maximum VA guaranty is 25 percent of the loan within the loan limit in the property's county. In this case, the limit was $417,000. That meant Josh would have to back a portion of the loan himself with cash.
With a conventional or FHA loan, down payments are factored on the entire loan amount. For example, 20 percent down for a conventional loan could have cost Josh a hefty $86,000 in cash out of his own pocket. With a military loan, the down payment is factored only on the amount that is not backed by the government. In Josh's case, that meant he only needed to come up with about $4,000 for a down payment. A VA loan allowed Josh to have his big house with considerably less cash upfront than had he gone the conventional route and put 20% down. To learn more about the VA loan limits, click here.
VA LOANS FOR SPECIALLY ADAPTED HOMES
Less cash upfront is a great reason to use home loan benefits to buy a custom home like Josh's, but what if the customizations you need are for wheelchair access or other special needs? Meet John. He's a Vietnam-era Veteran who was injured in a training exercise while rappelling from a helicopter. He required a wheelchair to get around and was living in a cramped apartment. Over his 20 years as a renter, John broke several toes bumping into walls and doorways. The day his wheelchair was stuck in the mud for hours outside his apartment building was the day he decided to see if he could buy a home.
Through the help of a Specially Adapted Housing (SAH) grant, John was able to have a custom home built just for his needs, including wide doors and hallways, a roll-in shower and a wheelchair-accessible kitchen. The home was designed especially for John, right down to the left-handed light switches.
The builder financed the construction phase, and John obtained a VA purchase loan once the home was complete. While constructing a new home is an acceptable use of VA loan benefits, VA-approved lenders willing to take on the risk of financing new home construction are few and far between. John's lender and real estate agent worked closely to ensure the builder would carry the cost to completion. And the SAH grant helped pay for the special adaptions.
John's case shows how two great benefits – the SAH grant and the VA loan program – can be used together to reach a home financing goal.
VA REFINANCE FOR DEBT CONSOLIDATION
Owning a home isn't the only reason to use the VA loan benefit. VA refinance and VA Streamline refinance loans provide eligible borrowers with a way to use their home's equity to consolidate debt, obtain cash-out for home improvements or major expenses, or lower interest rates or monthly payments*.
Meet Marcia. She is a former officer in the U.S. Air Force who transitioned to become a VA medical doctor. Marcia had been working with a lender to refinance her home so she could pay off her credit cards and obtain cash to upgrade her home. After three months of waiting to be approved, Marcia decided to contact Veterans First Mortgage.
Her new loan officer suggested a VA cash-out refinance. While many conventional and FHA programs would allow her to cash out up to 80 and 85 percent of her home's value, respectively, the VA program would enable her to access up to 100 percent of the equity in her home. Marcia chose the VA program to obtain enough cash to pay off all her credit cards and consolidate that debt into her mortgage at a much lower rate.
Using a VA refinance loan to reduce a loan's interest rate and payments or consolidate debt can often be the best choice for current and former military members who want to make the most of their home's equity.
VA HOME LOANS FOR RETIREMENT
What about VA loan benefits for purchasing a home later in life? This government-backed mortgage program is often the most practical choice for Veterans, whether they want to buy a low-maintenance condominium, downsize for their Golden Years or buy and restore a dream home for retirement.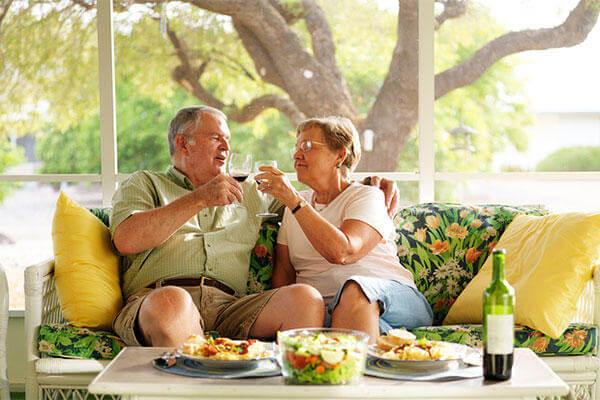 Meet Robert and Melissa. The two Colonels both began their service in the U.S. Army in 1985. The couple, married in 2008, lived much of their time apart while serving their separate calls of duty. The closest they got to serve together was in Afghanistan, but they were still miles apart at different command stations. Toward the end of their service, both were relocating every year.
Approaching retirement in 2013, they were excited to at the prospect of finally living together. The pair found their dream home in military-friendly Georgia. With the right upgrades, it would be perfect.
They bought the house with a no-down-payment VA home loan and used their savings to clear the lot for a spectacular view of Atlanta area ridgelines. They also finished the basement, added other modern upgrades and restored the exterior to look like new. Had they used another loan program that required a down payment, they wouldn't have had the cash for the improvements necessary to make the house their home.
Today, Robert and Melissa are enjoying their retirement. At the end of the day, they love to sit on their wrap-around porch, sip wine and watch the sunset together.
NEXT STEP: To learn more about using a VA home loan at any stage in life, click here to contact a lender that specializes in serving Veterans.
*Refinancing your existing loan may make the total finance charges higher over the life of the new loan.
Veterans First is a trade name of Wintrust Mortgage, a division of Barrington Bank & Trust Company, N.A., a Wintrust Community Bank. I NMLS# 449042 I Equal Housing Lender