It's a sellers' market in 2017, and Veterans may have a few advantages with a VA loan. Learn how to use your benefit to score the home of your dreams.
If you're like most Veterans, you've earned VA home loan benefits while serving our country. Buying a place for your family to call home would be so nice, but the competition is fierce. It's a seller's market. That means inventory is low and demand is high. If you've already started house hunting, you may have noticed that sometimes new listings are sold before you even get a chance to see them. With a little strategy, Veterans can use a VA loan to score the home of their dreams.
Higher Flexibility with a VA Loan
VA loans have a unique set of features not found together with any other mortgage program. If you know how to use it, your benefit may give you a higher degree of flexibility in a bidding war. Use these VA mortgage features to your advantage:
$0 Down Payment Up to Loan Limits (with full entitlement)
No Private Mortgage Insurance (PMI)
Straightforward Qualifying
Lower Interest Rates on Average than other programs
With all the great features a VA loan has, most Veterans are initially attracted to the zero-down-payment offering of the program. About 90% of all VA purchases have been made without a down payment since 1944. The VA program generally requires a funding fee to close a loan.
A standard conventional program requires a 20% down payment. The average down payment on a VA loan is just 2%. Check out the following graph representing average loan-to-value (LTV) percentages and Down Payments for VA and Conventional loans: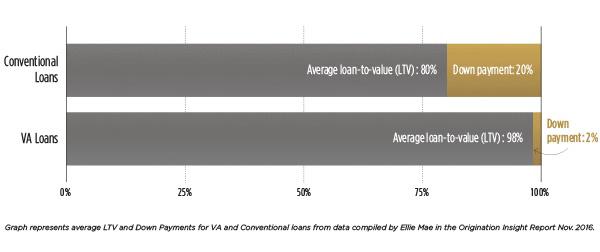 SCORE: Leverage the zero-down-payment feature for little or no down payment, and you may find yourself with more room to negotiate than a competing prospective buyer who has to bring a higher down payment to the table.
(Click here to see if you qualify for a zero-down-payment VA loan)
Keep an Open Mind About the Homes You'll Consider
Fewer starter homes are on the market today. According to Trulia, homes available for the average first-time homebuyer saw its sharpest year-over-year decrease in three years—down 12.1%.
In the past, first-time buyers gravitated toward the smaller, more affordable homes. Repeat buyers tended to go for dwellings with room to grow. But the market is changing. According to the National Association of Realtors (NAR), the 2017 market has more young, first-time buyers. In fact, 61% of first-timers are under the age of 35. And millennials don't want starter homes or fixer-uppers. Many want bigger homes with yards in safe neighborhoods. To get all the features they want, more first-time buyers are looking to the suburbs for larger, more affordable homes.
If you had your heart set on a starter home, just realize they are in short supply. It's not a bad idea to be flexible about the kind of home you see yourself living in. Some of this may come down to what you can actually afford. Sometimes all it takes is widening your geographic area a little to see larger homes in your price range.
SCORE: Expand your options by considering listings outside your initial target area. You may find you'll get more house for your money, and more of the features you want, in suburban areas.
Take Advantage of Low VA Rates
Historically speaking, rates are very low. Ellie Mae's monthly Origination Insight Report indicates that 30-year conventional rates have ranged between 3.81% and 4.48% from February 2016 to February 2017. VA loans have had consistently lower rates ranging from 3.52% to 4.08% for that same one-year time frame. Check out this rate comparison graph using average 30-year note rates reported by Ellie Mae: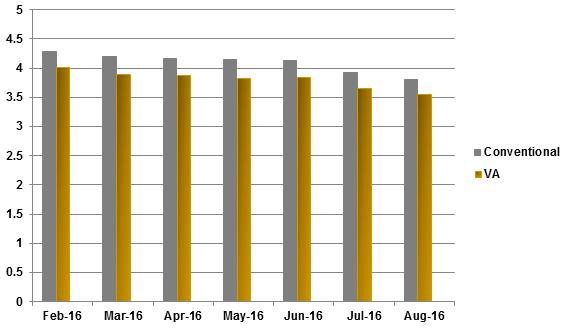 SCORE: Veterans using their VA home loan benefits to buy a home can expect competitively low interest rates, which can, in turn, allow them to qualify for "more house" than they would at a higher rate. This, too, can be helpful in a competitive bidding situation.
Beat Other Buyers to the Bid
Real estate markets are moving fast. If you hesitate, you might lose a home you love to another buyer. According to NAR, homes were on the market for an average 68 days in March 2017. That's nine days fewer than the same time in 2016. And in real estate hot beds, you may find that before you even set foot in an open house, the home is already under contract. In San Francisco, for example, homes were on the market for an average 25 days in March.
Check your local multiple listing service (MLS) every day for new listings. If you're using a real estate agent, they may even hear of listings before they hit the MLS.
SCORE: Get prequalified for your VA loan so you're prepared to act fast if a home that interests you comes on the market. Click here to see if you prequalify.
Get Into a Home In Case Prices Rise
NAR reports that the median home price rose above $250,000 for the first time. At $260,000, the median price is 8% higher than a year ago. This can be good news or bad news depending on your perspective. If you're ready to buy, it may be smart to act now in case prices go up further.
SCORE: Get into the homeownership game as early as possible to benefit from the home value appreciation that comes from high demand.
Using your VA loan benefits, remaining flexible about your price range and striking when the listing is hot can add up to good home-buying strategy for Veterans and military families.
For more information about VA loans, click here to contact a direct lender.
Veterans First is a trade name of Wintrust Mortgage, a division of Barrington Bank & Trust Company, N.A., a Wintrust Community Bank. I NMLS# 449042 I Equal Housing Lender