After returning home to Minnesota after a yearlong combat deployment to Iraq in 2007, Army veteran Patrick Skluzacek showed classic symptoms of post-traumatic stress disorder.
His son Tyler, then just 13 years old, told CNN his father was depressed, lethargic, angry and had trouble sleeping. Worst of all, the then-43-year-old suffered from "vivid" nightmares.
Like many families of veterans suffering from PTSD, the Skluzaceks didn't know what to do for their dad.
But with the help of emerging mental health and biometric technology, Tyler Skluzacek would be able to develop an app to help his father and veterans like him get better sleep -- and he'd do it all before graduating from college.
For Patrick Skluzacek, the help couldn't come fast enough.
"I was scared of closing my eyes," he told CNN. "They were just horrible, so vivid, I'd wake up thrashing and sweating. And [The Department of Veterans Affairs] didn't have a cure for it. They just had people with nightmares, people killing themselves, and they didn't understand why."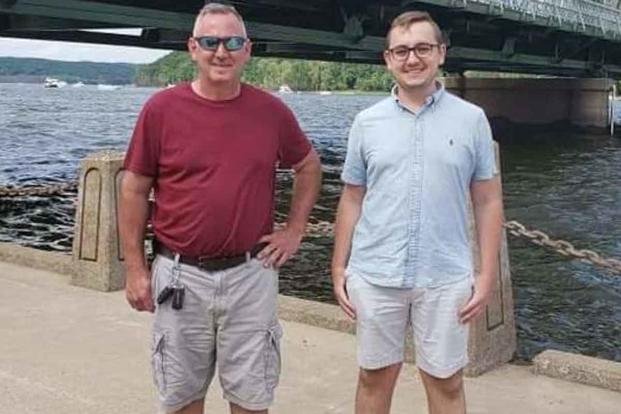 Tyler would go on to attend Minnesota's Macalester College, according to the Star Tribune, a Minnesota newspaper. As a computer programming senior in 2015, he attended a 36-hour hackathon in Washington, D.C. -- where he created "MyBivy" (short for bivouac, a military camping term), an app that would wake the sleeper up in the event of a nightmare.
MyBivy is now known as NightWare, and it's a smartwatch app that monitors a sleeper's movement and heart rate. When it detects changes that indicate a coming nightmare, the app creates vibration patterns in the watch to rouse the sleeper.
After winning the hackathon, Tyler Skluzacek took his idea to Kickstarter, raising $25,000 for its development. After NightWare bought the app, the company applied to the U.S. Food and Drug Administration for its clearance as a medical device.
Now cleared by the FDA as a "breakthrough" device, the prescription-only kit comes with a smartwatch and iPhone preloaded with the NightWare app. Once prescribed, the cost of the kit is now covered by the VA and the Department of Defense.
NightWare is also working to help those not covered by either department get access to the NightWare technology.
Tyler told the Star-Tribune that he read Tim O'Brien's "The Things They Carried" in 10th grade to better understand his father's condition. That reading, combined with talking to veterans in the course of developing the app, helped him better understand his veteran father, though they are still worlds apart.
"I'm not a vet. I don't know what he's been through," Tyler told the paper. "Talking to a bajillion -- and that's close to an accurate number -- veterans, I understand him better."
To learn more about the prescription-only app or how to get a prescription, visit the NightWare website.
-- Blake Stilwell can be reached at blake.stilwell@military.com. He can also be found on Twitter @blakestilwell or on Facebook.
Want to Learn More About Military Life?
Whether you're thinking of joining the military, looking for post-military careers or keeping up with military life and benefits, Military.com has you covered. Subscribe to Military.com to have military news, updates and resources delivered directly to your inbox.