Gerald Ford might be one of the luckiest politicians in American history. As a Navy veteran of World War II and a 25-year Republican congressman from Michigan, he had all the makings of a president of the United States. But as vice president and then president, he's the only person who held those offices without ever winning an election to either.
He is also so lucky that he survived two assassination attempts in the same month. The first attempt failed because the gun didn't fire. The second failed because there was a United States Marine in the audience that day.
Oliver Sipple, the Marine Corps veteran who saved the president, wasn't quite so lucky.
Ford's highest career aspiration was to one day become speaker of the House. He never sought any higher office, though he was head-hunted to become a governor and senator on many occasions. Being known as the "Congressman's Congressman," he won a lot of friends on both sides of the aisle and was well-regarded by all.
Ford eventually became the Republican minority leader, but Democrats at the time had a firm grip on the House. In his mind, becoming speaker of the House was not in the cards.
So when then-Vice President Spiro Agnew was forced to resign his office after being indicted for tax evasion, the White House invoked the 25th Amendment to fill the VP spot for the first time. This meant picking a candidate who had to be confirmed by both houses of Congress -- which forced President Richard Nixon to nominate someone who wouldn't create too much controversy. So he picked the affable, likable Gerald Ford,
Ford thought ending his political career as vice president would do just as well as being speaker of the House, so he accepted and was sworn in in December 1973. In 1974, the Watergate scandal forced Nixon's resignation, and Ford moved into the Oval Office.
Ford's 895-day term may have been the shortest for any president who didn't die in office, but it nearly came to an end much earlier. On Sept. 5, 1975, a Manson family cult member named Lynette "Squeaky" Fromme tried to shoot Ford with an M1911 pistol as he entered the California state capitol building in Sacramento.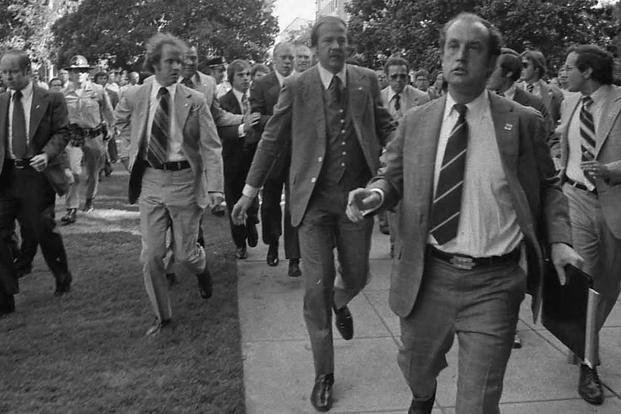 The president survived because Fromme didn't have a round in the chamber. The story was much different 17 days later, when Ford survived another attack. This time, the would-be assassin was Sara Jane Moore, a housewife from West Virginia. Moore saw killing Ford as a way to foment social upheaval.
Unlike Ford, luck was not on Moore's side. The day before her attempt, police seized the illegal .44 pistol she would have used to kill the president. She found a new one, a .38 revolver, and made her way to the St. Francis Hotel in San Francisco. That's where she took aim and fired at the president as he left the hotel -- but the bullet went wide right and missed.
Sipple, a Marine Corps veteran who was wounded by shrapnel during two tours in Vietnam, was also in the crowd of 3,000 that day. Close to Moore, he heard and saw the gun go off. When she missed, he fought the crowd over about 40 feet to where Moore was taking aim for another shot.
Sipple grabbed Moore's arm as she fired. The bullet ricocheted on the pavement, hitting a bystander (who survived). Secret Service agents wrestled Moore to the ground and took her into custody.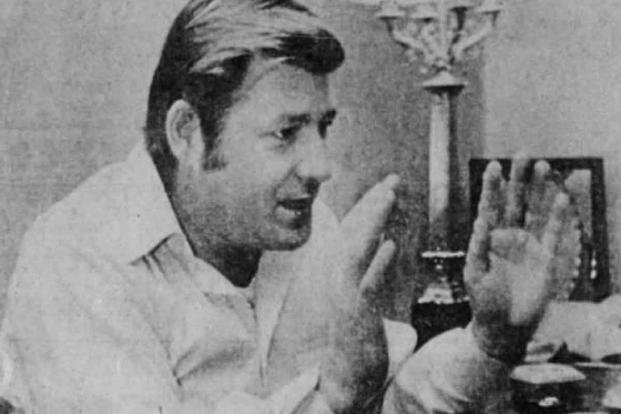 It wasn't long before the media found out that the president's savior was a combat-wounded Marine who had served in Vietnam. He was the hero of the day, but Sipple wanted none of the media attention.
He even told a reporter that night, "I'm no hero or nothing. I don't know why I did it. It was the thing to do at the time."
Sipple, it turned out, was gay, and San Francisco was the only city a somewhat-openly gay man could live at that time. His family had no idea. When the media spotlight hit him, it wasn't long before the world found out.
The man who saved the president of the United States was a close associate of gay rights activist Harvey Milk, who also lived in San Francisco at the time. According to a WNYC Radiolab Podcast about the assassination attempt, it was Milk who outed Sipple to the media.
The square-jawed, strong Marine veteran did not fit the public image of a gay man in America. Milk wanted to change that public image "from pedophiles and perverts" to include men like Sipple.
Except Sipple did not want to be outed, and the story of the homosexual hero who saved President Ford was soon in his hometown newspaper, the Detroit Free Press. Sipple relatives were inundated by reporters, and their church began to question its relationship with the family.
It wasn't long before the family cut all ties with Sipple.
When he returned to the White House, Ford wrote a heartfelt and public letter as a thank you to Sipple, but the damage was done. Sipple filed a $15 million lawsuit against various national newspapers, but after nine years of litigation, the California Supreme Court threw it out because his defense of the president made him a public figure that day.
Sipple soon began to struggle with alcoholism and mental issues. A 100%-disabled veteran, he had had no problems with either until he saved the president that day.
The hero's life ended in 1989, when he was found dead in his San Francisco apartment, next to a bottle of bourbon. He had been dead for weeks. His letter of thanks from President Ford was framed on his wall.
-- Blake Stilwell can be reached at blake.stilwell@military.com. He can also be found on Twitter @blakestilwell or on Facebook.
Want to Learn More About Military Life?
Whether you're thinking of joining the military, looking for post-military careers or keeping up with military life and benefits, Military.com has you covered. Subscribe to Military.com to have military news, updates and resources delivered directly to your inbox.